The last few weeks have been brutal for Majesco Entertainment (NASDAQ:COOL) after it reported a 50% drop in revenues. Investors rewarded Majesco with a 50% haircut in price, sending shares under $1 for the first time in two years. Now that the investor stampede out of Majesco appears to be over, it is time for level heads to prevail and take a close look at this gamer.
The gaming sector has not had an easy time over the last several months, so the carnage seen in Majesco is not just stock-specific but more sector-related. Still, at these prices Majesco is starting to look very attractive for both the momentum and value investor. As of its most recent earnings report, Majesco is sitting on $27 million in cash with an approximate cash burn of about $3 million a quarter at current levels. With a market cap of $36 million now and $27 million in cash, the market is placing too little of a value on the many games in Majesco's inventory, chief among them the video game "Zumba Fitness." We are also in the midst of the busiest time of the year for sales, and that should translate into a recovery in the stock price into January.
One angle to consider as well with Majesco is "Zumba Fitness," which had helped drive the stock price up 100% in 2011. As per the recent SEC filing:
...for each of the three and nine months ended July 31, 2012, sales of the company's "Zumba Fitness" games accounted for approximately 79% of net revenues, and for the three and nine months ended July 31, 2011, sales of the company's "Zumba Fitness" games accounted for approximately 80% and 70% of net revenues, respectively.
After the holidays are over and people pack on the extra weight, we typically see a surge in diet and exercise trends in January. This makes for a nice angle for Majesco with its new "Zumba Core" game. "Zumba" continues to be a hit, and the recent hot trend in exercising has been an emphasis on "core" workouts. Now, Majesco has that new trend covered with their new workout "Zumba Fitness Core" game. As per Majesco:
...our release slate for the 2012 holiday season is one of our most diverse ever. In addition to a strong brand lineup including "Zumba Fitness," "Cooking Mama," and "Hello Kitty," we have several innovative new product launches targeted at the growing markets for motion-based, social, and mobile games.
Click to enlarge image.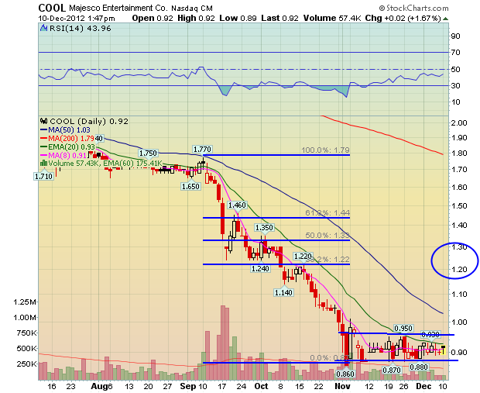 A look at the chart shows a stock that has been hammered, but has now found a nice base from which to rebound. The stock has consolidated nicely over the last month just under the $1 level. A 38% Fibonacci retracement of the sell-off would send shares to $1.22, a healthy 25% gain from current prices. Oftentimes, stocks that see price decimation such as this at a minimum see at least one "dead cat bounce." Majesco has yet to even seen that, adding to the upside potential. Another thing to keep in mind here is that the large sell-off in Majesco has brought forward the typical tax loss selling that one tends to see in December. Those who wanted to sell should be out now, and it will likely not take much for the stock to rebound.
Majesco has its issues, but the stock has fallen to very attractive levels for investors. Trading just above cash, at the busiest time of the year with a still-hot "Zumba" franchise, this could very well be a very nice stocking stuffer into 2013. All it takes is one hit from its current lineup and the stock should be trading 50% higher.
Disclosure: I am long COOL. I wrote this article myself, and it expresses my own opinions. I am not receiving compensation for it (other than from Seeking Alpha). I have no business relationship with any company whose stock is mentioned in this article.