Commodity Chart Of The Day
Daily Japanese Yen
(click image to enlarge)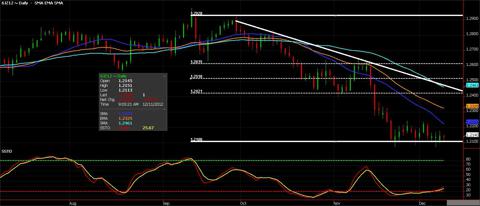 In the last three months, the yen has depreciated 6%, dragging prices within 1% of their Q1 2012 lows. However, in the last two weeks, it appears a solid base has formed at current levels. From here, my stance is that prices experience a trade north. Not only do the daily (see chart above) and weekly charts appear to be oversold, but I'm operating under the influence that the market will experience a risk off trade very soon, and the yen exhibits an inverse relationship to that dynamic.
My feeling is that between now and the end of the year, equities and commodities taper off. If that analysis is correct, bullish trade would occur in Treasuries, the dollar and the yen -- at least that is my forecast. This is challenging to write today as equities trade to new highs and Treasuries fresh lows, but remember I am not a day trader, but a swing trader.
As for how to play the yen, I 'm interested in scaling into bullish trade as long as the recent lows hold -- in March futures just below $1.2100. For currency speculators, I'm advising purchasing January at the money calls. For those eager to play a move in the next few weeks, I'd advise purchasing February out of the money calls and finally, for traders looking to participate in a move in the next two months, my favored play is selling out of the money calls in March while simultaneously getting long futures 1:1.
Risk Disclaimer: The opinions contained herein are for general information only and not tailored to any specific investor's needs or investment goals. Any opinions expressed in this article are as of the date indicated. Trading futures, options, and Forex involves substantial risk of loss and is not suitable for all investors. Past performance is not necessarily indicative of future results.
Disclosure: I have no positions in any stocks mentioned, and no plans to initiate any positions within the next 72 hours. I wrote this article myself, and it expresses my own opinions. I am not receiving compensation for it. I have no business relationship with any company whose stock is mentioned in this article.