On Thursday, December 13 the three First Republic Bank (NYSE:FRC) preferreds will trade Ex-Dividend, meaning if you purchase the shares Tuesday or Wednesday you will still receive the December 28th dividend payment. Of the three preferreds, the Series C makes a strong case as the best investment.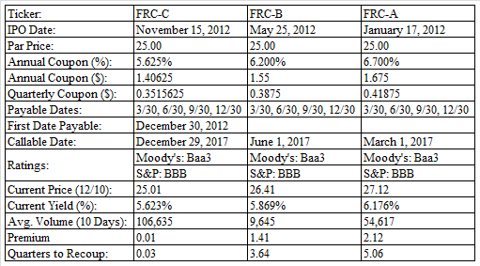 All three preferreds were issued in 2012, are non-cumulative, trade on the NYSE, and are traditional preferreds. FRC-A has the highest coupon and therefore has the highest price, while FRC-C has the lowest coupon and the lowest price.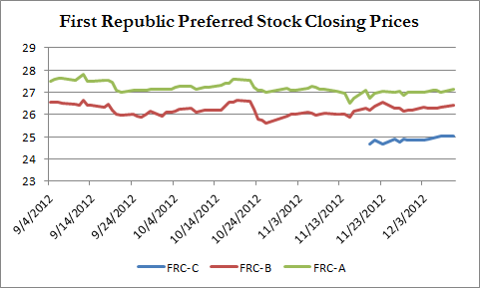 It's important to not only look at the price where the preferreds are trading but also what yield the preferreds are trading to.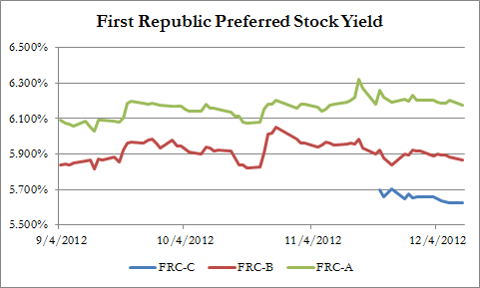 There are a number of things to consider when trying to decide which preferred stock series to purchase.
Price and Premium: FRC-C is the cheapest of the three preferreds and therefore has the smallest premium. Premium paid on FRC-C will be recovered as part of this dividend payment, while it will take four quarters to recoup the premium on FRC-B and six to fully recover the current premium on FRC-A.
Current Yield: FRC-C has the lowest current yield of 5.623%, while FRC-B is currently trading to 5.869% and FRC-A to 6.176%. By purchasing FRC-C, an investor is giving up 0.553% in current yield (compared to FRC-A) but is eliminating any premium risk.
Yield-to-Call: When analyzing preferreds, another important measure to take into consideration is the Yield-to-Call - what the yield is if the preferred stock is called on the first call date.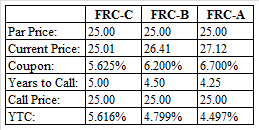 Despite having the lowest current yield, FRC-C actually has the highest Yield-to-Call. This is because you are hardly paying a premium and still have the full five years of payments left, while in the two other preferreds you have less time to amortize any premium paid (which is substantial when compared to FRC-C).
Liquidity: FRC-C also provides the best liquidity for an investor with an average of 106.6k shares trading over the past 10 days, while FRC-B and FRC-A have only had an average of 9.6k and 54.6k, respectively.
First Republic Overview
First Republic Bank is a well capitalized bank headquartered in San Francisco. In 2007 the bank was acquired by Merrill Lynch and in 2010 was spun out of Bank of America. The bank's primary focus is on high-net-worth clients and their leading product is jumbo residential mortgages. The company focuses on relationship-driven service on both coasts of the US in the following major markets: San Francisco, Los Angeles, San Diego, Portland (OTC:OR), Boston, and New York.
Capital Ratios: By all three capital measures, First Republic Bank is well capitalized:


*These ratios are from the most recent 10-Q and have shifted slightly with the issuance of FRC-C.
For more information on First Republic Bank, as well as access to any company filings, please see the Investor Relations portion of the First Republic Bank website.
Final Thoughts
There are many things to take into consideration when purchasing bank preferreds including premium, yield, YTC, liquidity, and the financial stability of the bank itself. Of the three outstanding First Republic Bank preferreds, FRC-C offers the best investment profile when weighing all of the various components, especially considering that any premium will be recaptured once the preferred stock goes Ex-Div on Thursday.
Other risks to consider when purchasing preferred stocks include interest rate risk (what happens to price when interest rates eventually rise), inflation risk ($1.40 will have less and less purchasing power as time goes on), and the effect of changing the tax rate on qualified dividends.
Disclosure: I am long FRC. I wrote this article myself, and it expresses my own opinions. I am not receiving compensation for it (other than from Seeking Alpha). I have no business relationship with any company whose stock is mentioned in this article.
Additional disclosure: I am long FRC-C