Under the right circumstances, stocks can have just as much stored energy as other forces of nature. Where does this untapped, powerful and predictable source of future high achievement come from?
How can outstanding fundamentals fail to result in higher stock prices? Multiple compression. This phenomenon occurs when a company's P/E decreases over time, negating the price gains that would typically have taken place had the P/E simply remained unchanged.
A generic example...
That was bad news for the old holders from five years earlier. It's actually great news for new buyers.
XYZ's earnings yield in 2007 was 5%. Current buyers at the new, lower P/E are getting a 7.69% earnings yield due to the lower relative valuation. 2.69%/5.00% = 53.8% more for your money.
If EPS grow another 50% over the next five years, they will reach $2.25 by 2017. A P/E rebound to even halfway back to XYZ's 2007 level will bring XYZ back to a 17.5 multiple.
In that scenario:
2017 EPS of $2.25 x 17.5 = $39.375 share price
A $39.75 share price = + 101.9% (from today's $19.50 quote)
This side of the equation turns a 50% earnings gain into more than a doubling of the share price. It occurs because higher EPS are multiplied by a larger P/E.
This is not just theoretical speculation. P/E compression followed by multiple expansion happens regularly with many of even the biggest name stocks.
Note the action in Coca-Cola (NYSE:KO) from December 31, 2000 through year-end 2008.
Coke's EPS grew 104% (from $0.74 to $1.51 ) from 2000 through 2008. Shareholders, though, watched in horror as P/E compression robbed them of 26.2% of their paper net worth (excluding dividends).
Smart buyers of KO in late 2008 realized that the more modest P/E (and triple the year-end 2000 dividend rate) was setting them up for great forward results.
Coke's actual reported earnings increased from 2008's $1.51 /share to today's trailing EPS of $1.91
(+ 26.5% cumulatively) in a bit less than four years.
KO's share price jumped by a much better 67.8% due to the compressed-spring effect (multiple expansion).
Similar action took place in Wal-Mart (NYSE:WMT), Home Depot (NYSE:HD), Lowe's (NYSE:LOW) and dozens of other blue chip stocks that were too pricey back in 2000. Those three have already begun their P/E revivals after seeing their compression phases bottom out.
Two high-quality stocks that are still near their absolute compressed-valuation lows are Lab Corp of America (NYSE:LH) and Quest Diagnostics (NYSE:DGX). They are the biggest players in an extremely stable and well-positioned industry.
Both used to be market darlings with accompanying high P/Es. Today, they sell for near their lowest multiples ever.
LH and DGX are now primed for action. They are simply awaiting the benefits of a rebound from the compressed-spring's pent-up energy.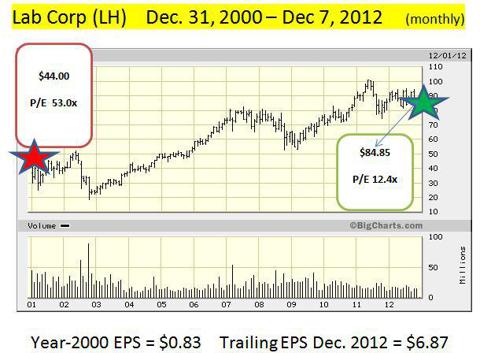 Lab Corp's 2000-2012 shareholder total return of 92.8% did not nearly keep pace with its 727% 12-year cumulative increase in EPS or its 368% higher book value/share. Today's extremely low valuation could explode upwards as profits continue to grow and Lab Corp's P/E expands.
Quest Diagnostics sports a similar long-term valuation pattern.
EPS surged by 730% from 2000 through the present. DGX's book value per share improved by about 395%. Those huge growth numbers only translated into a 63.5%, 12-year cumulative rise in share price.
That not-yet-reflected build-in value provides the fuel to send DGX shares much higher.
Back in 2000, there was no cash dividend. Payouts were initiated in 2004 at 30 cents annualized. This year's quarterly payout was increased to 30 cents. At Monday morning's quote of $58.04, the current yield is a respectable 2.07%.
DGX's 25.8% payout ratio leaves plenty of room for further dividend hikes.
Value Line rates LH and DGX very high in terms of safety. Both companies score very well for both "stock price stability" and "price growth persistence" (in spite of the P/E compression). LH and DGX fall into Value Line's top 1% in the critically important category of earnings predictability.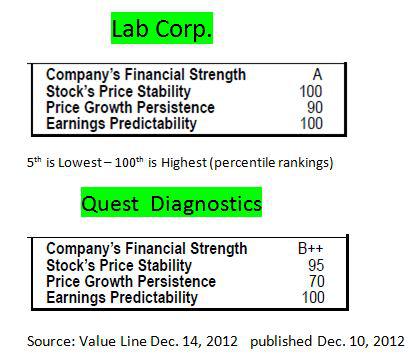 Valuation changes are at least as important as raw delta in earnings per share when it comes to actual shareholder returns. Avoiding stretched-spring stocks and loading up on compressed-spring equities can greatly improve your investment returns. There are many wonderful stocks that have been building up value that has yet to be recognized in the form of appropriate share price appreciation. Ironically, these issues are often overlooked or even derided simply because they have failed to perform yet. Patient investors realize this merely sets the stage for huge future gains.
Disclosure: I am long LH, DGX. I wrote this article myself, and it expresses my own opinions. I am not receiving compensation for it (other than from Seeking Alpha). I have no business relationship with any company whose stock is mentioned in this article.