Freeport McMoRan's (NYSE:FCX) take over of McMoRan Exploration (NYSE:MMR) and Plains Exploration (NYSE:PXP) announced December 5th has created a veil of controversy surrounding the transaction. The board of directors seem out of touch with the shareholders they are supposed to represent. I believe it constitutes an abuse of authority with those incapable of consent and as a result FCX shareholders have lost billions of dollars.
FCX 1 Yr. Chart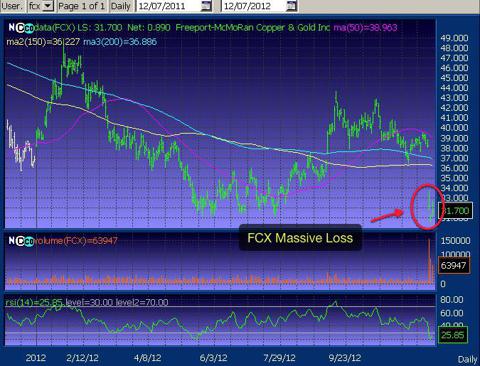 Carefully circumventing NYSE Rule 312.03 Freeport's management has avoided a shareholder vote on this questionable deal.
Don't just take my word for it. The day after the announcement Goldman Sachs, Deutsche Bank, BMO Capital Markets and RBC Capital Markets all downgraded FCX shares on the merits of the deal, some even pointing to the loss of shareholder trust as reasons for the downgrade.
Tony Robson, the FCX analyst for BMO Capital Markets, and his comment from his downgrade note says it all. "Most perturbing, in our view, is the lack of opportunity for shareholders to vote on a transaction that is two-thirds the market cap of FCX, especially given management's financial interest in one of the targets."
According to Mr. Robson "FCX Chairman J. Moffett and CEO R. Adkerson are Co-Chairman of MMR and both are shareholders. PXP CEO J. Flores is a board member of FCX."
FCX Press Release on Transaction
Insider Ownership
As you can see in the two slides below according to recent filings James Moffett owned 3,081,000 shares of FCX prior to the deal. He owned 4,968,000 shares of MMR.
Moffett Ownership in MMR (Source Reuters)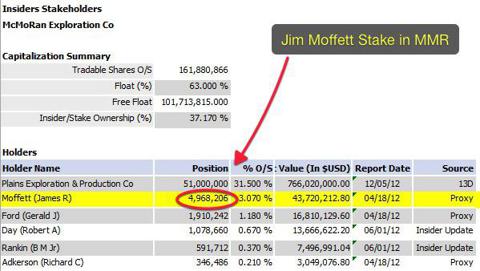 Moffett Ownership in FCX (Source Reuters)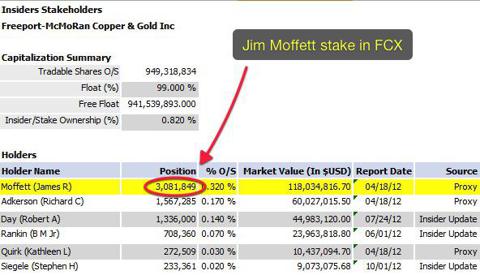 Timeline
On November, 26th McMoRan Exploration announced that a test to determine the productive capacity of the Davy Jones well where drilling began in June 2009 proved inconclusive. As a result MMR fell 32% or $3.99, wiping out a little over $19.8 million of Chairman's Jim Moffett's stake in the company.
On December, 5th FCX announced that they are taking out PXP and MMR at 39% and 74% premiums, respectively. Total consideration on the deal is $20 billion. To finance this deal FCX will have to increase their debt load taking their net cash position from $0.2 billion to a net debt position of $16 billion.
Ok let's get out the calculators and do some math. We already know that James Moffett lost about $19.8 million when the MMR Davy Jones well failed to deliver. After the FCX buyout of MMR and PXP was announced MMR which closed at 8.46 on December 4th opened sharply higher finishing the day up $7.36, closing at 15.82. The gain on his MMR position was approximately $36.6 million.
MMR 1 yr. Chart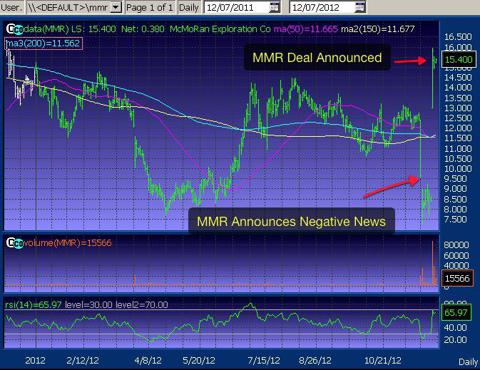 Now the news isn't all good. Freeport shares were hit hard on the announcement, falling 19% or $6.12. Of the $5.8 billion lost by all Freeport shareholders Jim's 3 million share stake lost about $18.9 million.
However, when you net the two together Mr. Moffett's net gain on the day is $17.7 million. It doesn't completely get back his loss from the failed Davy Jones well but comes close.
The conflict of interest here seems obvious. Freeport shareholders desperately need an activist or white knight to step in and shake up the board.
I'm not exactly sure when negotiations started for FCX to acquire MMR for a staggering 74% premium. However, even if they were initiated before the negative well announcement most investors would have expected a significant reduction in the purchase premium.
It's too late to sell FCX shares. Much of the bad news is already in the stock. The best hope shareholders have is that legal action and activist investors can help strike down this deal.
Freeport's board should take immediate steps to restore their credibility. Let the shareholder's decide and put this to a vote.

Disclosure: I have no positions in any stocks mentioned, and no plans to initiate any positions within the next 72 hours. I wrote this article myself, and it expresses my own opinions. I am not receiving compensation for it. I have no business relationship with any company whose stock is mentioned in this article.