By Jayson Derrick
Introduction
The purpose of this article is to raise several key points on why an investor should initiate a long position on the two largest American automakers with a focus on their continued improvements since the recession days and a focus on the most profitable segment: pickup trucks.
Pickup truck sales in the U.S are on track to reach 1.6 million units in 2012, the highest level seen since the 2007 recession. Ford (NYSE:F) and General Motors (NYSE:GM) are the market leaders and account for about 75% of all pick up trucks sold. Since 1980, full-size pickup trucks have accounted on average for 11% of the U.S light-vehicle market and should reach 11.2% in 2012. Revenue generated from North American production of full-size pickup trucks should exceed $70 billion in 2012, which can be seen as positive news for shareholders.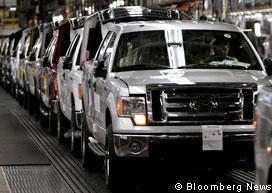 Ford F-150 Production Line: Built Ford Tough.
Short-Term Boost: Dealer Incentives
In the immediate near term December is usually the best month of the year for pickup truck sales, which account for 12.1% of the market. Excess inventory levels could result in more aggressive discounting and incentives to buy. General Motors ended November with 246,000 units in inventory compared with 190,000 unites from Ford. With 2013 models just around the corner, consumers should expect aggressive selling campaigns. General Motors is now doubling current cash incentives to around $2,000 a vehicle and making lease terms more favorable. Ford increased its incentive averaging $2,810 per vehicle. Looking back at the previous year, in 2011 incentives boosted total sales to 13.5% of the market.
Long-Term Play: Housing Construction
Residential construction is a valuable economic tool to look at. Construction spending has increased in each of the last 15 months, including gains of 20% or more in each of the last four months, and spending in November was at the highest level since November 2008. The most recent construction data showed construction spending grew 1.4% to an annual rate of $872.1 billion while analysts were expecting a 0.5% increase. The Dow Jones U.S Home Construction Index, which tracks seven builder stocks, is up roughly 80% this year. D.R Horton (NYSE:DHI), one of the largest home builders has seen its stock rise 63% so far in 2012 and is expecting a better 2013 than 2012. The improvements in the construction and industrial segments of the economy will result in additional gains in pickup truck demand over the next few years.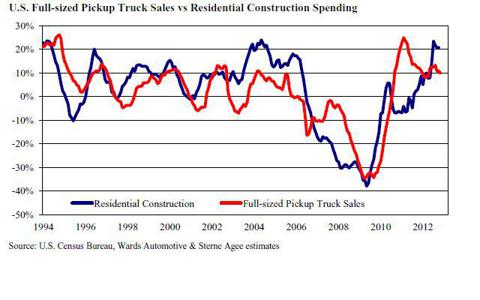 Solid Management And Lower Costs: Dominating A Profitable Segment Isn't Enough If The Company Isn't Strong.
General Motors declaring bankruptcy in 2009 cleaned up its balance sheet so it can start new, but the ugly management structure remained. General Motors was forced to make cuts to the corporate structure by lowering costs and removing unnecessary managers and all the red tape that comes with it. Labor costs are now lower at General Motors as an average worker earns $56 per hour, which includes benefits. It also helps that General Motors lost so much money for so long that its losses can be written off on its books. Morgan Stanley estimates that because of the many years of poor performance GM won't pay cash taxes to the U.S. government until 2018.
General Motor's cross-town rival Ford decided to stay clear of bailout funds, which caught consumer attention and played in its favor. Since the bailout, Ford really focused on making good vehicles, remaining profitable, reinstating dividends and paying down its debt by voluntarily matching debt restructuring requirements imposed on General Motors under the terms of its government loans.
Both General Motors and Ford survived the recession (albeit with some help) and have remained disciplined with price discounts and avoiding the temptation of matching foreign competitors' much larger discounts as volume levels recovered. Combined General Motors and Ford have reduced capacity by about 0.8 million units (or by 35%) since 2006, but both have room to expand output with the use of triple shifts and increased productivity and line speeds.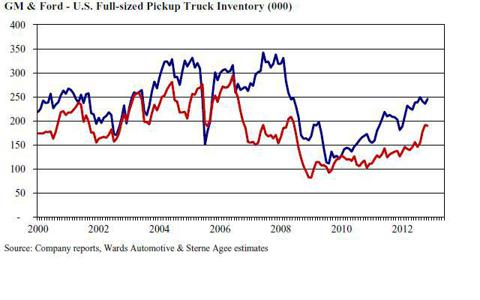 Conclusion
While some analysts express concern over near-term inventory levels, the facts remain favorable that General Motors and Ford will allow the highly profitable segment to remain strong in 2013 and into 2014. Personally, I prefer General Motors as it has provided shareholders with a 20% gain over the last year. While General Motors was lacking in sales versus competitors recently, General Motors is perhaps the best prepared for 2013 with the redesigned Chevy Silverado, which has gone seven years without an overhaul. This is long overdue for both consumers and investors who are looking for something fresh and exciting to hit the market.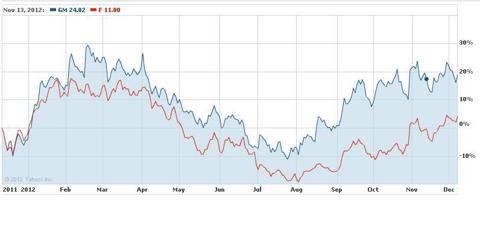 Source: Yahoo Finance
Disclosure: I have no positions in any stocks mentioned, and no plans to initiate any positions within the next 72 hours. I wrote this article myself, and it expresses my own opinions. I am not receiving compensation for it (other than from Seeking Alpha). I have no business relationship with any company whose stock is mentioned in this article.