Equities stumbled out of the gate yesterday and never regained their poise as the dire news flow from corporate America just keeps coming. The catalysts for the sell off were dreadful results from Best Buy (NYSE:BBY) and Macy's (NYSE:M), woeful sales forecasts from other retailers and Hank Paulson's u-turn on the TARP. Big picture is that the market hates uncertainty and is beginning to ask openly if the economic Czars in the Treasury have any clue what they are doing.
Today's Market Moving Stories
Official data from Germany now confirms that the Fatherland has entered its worst recession in 12 years with news that they have recorded two successive quarters of negative growth. This is despite a chorus of comments from officials assuring us in recent months that the Europe growth engine would avoid such a fate.
The Bank of Japan's Nakamura does not think another rate cut is needed now, but in general must consider easing when economy deteriorates sharply. It's not as if they have much room to play with as rates currently stand at 0.3%.
Almost 280k US homeowners received foreclosure notices despite a myriad of schemes designed to prevent this very event.
World losses including those of Banks, GSEs etc. have now reached $940bn. Recall that Goldman Sachs (NYSE:GS) was scoffed at when they first suggested in Sept. 2008 that this may be a $500bn problem. Note the IMF have recently upped their estimate of total write downs to $1,400bn. I don't expect that to be the last upward revision.
Hedge fund withdrawals reached $100bn in October. This may help explain some of the intraday price action which has been counter intuitive i.e. the hedge funds have been forced sellers of equities and commodities.
And it seems nothing is sacred these days with news that the vice grip of global recession has caused the price of my favourite tipple and truffle to plunge.
Even Russian billionaires have fallen on hard times.
Why is the Dollar So Strong?
A lot of folk are bemused and have been asking just why is the Greenback so strong of late? Well it's all about US investors' appetite for buying and selling foreign assets. The sheer size of US mutual funds dwarfs any other player in the foreign exchange markets, be they central banks or hedge funds. So when US investors en masse decide to abruptly change their pattern of asset allocation this has a dramatic effect on the value of the dollar.
Up until May this year, US investors were continuing the decade long policy of diversifying into foreign assets. Since then this has reversed and repatriation has become the dominant theme, i.e. the liquidation of non US assets and the transfer of the proceeds back to base camp America. This coincides exactly with the massive and unexpected dollar rally.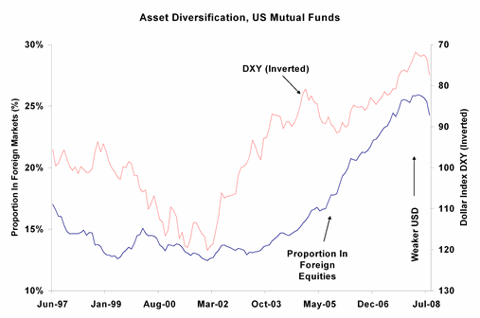 Equities
After the US closing bell, Intel (NASDAQ:INTC) announced a profit warning, slashing their revenue forecasts citing "significantly weaker than expected demand in ALL regions and across all product types."
BT are to cut 10k jobs as Q2 profits falls.
General Motors (NYSE:GM) (+5.48%) was the only advancer among the Dow Jones components yesterday amid hopes the automaker will get the financial assistance it needs.