Molycorp Inc. (MCP) has endured just about every negative lately, including being investigated by the SEC for making misleading statements. I know of no definitive news on this; but the company is moving into Phase I production on the Phoenix Project. In fact CEO Mark Smith claimed on November 7, 2012 that MCP was already producing rare earth concentrate at levels higher than phase 1 rates (19,050 metric tons of rare earths production per year). This is a major step for MCP. MCP claimed at its earnings date November 7, 2012 that 80% of the facilities were at Phase I levels or higher. MCP said the remaining 20% would be ready before the end of Q4 2012. It has not backed off this claim. Therefore one must presume MCP is getting very close. This is a major milestone for the company, and it could lead to a rally in the stock.
Secondly large stockpiles of rare earths that many companies were scared into buying last year are finally starting to dwindle. This is bringing many more companies back into the market for rare earths. The Chinese government is increasing efforts to enforce tougher environmental regulations on rare earth mining and to curb illegal mining. Further a growing number of China's largest rare earths producers have either halted or are in the process of halting operations for the express purpose of buoying rare earths prices in the market. These factors should lead to greater demand and higher prices for MCP's products.
Third Lynas (OTCPK:LYSCF), MCP's major western competition at this time, is undergoing severe regulatory problems with the Malaysian government. Lynas began operations at its new $800 million Malaysian plant in November 2012. However, residents are continuing to argue that it is unsafe. Four Malaysian ministers said on Monday Dec. 10, 2012 that Lynas must export waste material created by its operations at its rare earths plant in Malaysia, or it will risk having its operating license revoked. Lynas Malaysia's managing director Mashal Ahmad said Lynas (OTCPK:LYSCF) would not export the residue from the plant. He said international conventions prohibit the export of hazardous waste materials. The Malaysian high court will hear an application for judicial reviews of the plant on February 5, 2013. Many Malaysians would like to see it closed for being too great an environmental hazard. If Lynas has its operating license revoked, it will be effectively out of business for an extended period of time (at the least). This would be a huge boon to MCP. MCP may rally into the February 5, 2013 date.
All of the above factors, except the SEC probe, are lining up to likely spur MCP's stock price upward for the near term. Further CEO Mark Smith had positive comments to make about every part of MCP's business. It has a new magnets factory in Japan through its MCP Canada subsidiary. This will make next-generation, centered neodymium-iron-boron magnets. Construction was recently completed on this state-of-the-art plant.
Automakers rebounded this year. If there is a recession next year, they may be flat. However, longer term automakers should ramp up production. MCP's next-generation magnets should see a lot of new business from next-generation electric (or combo) vehicle makers. In all Mark Smith made it sound as if every phase of the business was doing well. He did mention that one of the subcontractors at Mountain Pass had done substandard work. It cost MCP an extra $150 million to rectify this situation. However, CEO Smith still believes the company is on schedule. Partial delays only mean that production will not be quite as efficient until every part of phase I is 100% done. The implication was that any such task would be completed quickly. Any inefficiency should be very short lived.
I did not get the impression that MCP thought there was a lot to worry about with the SEC probe about false or misleading statements. It is my impression that the stock transitioned from a speculative play pushed up by HFT/momentum traders to a run of the mill mining stock. This resulted in a change in the level of interest in the stock both by the "Big Boyz" and by the individual investors. On top of this, the bottom fell out of the rare earths market last year. Naturally the stock price fell. I don't see this as being due to misleading statements by CEO Mark Smith. On the other hand the SEC would not be investigating if they did not have already strong feelings about the veracity of some MCP officers' statements. Readers will have to figure this one out for themselves. However, the overall fundamental picture for MCP is definitely looking up. If the Lynas plant does end up being shut down by the Malaysian government, that will be extremely bullish for MCP.
The two year chart of MCP provides some technical direction to the trade.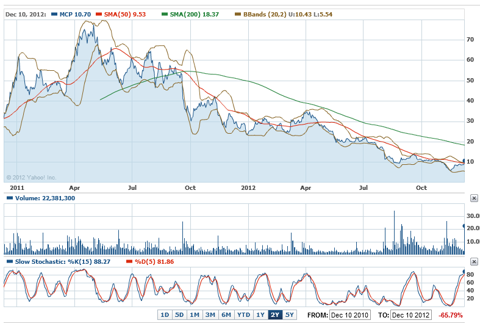 The slow stochastic sub chart shows that MCP is overbought in the near term. The main chart shows that it has been in a long term down trend. It may have found a bottom. The news noted above may well be enough to cause it to start an uptrend. Technically upside to roughly $30 is quite possible. If the automakers continue to grow quickly, especially in electric (or combo) vehicles, this could be extremely bullish for MCP. Other industries could stage similar recoveries that could help MCP too. We will have to see.
There may be a recession in the US in 2013 due to the issues surrounding the fiscal cliff. The EU is already in recession, and ECB head Draghi has said that it will not emerge from it until at least the latter half of 2013. If the US also goes into recession, China and other emerging market economies are almost certainly in for a hard landing. The ECRI already claims that the US has been in recession since July 2012, although many disagree with them. If the US does go into a more noticeable recession, 2013 could turn out to be a very bad year for stocks. You need to take this into account if you decide to buy MCP. You will probably want to average in around the fiscal cliff and around the February 5, 2013 court date for Lynas (or however long the hearing lasts).
Medium term the prospects are definitely looking up for MCP, but you still want to pay as little as possible for it. In a bad recession, the stock price will take a big hit. MCP has a Beta of 3.84 and short interest as a percentage of the float of 61.80%. It currently trades at a rather high FPE of 61. This is not unusual for a new or reminted company. However, it is still a rather high multiple. MCP's stock price could ramp up quickly as HFT/momentum traders push it upward in any overall market rally. HFT/momentum traders love to short squeeze highly shorted stocks. It could fall just as rapidly (or more so) as the overall market falls. Investors need to keep this in mind.
Note: Some of the fundamental data above is from Yahoo Finance.
Good Luck Trading.
Disclosure: I have no positions in any stocks mentioned, but may initiate a long position in MCP over the next 72 hours. I wrote this article myself, and it expresses my own opinions. I am not receiving compensation for it (other than from Seeking Alpha). I have no business relationship with any company whose stock is mentioned in this article.