Having witnessed the dwindling cap-rates of acquisitions in the retail and office sectors, I have become increasingly impressed by the ability of healthcare REITs to continually expand accretively. Ventas (NYSE:VTR) showed dominance with an incredible $1.7B of acquisitions year to date. In this article we will examine how each aspect of this senior housing giant contributed to such volume.
Fundamentals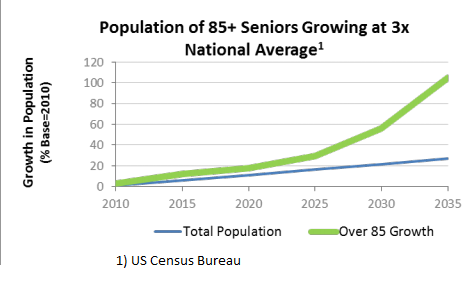 Unlike most demand growth, this is not cyclical, it is simply the result of modern medicine expanding the average life span. However, much of it is counteracted by an increase to supply: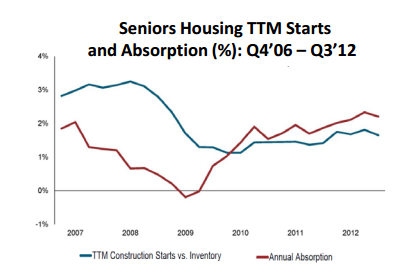 Overall, the senior housing sector's fundamentals appear to be strong but only slightly improving.
Acquisition Pipeline
With only about 10% of the Healthcare industry being owned through REITs, and much of the rest fragmented, there are abundant opportunities to expand and cap-rates remain quite favorable. Ventas estimates its pipeline to be as much as $1-2B per month. Accretive use of such astronomical volume requires adequate sources of capital, and proper allocation, both of which Ventas has succeeded at.
1) Financing of acquisitions
On December 6th it announced the release of $700 million in aggregate principal of 2% 2018 Senior Notes along with $225mm of 3.25% 2022 Senior Notes.
2) Intelligent acquisition choices
As of November, Ventas had made approximately $1.77B in YTD acquisitions, $1.7B of which were above a 7.5% cap-rate. When compared to the 2% Notes, that is an impressive spread. This rapid and seemingly accretive growth is what has allowed Ventas to maintain a CAGR over 10% for the past 10 years.
Operations
Ventas' operations can be best summed up by looking at its properties map.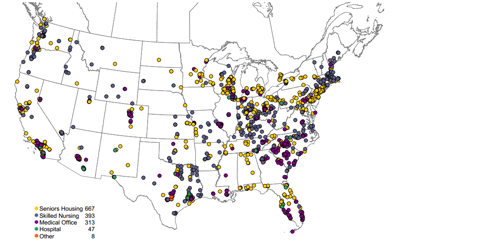 While nicely diversified, it is also quite targeted. There is a high concentration of coastal properties and waterfront by the great lakes. This, among other reasons, allows Ventas to capture the more affluent portion of the 85+ demographic, and affords higher rates. Let us see how their wide range of properties translates into earnings.
About 51% of VTR's NOI comes from its senior housing with the rest split primarily between SNFs, Hospitals and MOBs which it is increasingly branching into. Together, these generated $642mm revenue in 3Q12 (compared to $555mm 3Q11) and strong margins preserve $285mm as FFO.
Unlike most other healthcare REITs that are mostly triple net, VTR operates a fair portion of its portfolio. Half of its senior housing is NNN, but the remainder is run by Ventas through hired operators. The MOB portion of the portfolio is also run in-house through Lillibridge, a subsidiary of VTR.
Finances
An asset pool of $18.44B and only $8.87B of liabilities leaves Ventas less levered than many of its smaller healthcare REIT competitors. Most of its debt is recourse, in the form of Senior Notes, and its weighted average cost of borrowings was 4.4% as of its latest 3Q linked here. Expect this already low rate to come down even further once the 2% notes are accounted for. Overall, its financials are quite admirable, keeping the company low risk while enhancing earnings through an appropriate amount of leverage.
Risks
For most healthcare REITs or healthcare operators, there is significant concern of a potential cut to Medicare or Medicaid reimbursement. Ventas is much less concerned with such a policy as 82% of its revenue (70% of its NOI) comes from private pay. Further, its senior housing residents are slightly less susceptible to potential cuts to Social Security as they are a fairly affluent crowd. Instead, I feel VTR's risk lies in the relatively low barrier to entry. Some of its properties are uniquely located or exceptionally elegant, but senior housing in general is susceptible to oversupply in the current environment. Thus far, the fundamentals remain strong, but I just want to point it out as a potential concern down the road.
Ventas as an investment
Strong fundamentals, operations and finances along with a seemingly infinite pipeline of accretive opportunities certainly make Ventas an intriguing investment, but it depends on an investor's goals. As a value oriented investor I find it troubling that despite impressive CAGR its earnings have not kept up with its tremendous price growth.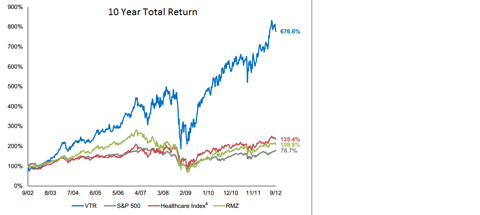 It currently sits at a FactSet estimated 17.75 price/FFO and a dividend yield of around 3.8%. Relative to cost, other healthcare REITs provide stronger return opportunities and share a similar acquisition pipeline.
Omega Healthcare (NYSE:OHI) trades at a multiple of only 11.1, a yield of 7.59% and like Ventas has access to really cheap capital. It just signed a $700mm credit facility agreement at a rate of LIBOR + 100-190bps with an accordion feature to extend it to $1B. Omega owns mostly SNFs, so it is more susceptible to policy changes than is Ventas.
Risk-tolerant investors may be inclined to choose OHI for its relatively higher earnings and yield, while those looking for a safer play among healthcare REITs could find comfort in Ventas.
Disclosure: 2nd Market Capital and its affiliated accounts are long OHI. This article is for informational purposes only. It is not a recommendation to buy or sell any security and is strictly the opinion of the writer.
Disclosure: I am long OHI. I wrote this article myself, and it expresses my own opinions. I am not receiving compensation for it (other than from Seeking Alpha). I have no business relationship with any company whose stock is mentioned in this article.