In a relatively slow week for earnings, Costco (NASDAQ:COST) is due to report earnings Wednesday. The company is very highly valued, trading at 25.3 times 2012 earnings and 22.1 times forward earnings. Analysts are projecting the company to grow at a 12% annual rate for the next three years, however that kind of growth generally doesn't justify such a high valuation. Investors will be looking to hear positive results and guidance to make sense of the high multiples.
One of the advantages to playing a late-in-season earnings report is that by examining the reports of similar companies, an investor can get a good idea of how the sector is doing as a whole. For example, WalMart (NYSE:WMT) reported earnings on November 15th, and earned $1.08 per share, just beating estimates of $1.07. The company's total revenue was $113.9 billion, which missed consensus estimates of $114.6 billion. Upon hearing these results, the stock fell from a close of $71.31 on November 14th to an open of $69.66 the next day, an overnight loss of 2.3%. Wal-mart only trades at 14.88 times TTM earnings, and is projected to grow its earnings at an 11% rate by analysts at Standard and Poor's. This fact alone makes Costco look expensive.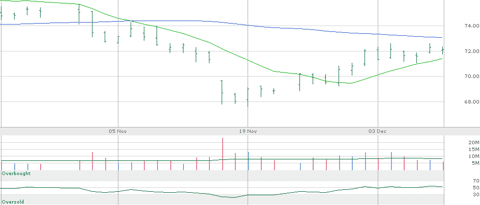 Click to enlarge
Target (NYSE:TGT) also reported on November 15th, and earned 96 cents a share on $16.93 billion of revenue, handily beating analysts' consensus of 78 cents a share and $16.6 billion, respectively. On this news, Target popped only slightly, gaining 1.4% the day of the announcement.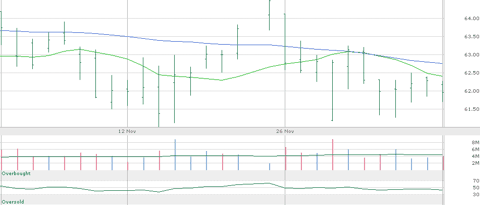 Click to enlarge
Perhaps more importantly than these earnings results are the warnings issued by these and other retailers about their outlooks for the fourth quarter, which include the holidays. In addition to Wal-Mart, Ross Stores (NASDAQ:ROST), Limited Brands (LTD), and Children's Place Retail Stores (NASDAQ:PLCE) all reported fourth quarter outlooks below analysts' estimates. Ross (who also reported on the 15th), for example, stated the uncertainty that macroeconomic conditions cause it consumer spending patterns. Look at the November 15th area on the following chart for the market's reaction to ROST's report: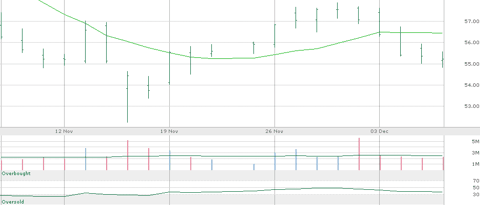 Click to enlarge
I certainly feel that the bias is to the downside here, plus analysts are calling November retail sales "less than stellar". This and fiscal cliff fears could very easily cause lower than expected guidance, which would almost certainly lead to a selloff. For this reason, I'm playing this announcement on Wednesday morning with an at-the-money put spread. I'm a buyer of the December 103 puts at $4.40, and a seller of the December 98 puts at $1.25 for a net cost of $3.15.
Now, let's look at the possible outcomes of this trade. Best case scenario, COST disappoints, as projected, and the stock drops below $98. Based on Monday's closing price of $98.96, this is only 0.98% below current levels. This would result in a profit of $1.85, or a 58.7% gain in less than two weeks when the options expire. The trade makes money as long as Costco is below $99.85 at expiration. In other words, as long as the stock doesn't gain any more than 0.9%, we make money, and don't lose our money unless Costco pops over 4%. I think with the slight upside protection, and the downward bias toward retailers, plus the fiscal cliff worries, this trade has a risk/reward that justifies it.
Disclosure: I have no positions in any stocks mentioned, and no plans to initiate any positions within the next 72 hours. I wrote this article myself, and it expresses my own opinions. I am not receiving compensation for it (other than from Seeking Alpha). I have no business relationship with any company whose stock is mentioned in this article.