Based in San Mateo, CA SolarCity (NASDAQ:SCTY) scheduled a $141 million IPO with a market capitalization of $1 billion at a price range mid-point of $14, for Wednesday, December 12, 2012.
Five other IPOs Scheduled For Week Of December 10th. The full IPO calendar is available here.
SCTY S-1 filed December 4, 2012.
Manager, Joint Managers: Goldman; Credit Suisse; BofA Merrill Lynch.
Co Managers: Needham; Roth Capital.
NOT A SOLAR MANUFACTURING COMPANY
SCTY is not a solar manufacturing company. It is simply a low-tech company that installs and leases solar panels. SCTY's systems typically are leased for 10 to 20 years, mostly 20 years. The equipment is depreciated over 30 years.
POSITIVES
SolarCity sells cleaner, cheaper energy than some utilities, and SCTY has access to institutional capital, having raised $1.57 billion to finance customer leases. Elon Musk owns 30.6% pre-IPO and is Chairman of the Board. At Tesla & Space Exploration Technologies he's also CEO.
NEGATIVES
SCTY does have a very large market, but only in portions of states where the cost per kilowatt is higher than 15 cents. The national average is 12.8 cents. Yes, top line revenue is increasing, and deferred revenue is increasing, but losses are also increasing. And then there is the joint venture partnership accounting issue (see below). Notice how the income attributable to stockholders jumps around and seems difficult to predict.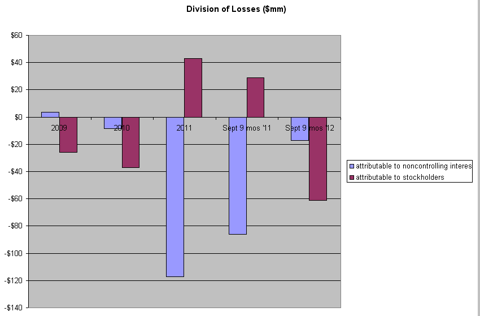 Click to enlarge
(Click to enlarge)
| | | | | | |
| --- | --- | --- | --- | --- | --- |
| | 2009 | 2010 | 2011 | Sept 9 mos '11 | Sept 9 mos '12 |
| Net income | -$23 | -$47 | -$74 | -$57 | -$78 |
| Attributable to noncontrolling interests | $4 | -$9 | -$117 | -$86 | -$17 |
| Attributable to stockholders | -$26 | -$37 | $43 | $29 | -$61 |
CONCLUSION
In this difficult market investors need to see at least path to break-even, which is not evident based on the financials.
SCTY should explain why and how stockholder net income varies between noncontrolling interests and stockholder interests. That explanation should be in terms of simple debits & credits, plus a discussion of the underlying assumptions.
IPOdesktop, therefore, would avoid the SCTY IPO.
BUSINESS
SCTY customers buy renewable energy from for less than they currently pay for electricity from utilities with little to no up-front cost. Customers are also able to lock in their energy costs for the long term and insulate themselves from rising energy costs.
SCTY has installed more solar energy systems than any other company in the United States.
CURRENT MARKET
SCTY currently serves customers in 14 states, and intends to expand its footprint internationally, operating in every market where distributed solar energy generation is a viable economic alternative to utility generation.
SCTY generates revenue from a mix of residential customers, commercial entities such as Walmart (NYSE:WMT), eBay (NASDAQ:EBAY) and Intel (NASDAQ:INTC), and government entities such as the U.S. Military.
Since its founding in 2006, SCTY has provided or contracted to provide systems or services on more than 45,000 buildings. In addition, aggregate contractual cash payments that customers are obligated to pay over the term of long-term customer agreements have grown at a compounded annual rate of 117% since 2009.
SCTY structures these customer agreements as either leases or power purchase agreement
Financing
To date, SCTY raised $1.57 billion through 23 investment funds and related financing facilities established with banks and other large companies such as Credit Suisse, Google, PG&E Corporation and U.S. Bancorp. SCTY continues to create additional investment funds.
$602 million of the amount SCTY raised remains available for future deployments.
OPPORTUNITY
SolarCity sells cleaner, cheaper energy than some utilities. SCTY's current blended electricity price of 15 cents per kilowatt hour, or kWh.
In October 2012 the average price was 12.8 centers per kWh. In Los Angeles the October 2012 average price was 21.1 cents per hour.
California rates are higher than the national average because the utilities are mandated to buy a certain percentage of the power they distribute from expensive green sources.
SCTY, on the other hand, offers lowerer cost 'green power' directly to homeowners and businesses, especially in states that have mandated requirements for high cost green energy power.
MARKET
According to the Energy Information Agency, or EIA, in 2010, total sales of retail electricity in the United States were $368 billion. U.S. retail electricity prices have increased at an average annual rate of 3.4% and 3.2% from 2000 to 2010 for residential and commercial customers, respectively. The average annual rate increase in the states where we operate has been higher.
For example, in Hawaii, the average annual rate increases over the past 10 years reached as high as 7.7% and 8.0% for residential and commercial customers, respectively. Despite these increasing U.S. retail electricity prices, U.S. electricity usage has continued to grow over the past 10 years.
Across the United States, many utility customers are paying retail electricity prices at or above SCTY's current blended electricity price of 15 cents per kilowatt hour, or kWh. Based on EIA data, in 2010 approximately 340 terawatt hours, or TWh, of the retail electricity sold in the United States was priced, on average, at or above SCTY's current blended electricity price.
The volume of sales in TWh at or above this rate increased approximately 295% from 2001 to 2010. In dollar terms, 2010 data suggests a U.S. market size of $58 billion at an electricity price at or above 15 cents per kWh.
Using historical annual growth rates for residential and commercial retail electricity prices for 2000 to 2010 and flat electricity consumption, the implied U.S. market size at or above 15 cents per kWh increases to $170 billion, or 950 TWh, by 2017.
Rising retail electricity prices, coupled with inelastic demand, create a significant and growing market opportunity for lower cost retail energy, especially in states that don't have mandated, high cost requirements for 'green power'.
7% DIRECTED SHARE PROGRAM
SCTY through the underwriters reserved for sale, at the initial public offering price, up to 704,550 shares of common stock being offered for sale, to certain business associates, friends and family of executive officers and board of directors through a reserved share program.
That means SCTY believes the stock will increase from the IPO price.
However, the last granted options in September 2012 were for $18.48 per share, and the price range mid-point is $14...so SCTY itself may not be so good predicting stock prices.
ACCOUNTING EFFECTS OF JOINT VENTURE
SCTY has structured different types of investment funds to implement its asset monetization strategy.
One such structure is a joint venture structure where SCTY and fund investors both contribute funds or assets into the joint venture.
Under GAAP, SCTY is required to present the impact of a hypothetical liquidation of these joint ventures on the income statement.
Therefore, after SCTY determines its consolidated net income (loss) for a given period, SCTY is required to allocate a portion of consolidated net income (loss) to the fund investors in joint ventures (referred to as the "noncontrolling interests" in SCTY's financial statements) and allocate the remainder of the consolidated net income (loss) to SCTY stockholders.
These income or loss allocations, reflected on SCTY's income statement, can have a significant impact on reported results of operations.
For example, for the year ended December 31, 2011 and the nine months ended September 30, 2012, SCTY's consolidated net income (loss) was a loss of $73.7 million and $78.0 million, respectively.
However, after applying the required allocations, the net income (loss) attributable to SCTY stockholders was income of $43.5 million and a loss of $61.1 million, respectively.
JOINT VENTURE PARTNERS CAN HAVE A SIGNIFICANT BOOK LOSSES
How sustainable are those partnerships if they generate considerable losses?
SCTY should explain to the public what's really going in the partnerships, in terms of accounting debit/credit entries.
DIVIDEND POLICY
No dividends are planned
MAJOR OWNERS PRE-IPO
Elon Musk (Tesla, Space Exploration Tech, Paypal); 30.6%
Funds affiliated with Draper Fisher, 24%
Generation IM Climate Solutions Fund, L.P., 6.9%
Entities affiliated with Bay Area Equity Fund, 6.9%
Lyndon R. Rive, 6.6%
Peter J. Rive, 6.6%
USE OF PROCEEDS
SCTY expects to net $127 million from the IPO.
Proceeds are allocated to general corporate purposes & working capital.
Disclosure: I have no positions in any stocks mentioned, and no plans to initiate any positions within the next 72 hours. I wrote this article myself, and it expresses my own opinions. I am not receiving compensation for it. I have no business relationship with any company whose stock is mentioned in this article.