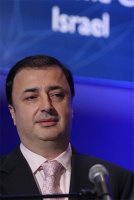 Today is silly day on the Tel Aviv Stock Market. It is also evil day. The Shorts are going nuts. There is a rumor spreading that Lev Leviev, Chairman of Africa Israel, has passed away and that is driving the price of Africa Israel's stock and bonds way down and hence the yields on the bonds are going way up. I am sure the shorts are driving this rumor. 
I am not blind to the troubles of the real estate industry. I am also aware that there is some chance Africa Israel could go out of business. But... here are two facts:
1. Lev Leviev is alive and well. I checked.
2. There is a mutually assured destruction between Israel's real estate tycoons and the banks in Israel. The Banks can ill afford to let Leviev go under. 
So, 10 minutes ago, I bought Africa Israel Bonds on the TASE at fantastic yields. I wish Lev Leviev a long life and much success in his business and in his amazing charitable work. And, I wish the journalists in Israel and the Shorts would be a little less evil.  Anyway, thanks for giving me the chance to also make some money on this dip!
Disclosure: Long Africa Israel bonds