One advantage of investing in the world of small-capitalization companies is that you can find names that are not widely followed and therefore unappreciated. Schweitzer-Mauduit International (NYSE:SWM) is one such company. SWM is a manufacturer of specialized paper primarily to the tobacco industry.
Tobacco industry products account for approximately 93.0% of sales. The principal product types are Reconstituted Tobacco Leaf (RTL), which are manufactured from tobacco by-products, Low Ignition Propensity (LIP) paper, which controls the combustion rate, and various types of Base Paper including cigarette paper.
Click to enlarge images.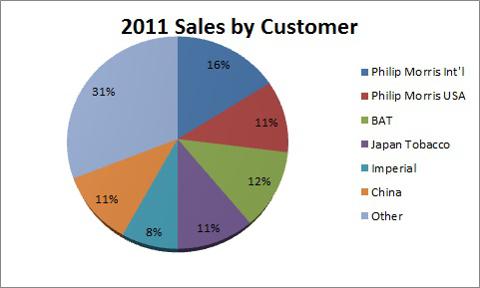 Source: Schweitzer-Mauduit International.
The company's top six customers account for some 80.0% of the global market. SWM is selling its products globally to 90 countries. However, due to the nature of the tobacco industry, growth prospects are muted. As below, sales growth rates are in the 4%-5% range annually and suffer from volatility on a quarter-over-quarter basis.

Source: Thomson Reuters Research, I/B/E/S, and company filings.
Income Statement

Sales for the 12-month period ending with Q3 2012 grew to $821.0 million, or 0.6% above FY 2011 sales of $816.2 million, and by 5.1% when compared to $780.9 million for the 12-month period ending Q3 2011.
Analysts estimate FY 2012 sales in the $811.28 million to $827.60 million range. The mean FY 2012 sales estimate is $816.93 million. Analysts sell greater sales growth for FY 2013. Here, the estimates range from $823.8 million to $859.1 million with a mean estimate of $842.7 million. The growth rate from mean estimate to mean estimate is 3.2%.
Quarter-over-quarter sales are disappointing. Sales for Q3 2012 fell to $202.0 million from $211.2 in Q3 2011. Sales in Q2 2012 also fell when compared to Q2 2011. In fact, sales have been declining each quarter from Q4 2011 when it was $218.1 million. In the prior year, the trend was reversed and each quarter of FY 2011 saw sales increases.
On the other hand, EPS for these last 12 months jumped 85.7% from $1.75 in the year-earlier period to $3.25 in the last 12 months. This increase can be attributed, in part, to a significant reduction in COGS.
In comparing Q3 2012 with Q3 2011, we find EPS expanding to $0.88 as compared to $0.30 in the year-earlier period. The comparison of Q2 2012 with Q2 2011 and Q1 2012 with Q1 2011 are much more muted. The increase for Q2 2012 is only 11.9% and in Q1 2012 compared to Q1 2011, EPS is flat. There was another big jump in Q4 2011 when compared to Q4 2010. In this quarter-over-quarter comparison, EPS jumped by 215.0% on a 19.2% quarter-over-quarter sales increase.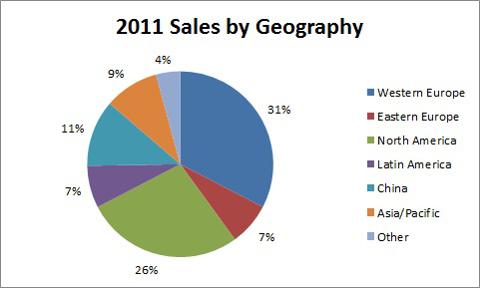 Source: Schweitzer-Mauduit International.
The mean analyst EPS estimate for FY 2012 is $3.62, which would be about 40.3% higher than FY 2011. Thomson Reuters Research reports estimates from four analysts. The spread in the estimates is fairly tight with the range being from $3.57 to $3.70. These analysts see EPS growth continuing into FY 2014 with estimates ranging from $3.89 to $4.05. These estimates are driving the forecasted P/E down to the single digits.
Though the sales growth rates are not spectacular, the company is very profitable and is becoming more efficient in creating profits. The gross margin for the trailing 12 months is 33.2%, which is much improved over the five-year average gross margin of 22.4%. We are also seeing improvements in the operating margin, which is now 18.7% compared with a five-year average of 13.9%. I note that both the gross margin and the operating margin have improved every year since 2006.
Balance Sheet

The company's future depends on the strength of its balance sheet. As of Q3 2012, the company reported cash of $117.8 million compared to $159 million in long-term debt. Cash has consistently grown each year from FY 2007 when it was just $4.0 million. However, long-term debt has varied widely on a year-to-year basis. Long-term debt has ranged from a low of $42.4 million in 2009 to the current $159.0 level. Fortunately, the coverage ratio is about 43.5 times. Since SWM is generating about $136.0 million in free cash, I do not see the current level of long-term debt as threatening. Long-term debt, as a percentage of working capital, is just 68.5%.
Long-term debt to total capital is 24.7% and long-term debt to equity is 32.7%. The current ratio is 2.8%. These ratios indicate to me that SWM can handle its current debt load.
Capital Allocation

As previously stated, by my estimates SWM is generating about $136.0 million in free cash. This gives the company flexibility to grow the company, pay a dividend, and repurchase shares.
The company pays an indicated dividend of $0.60 per share. At the current share price, the dividend is yielding 1.6%. In Q3 2012, SWM doubled its payout to $0.15 per share from $0.075 per share. The payout ratio, as a percentage of earnings is 10.8% for the trailing 12 months. The payout, as a percentage of free cash, is 13.53%.
The company is buying back shares. It reduced the number of shares outstanding by 6.1% when comparing FY 2011 to FY 2010. It further reduced shares outstanding by 7.7% when comparing shares outstanding at the end of Q3 2012 with the number outstanding at the end of FY 2011. In comparing shares outstanding at the end of Q3 2012 with those outstanding at the end of Q3 2011, the percentage reduction in shares outstanding is 3.9%. These share buybacks reverse the trend the company experienced in prior years by diluting the number of shares outstanding.
The company engaged in a 2-for-1 stock split in August 2012.
Valuation
By some metrics, SWM looks to be overvalued. The company has a PSR of 1.4 times compared to the industry median of 0.46 times, and a PBR of 2.37 times when the industry median is 1.32 times. On an enterprise value to sales basis, the company also looks overvalued when compared to the industry median of 0.65 times.
On the other hand, SWM has a trailing PE of 11.5 times, which is below the overall market's P/E and a forward P/E that drops to the single digits. It offers a free cash flow yield of 11.83%. The enterprise value to free cash ratio is 8.81 times as compared to the industry median of 10.51 times. The EV to EBITDA ratio is 6.34 times, which is low on both an absolute terms and when compared to the industry median of 7.2 times.
Conclusion
I think SWM is undervalued and the higher multiples based on PSR and PBR are justified. This conclusion is reinforced, in my opinion, by the lower multiples detailed above. My opinion is driven by several factors. I think the company's long-term growth rate will be something like 7.4%, lower than the one analyst who has an estimate but also higher that what we have seen recently. SWM will never be a highflier with a hockey stick forecast.
The company is doing incredibly well. Its return on invested capital is estimated at 23.83% based on trailing 12 months performance, 14.2% based on FY 2011 performance and both are above the five-year average ROIC of 9.9%. Additionally, my estimate of cash ROIC is 21.1%, which reflects the improvement in free cash flow generation. We also see a marked expansion of the ROE ratio to 23.1 for the last 12 months from 18.3% in FY 2011. The five-year average ROE is 8.3%.
Holding SWM may not be a smooth ride to riches, but I do think that despite the ups and downs it will create a generous return to owners. My long-term target value is about $53 per share.
Disclosure: I am long SWM. I wrote this article myself, and it expresses my own opinions. I am not receiving compensation for it (other than from Seeking Alpha). I have no business relationship with any company whose stock is mentioned in this article.