General Electric (NYSE:GE) stock hasn't been this low since July 1, 1996. GE stock has gone as low as $14.66 per share today.
Yesterday, the stock tanked because the federal government suddenly reversed course and said it would not be buying up bad debts. GE issues commercial paper and other debt and also owns various financial subsidiaries, including insurance.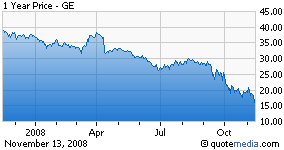 However, GE immediately issued a press release indicating that the news wouldn't cause severe damage. GE noted that the Federal Deposit Insurance Corporation approved GE Capital Corp. to participate in the Temporary Liquidity Guarantee Program, meaning up to $139 billion in short- and long-term debt is guaranteed. (See AP article.)
Today, the stock tanked because of rumors that GE was cutting its dividend, which stands at a hefty 7%. GE denied the rumors, but its stock fell anyway.
I am a major buyer at these levels. I picked up three thousand shares yesterday and just bought another thousand shares today.
Disclosure: Long GE