In my experience, the Indian market works less on fundamentals and far more on foreign fund inflows. Based on that, the time to jump into the Indian stock market may be now.
The Times of India is reporting that foreign fund inflows from institutional investors have been especially strong lately.
During December 3-7, Foreign Institutional Investors (FIIs) were gross buyers of shares worth Rs 20,314 crore and sellers of equities worth Rs 14,167 crore -- translating into a net inflow of Rs 6,147 crore (USD 1.2 billion), according to Sebi data.

This takes the net investment by FIIs to USD 20.9 billion so far in 2012, making it as the second highest net inflow in a single calendar year since their entry into Indian capital markets in 1992.
Individual investors are joining in the fray as well, reports the Times.
It's not just foreign institutional investors who are pouring money into Indian markets. Overseas funds have made net investments of $1 billion (higher purchase than sales) in the past three months with inflows through listed funds topping $525 million in November alone.

The total estimated net allocations for India have gone up by over 18% in the past three months. The assets managed by overseas exchange traded funds (ETFs) investing in the country are estimated to be around $16.5 billion. India-dedicated funds have cumulative net assets of about $24 billion.
In general, I am rather cautious when chasing hot money. There was a boom/bust cycle in 2010-2011, when 2010 was one of the best years ever, followed by a crash in 2011. A quick review of the iShares S&P India Nifty Fifty Index ETF (NASDAQ:INDY) shows that.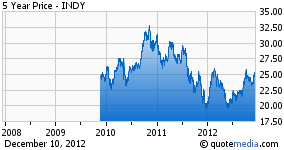 To put this volatility in context, it is worthwhile to note what happened to foreign fund inflows in 2010 and 2011. Again, the Times reports:
In 2010, overseas investors had made net investments of about USD 29 billion (about Rs 1,33,266 crore).

FIIs, a major participant in Indian stock market, had pulled out USD 358 million (Rs 2,714 crore) in 2011.
So, we need to be certain that at least for the next quarter or more foreign funds will keep flowing in to India.
The good news is that backing up the momentum we have some positive movements on the deregulation front, which is one of the main concerns when it comes to India.
In general, the Indian Parliament is often hamstrung by fractured political power sharing, limiting the effectiveness of the Prime Minister to push through reforms. However, there was a major win for the PM last week when the Parliament opened the doors to foreign retail investors. It may sound small, but this is a fight that has been fought over years, and the win signals to the market that the PM has recovered some power to push through more reforms. The New York Times reports:
After two days of sometimes ear-splitting debate, India's Lok Sabha, or lower house, of Parliament voted down a measure prohibiting large foreign retailers like Wal-Mart from entering the country. Of the 543 members in the house, 218 voted in favor of a proposition banning these companies from the country, and 253 against.
A close win, no doubt, but it strengthens the positions of the pro-reformers. This should help with more FII money flowing into India.
Several options exists for ETF investors to invest in India. My personal favorite is the INDY, which tracks the equivalent of the Dow Jones of the Indian stock market, the NIFTY. The iShares MSCI India Index fund ETF (BATS:INDA) which follows a different MSCI India index is an alternative. Both have done well, with INDY up 27% YTD, while INDA, which started in the first half of the year and hence doesn't have a YTD return, has kept pace with INDY over the past 3 months at around 14%.
Investors more interested in investing in the growth sector of the India market, the consumer segment, may be more interested in the EGShares India Consumer ETF (NYSEARCA:INCO). This has done exceptionally well over the past year, having exceeded 40% returns.
As always, remember that investing in India is a volatile and risky business. Hot money flows in and out at the drop of a hat. As 2011 shows, it doesn't take a lot to collapse the Indian market.
Disclosure: I have no positions in any stocks mentioned, but may initiate a long position in INDY over the next 72 hours. I wrote this article myself, and it expresses my own opinions. I am not receiving compensation for it (other than from Seeking Alpha). I have no business relationship with any company whose stock is mentioned in this article.