In this morning's release of the NFIB Small Business Optimism Index, the headline reading fell from 93.1 down to 87.5 for a decline of 6%. Since the NFIB began releasing the results of this survey on a monthly basis in 1986, there has never been a larger monthly drop. The only other time the index saw a larger decline was back in April 1980 when the index saw a 13% drop from its January 1980 reading three months prior. As shown in the chart below, in the nearly forty years that this index has been in existence, the only three prior periods where the index was below 90 was in 1974, 1980, and during the Financial Crisis. Furthermore, all of these periods occurred during recessions.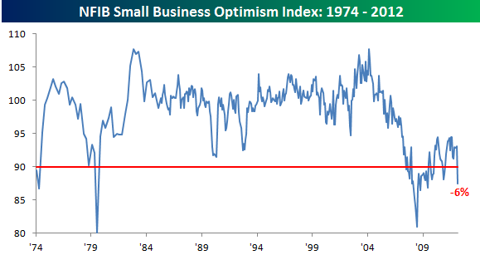 Click to enlarge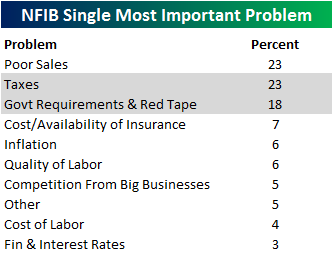 In each month's NFIB survey, small business owners are asked what the single most important problem they face is. In this month's survey, Poor Sales and Taxes were tied at the top of the list with 23%. Third on the list, though, at 18%, was Government Requirements and Red Tape. The impact of Hurricane Sandy has been cited as a reason for Poor Sales as the number one problem, but the real standout in this table is Taxes and Govt Requirements. Combined, these two 'Washington centered' problems account for 41% of the total responses. At current levels, the combined reading of Taxes and Government Requirements is at multi-year highs.
Ever since the election, we have been hearing about the potential 'what if' negative scenarios of going over the fiscal cliff. Based on last Friday's large decline in the Michigan Confidence Expectations Index and now today's record monthly decline in the NFIB Small Business Optimism Index, those what ifs may already be what is.