Following the recent decline in the broader market, shares of some companies may be modestly undervalued. AT&T's (NYSE:T) share price declined in the recent selling. The firm is trading towards the lower end of the recent valuation range and the dividend yield is over 5 percent. We'll start off examining one of the key drivers of the company's financial performance.
Growth in data usage revenue is boosting performance from both the wireless and wireline operating segments. Data revenues were up 18 percent year-over-year. About 64 percent of customers are using smartphones. I expect that number to increase to about 80 percent within the next three years. The increase in customers using smartphones will boost revenue.
Consumers are switching to smartphones that are using more data. The amount of data that phones are using increases with each generation: The iPhone 5 uses more data than the iPhone 1. Further, Android-based smartphones use more data than BlackBerry smartphones.
Additionally, customers are adding tablets to their plans. Tablets use more data than smartphones. Also, the tablet market isn't as saturated as the smartphone market. Over the next three years, I expect data usage to continue to increase and AT&T to benefit from the increased use of data.
Most people know the wireless data story. That said, I think you could see wireline data revenue increase $5B to $10B in the next 5 to 10 years and that should counter the decline in revenue from wireline voice.
The firm plans to grow by layering services on top of the smartphone platform. Customers will be able to control home alarm systems, thermostats, and a wide variety of electronics from their smartphones. I think it'll take 5 to 10 years for this growth story to make a meaningful impact on AT&T's financial performance.
In terms of the competition, T-Mobile doesn't offer the iPhone. That puts T-Mobile at a disadvantage. T-Mobile offers an unlimited plan for $90 a month.
Verizon is selling data for a minimum of $50 for 1GB. Ten GB costs $100-month. In other words, Verizon's plans are more expensive than T-Mobile's.
A plan from AT&T with 450 minutes, 5GB of data and unlimited text messaging costs $110-month. In other words, AT&T's plans are more expensive than T-Mobile's and some of Verizon's.
Sprint also offers unlimited data plans for less than $100-month.
There is risk that consumers switch from AT&T to other service providers with less expensive plans. However, readers shouldn't overestimate the risk as consumers haven't shown much desire to change service providers. Verizon and AT&T are attempting to profit from increased data usage while Sprint and T-Mobile are attempting to lure subscribers with unlimited data plans.
With regard to the operating segments, if you add the non-cash expenses to the operating income from the wireline segment in the first nine months of 2012, operating income would be about $14B compared to $18.6 billion in operating income from the wireless business. The wireline business reported about $4.5B less revenue than the wireless segment. In other words, when you add the non-cash expenses to operating income, both segments have similar operating margins.
I think it is possible that wireline voice revenue declines about $7B in the next 5 to 10 years. However, data revenue could increase $5B to $10B during the same period. That said, the operating segment performance remains solid. Most of the growth should come from the wireless segment as wireline voice revenue weighs on the wireline segment.
AT&T's board of directors approved a 300 million share repurchase program in July 2012. All else being equal, that should keep shares of AT&T from declining substantially in value.
It is possible that Congress could break AT&T up into regional carriers at some point. However, I don't think that is going to happen soon.
Technical Analysis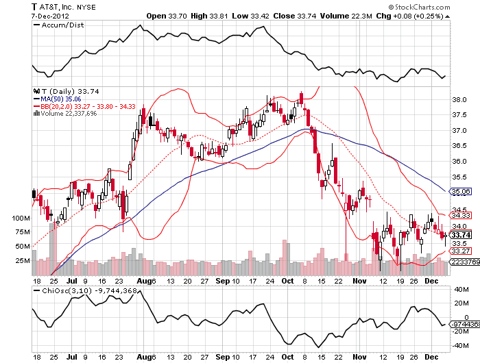 Click to enlarge
Shares of AT&T are trading below the declining 50-day simple moving average: the intermediate trend is towards lower prices. Also, shares are trading near the increasing 200-day simple moving average: the major trend is towards higher prices. The minor highs and lows are at about the same level after making lower highs and lower lows. Shares of AT&T could be forming a bottom before staging an intermediate-term advance as the market for shares of T is showing signs of latent strength while consolidating.
Investment Thesis
AT&T is a good company. Offering telephone, cable and internet services, the firm plays a major role in our lives. In terms of financial performance, growth in data revenues should continue. The financial position is solid: the firm is returning an enormous amount of cash to investors while investing a huge amount, nearly $20B in capex, in the future of the company. AT&T returned about $16B to investors in the first nine months of 2012.
The 300 million share repurchase program should keep a lid on any decline in the share price. Investors should start considering getting long shares for a re-test of the $38-share level. The $38-share level would be about a 12 percent return from the $34-share level.
Disclosure: I am short SPY. I wrote this article myself, and it expresses my own opinions. I am not receiving compensation for it (other than from Seeking Alpha). I have no business relationship with any company whose stock is mentioned in this article.