The December 10, 2012 Edition of Barron's, The Dow Jones Business and Financial Weekly, cover story featured a new crop of "Our 10 Favorite Stocks for 2013" by Andrew Bary, nine of which pay dividends. The favorites were selected based on estimated ability to "produce 15% to 20% total returns (including dividends) next year."
In the same issue, Shirley A. Lazo in Speaking of Dividends, "Not So Taxing", lists 19 stocks that have (1) "above average consistency boosting earnings and dividends over the past 10 years;" (2) "yields of 3% or more;" (3) "Standard and Poor's investment ratings of Strong Buy or Buy" as detailed by Sam Stovall, chief equity strategist at S&P Capital IQ, writing in S&P's Outlook publication. Those nine "favorites" paying dividends, plus 19 "quality stocks" make up the following list of Barron's 2013 Faves.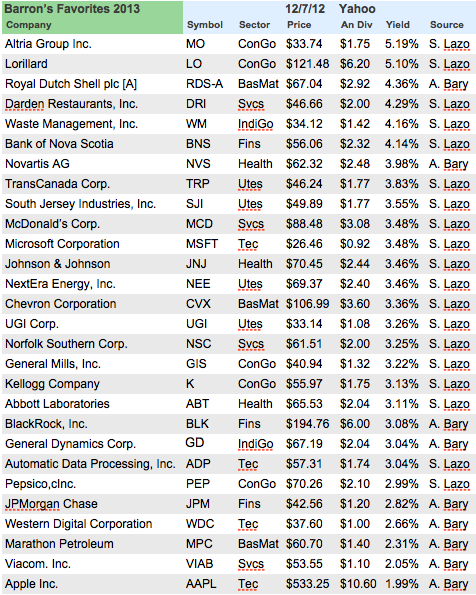 Dogs of the Index Metrics Culled Out Current Bargains
This article subjected the above list to two key dog metrics to rank them: (1) stock price and (2) annual dividend. Dividing the annual dividend by the price declared the percentage yield by which each dog stock was ranked.
The Dogs of the Index strategy, popularized by Michael B. O'Higgins in the book, Beating The Dow (HarperCollins, 1991), revealed how high yielding stocks whose prices increase (and whose dividend yields therefore, decrease) can be sold off once each year to sweep gains to reinvest the seed money into higher yielding stocks in the same index.
Historically, Investors have utilized this ranking system to select portfolios of five or 10 stocks in any one grouping to trade. They optimistically awaited the results from their investments in the lowest priced, highest yielding stocks and prayed that the price of every stock they now owned climbed higher (having locked in a high yield percentage at purchase).
Classic Dogs of the Index theory trades selected Dow stocks. Thus, the Dow is used as a standard of comparison within this article. Prior to publication of the O'Higgins book, investors termed the highest yielding Dow stocks "fallen angels."
Beyond the usual dividend vs, price comparisons, the list of top 10 Barron's Faves was also subjected to comparative net gains as of November 2012 and those projected to November 2013. The net gains calculations were based on analyst-declared, one-year mean target pricing as projected by Yahoo Finance. Five top net gainers were selected by this method.
Investment Empowerment from Barron's
As of December 7, the top two dogs by yield on this list were consumer goods firms, Altria Group Inc. (NYSE:MO) and Lorillard, Inc. (NYSE:LO). The remaining top 10 Barron's Faves by yield included one basic materials firm, Royal Dutch Shell plc [A] (NYSE:RDS.A) in third place; two services firms in fourth and 10th places, Darden Restaurants, Inc. (NYSE:DRI), and McDonald's Corp. (NYSE:MCD); one industrial goods firm, Waste Management, Inc. (NYSE:WM) slotted fifth; one financial, Bank of Nova Scotia (NYSE:BNS), sixth; one healthcare company, Novartis AG (NYSE:NVS) seventh; two utilities in eight and nine slots round out the top 10, TransCanada Corp. (NYSE:TRP) and South Jersey Industries, Inc. (NYSE:SJI). Seven of nine Yahoo/Morningstar sectors were represented in these Barron's Faves top ten constituents to create a fairly diverse list.
Dividend vs. Price Results
Relative strengths for the Barron's 2013 Faves top 10 dogs by yield was graphed as of December 7, 2012. Six months of historic projected annual dividend history from $1000 invested in the 10 highest yielding stocks and the total single share price of those 10 stocks created the data points for each month shown in green for price and blue for dividend.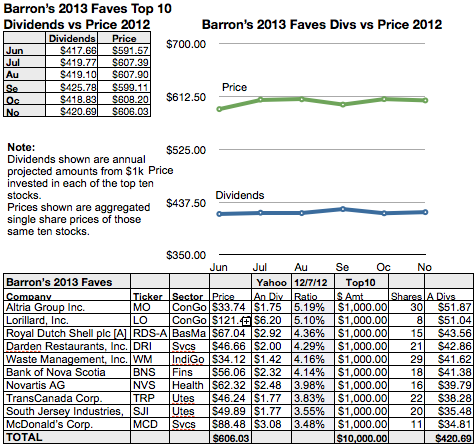 Since the end of June, this pack of dogs has been somewhat bullish, as evidenced by a price gain of 2.4% for the period, accompanied by a current .56% dividend gain.
Actionable Conclusion: Barron's Faves Overbought Since June
The 44% gap between aggregate single share price hovering above dividend from $1000 invested in the 10 flagged an overbought condition. This was in marked contrast to the tight proximity of dividend vs. price of the Dow dogs, which recently recovered from a less severe case of the overbought blues. Dow is now at a 1.8% gap to the oversold side.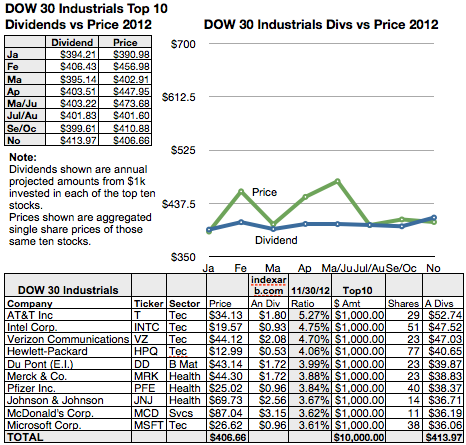 Actionable Conclusion Two: Barron's 2013 Faves Failed The Dog Tests
Top 10 dogs for the Barron's Faves were graphed below to show relative strengths by dividend and price as of December 7, 2012, and those projected to December 7, 2013.
Historic prices and actual dividends paid from $1000 invested in the 10 highest yielding stocks and the aggregate single share prices of those 10 stocks created the data points for 2012. Projections based on estimated increases in dividend amounts from $1000 invested in the 10 highest yielding stocks and aggregate one year target share prices from Yahoo Finance created the 2013 data points -- green for price and blue for dividends.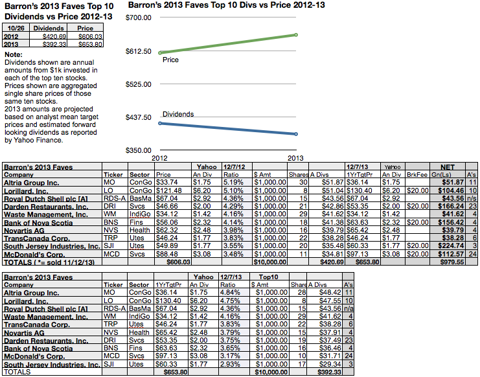 One year mean target price data from Yahoo show dividends from $1k invested in each of the top 10 Barron's 2013 Faves in November 12 to decrease 6.7%, while their aggregate single share price climbed 7.9% for next year.
Five most probable profit generating trades revealed by Yahoo were:
South Jersey Industries, Inc. netting $224.74 (22.5%) next year based on mean target pricing set by three analysts.
Darden Restaurants, Inc. netting $166.24 (16.6%) next year based on mean target pricing set by 23 analysts.
Bank of Nova Scotia netting $156.42 (15.6%) next year based on mean target pricing set by four analysts.
McDonald's Corp. netting $112.57 (11.6%) next year based on mean target pricing set by four analysts.
Lorillard, Inc. netting $104.46 (10.4%) next year based on mean target pricing set by 10 analysts.
Come November of 2013, should Yahoo Finance projections hold, charts for this collection of dogs showed the investor could net 9.8% on $10k invested. This analysis predicts a shortfall from the "15% to 20% total returns" predicted by Barron's.
Stay tuned for a 2013 periodic update on how well or whether any of these dog projections held.
Disclaimer: This article is for informational and educational purposes only and shall not be construed to constitute investment advice. Nothing contained herein shall constitute a solicitation, recommendation or endorsement to buy or sell any security. Prices and returns on equities in this article are listed without consideration of fees, commissions, taxes, penalties, or interest payable due to purchasing, holding, or selling same.
Disclosure: I am long T, VZ, INTC, JNJ, CVX. I wrote this article myself, and it expresses my own opinions. I am not receiving compensation for it (other than from Seeking Alpha). I have no business relationship with any company whose stock is mentioned in this article.