The Eastern Company (NYSEMKT:EML) trades on Nasdaq and closed at 15.14 Tuesday, December 11th, just off its 52-week low of 13.38 hit this past Friday. The stock's 52-week range is 13.38 - 26.49. The company's annual dividend rate of $0.40 per share indicates an annual yield of 2.89%. Based on TTM earnings to 9/30/12 of $1.35 per share, the 40c annual dividend indicates a payout ratio of 29.6%.
This quarter's dividend payment is the 288th consecutive regular quarterly dividend paid by Eastern (i.e., paid since around 1940).
Although Eastern Co., itself, is relatively unknown in the financial markets, its operating groups are widely recognized in their respective industrial manufacturing areas.
For background purposes, I will briefly describe the businesses of the company. However, the two main reasons for this update are:
first, to discuss the current extreme under-valuation of Eastern's shares and why they might be trading at such a low level; and
second, to describe certain new products of the company, namely, the Flash Cash payment system, SearchAlert travel locks, the Kryptonite Adhesive Technology used in their composite paneling systems, and the new ductile castings of Fraser & Jones.
Background
The Eastern Company has three operating groups:
Industrial Hardware: Eberhard Manufacturing Co. designs and manufactures industrial and vehicular hardware such as latches and locks for the trucking industry. Founded in 1879 in Cleveland, "EBERHARD MFG. CO. (DIV. OF EASTERN CO.) was one of the nation's largest producers of malleable iron wagon and carriage hardware and one of only a handful to survive the demise of the horse-drawn vehicle industry." [from The Encyclopedia of Cleveland History] Today, Eberhard is the leading manufacturer of latches for OEM truck trailers in North America. This division is benefiting from the general economic recovery, especially vehicular hardware. In recent years, Eberhard has also received significant Department of Defense orders for upgrading the security latches for the Humvee. Also part of the Industrial Hardware group is CCV, a maker of advanced adhesive composite paneling systems, largely for trucking sleeper cabs and other vehicular panel requirements. I understand that CCV's sleeper cabs weigh about 800 lbs. less than traditional sleeper cabs, thereby offering significant savings on fuel costs. Daimler is a major customer of CCV. Also, Eastern has dedicated subsidiaries in China and Mexico that manufacture certain locks and latches for group operations. For 2011 the Industrial Hardware group generated $66.1 million in sales and $4.9 million of pre-tax income. The principal manufacturing facilities owned by Eberhard are the Strongsville, Ohio plant with 138,000 square feet of manufacturing space on 9.6 acres of land and their Canadian facility of 31,000 square feet on 4.4 acres in Tillsonburg, Ontario, Canada.
Security Products: Greenwald Industries manufactures coin and card acceptors for commercial OEM clothes washer manufacturers like Maytag, GE, and Whirlpool. Their "Flash Cash" product is discussed later in this report. Greenwald's business is non-cyclical and serves the worldwide commercial laundry business. Also included in the security products group are the various lock companies of Eastern, including Illinois Lock, CCL Security, Royal Lock, and World Lock. Although Illinois Lock serves primarily the OEM industrial market that is sensitive to trends in industrial production, CCL sells locks to the retail market worldwide and is more tied to consumer spending. World Lock, based in Taiwan, produces certain lock and hardware products for both Illinois and CCL. Royal Lock manufactures various switch locks that complement Illinois Lock's product line. In calendar year 2011 the Security Products group had revenue of $48.0 million and pre-tax earnings of $3.4 million. Greenwald owns 120,000 square feet of manufacturing space on 26 acres in Chester, Connecticut; and Illinois/CCL/Royal own 44,000 square feet of space on 2.5 acres of land in Wheeling, Illinois.
Metal Products: Frazer & Jones in Solvay, New York, just outside of Syracuse, was founded in 1845 and is one of the first iron foundries in the United States. Today it is the world leader in casting malleable and ductile products for the mining industry. F&J is the world's leading source of mine roof expansion shells that reinforce the rock ceiling and walls of underground mines. Also known as "rock locks" this ingenious device is fitted into rock formation drill holes on the end of the mine roof bolts. By tightening the bolt the expansion shell flairs out, thereby locking into the rock formation and increasing roof and wall security for underground mines. Frazer & Jones is now expanding into ductile cast products for the rail industry as well as certain cast products produced for Eberhard. In 2011 the Metal Products group had revenue of $28.8 million and pre-tax income of $391,652. For the first nine months of 2012, due to the new ductile products outside the mining industry, revenue already stands at $27.4 million and pre-tax income at $1.0 million. Frazer & Jones owns an integrated iron foundry of 205,000 square feet of space on 17.9 acres in Solvay, New York. Frazer & Jones states that they produce over 90 million of cast products per year.
Eastern Co.'s revenue and pre-tax income: Total revenue for 2011 was $142.9 million with $8.5 million of pre-tax income. All operating groups are expanding in 2012. For the nine months ended Sept. 30th, Eastern has already generated $121.7 million in sales and pre-tax income of $10.4 million. Diluted EPS for 9 months ended 9/30/12 were $1.11 vs. $0.66 YoY, an increase of 68.2%.
Eastern owns a total 538,000 square feet of industrial manufacturing space on 60.4 acres of land.
Eastern Is Now Trading at 4.96x EV/EBITDA for TTM 9/30/12
On Friday, Dec. 7th, the share price of Eastern Co. hit a new 52-week low of 13.38 and closed Tuesday at 15.14, down 24.3% this year and down 42.8% from its May 1st high of 26.49 (52-week range: 26.49 - 13.38).
Per SEC filings, NSB Advisors LLC of Fishkill, New York, reported owning 2,844,018 shares of Eastern as of 12/30/11, or 45.8% of the total shares outstanding. NSB then reported owning only 1,442,339 or 23.2% of shares outstanding as of 9/30/12. Therefore, through Sept. 30th this year, NSB has sold off 49.3% of its Eastern position.
Eastern has only 6.2 million shares outstanding. NSB's sale of over 1.4 million shares of Eastern stock during the past year has undoubtedly had a major negative impact on Eastern's share price. In my opinion, EML shares, now trading at a P/E of 11.26x, EV/EBITDA of 4.96x, Price/Book of 1.25x, Price/Cash Flow of 7.96x, and Price to Working Capital less Long-Term Debt of 1.89x, are now greatly undervalued.
On October 24th, Eastern Co. reported strong third-quarter earnings of $2.2 million or 36c/share vs. 24c share last year. Also on Oct. 24th, given the excellent Q3 earnings, the company declared an extra 10-cent one-time dividend.
Chm/Pres/CEO Leonard Leganza noted, "We are optimistic that our operating results will continue to improve throughout 2012." Mr. Leganza, formerly Director, Executive Vice President, and CFO of Scovill, Inc., has established conservative financial and operating policies at Eastern. As an example, the company's balance sheet on 9/30/12 indicated working capital, less long-term debt, of $49.7 million, or $7.99 per share. Book value per share is $12.13, with major facilities and machinery having been substantially written down over time.
Recent Financial Results and Stock Valuation
Sales ($ millions)
2009: 113
2010: 130
2011: 143
2012: 160 TTM to 9/30
Earnings ($ millions)
2009: 1.0
2010: 5.5
2011: 5.5
2012: 8.4 TTM to 9/30
Stock Valuation based on Trailing 12 Mos. Results through 9/30/12
Share price 12/7/12 15.14
Market Cap 94.2 million
PE Ratio 11.26x
Price to Sales 0.59x
Price to Book 1.25x
Price to Cash Flow 7.96x (CF=net income plus depreciation)
EV/EBITDA 4.96x
Balance Sheet as of 9/30/12 ($ millions)
Cash and equivalents: 17.8 (20% of market cap)
Long-term debt: 6.4
Net working capital: 56.1
Net working capital less debt: 49.7 (or 8.01/share)
Common equity: 75.5
New Products Spur Eastern's Sales and Earnings
Founded in 1858 in Naugatuck, Conn., The Eastern Company today manufactures over 10,000 advanced industrial products, including industrial hardware, security products, and various metal castings. It is, for lack of a more precise term, the classic "Great American Manufacturing Company." In each of its three major operating groups the company has important new products, ones not yet cross-referenced to Eastern since the products are identified with its subsidiaries.
1. Industrial Hardware Division
Eberhard Manufacturing Company makes advanced latches and hardware for the trucking and vehicular markets, using state-of-the- art manufacturing machinery and processes:
Turret Press Laser Cutting
The new product for Eberhard's sales and earnings growth is not widely known outside the trucking industry. That business is CCV, and it is now generating high levels of sales and earnings for the Industrial Hardware group of Eastern. By using their proprietary sandwich engineering system and their cutting-edge Kryptonite Adhesive Technology, CCV produces advanced composite panels of greater strength, lighter weight, and higher durability than traditional truck trailer paneling.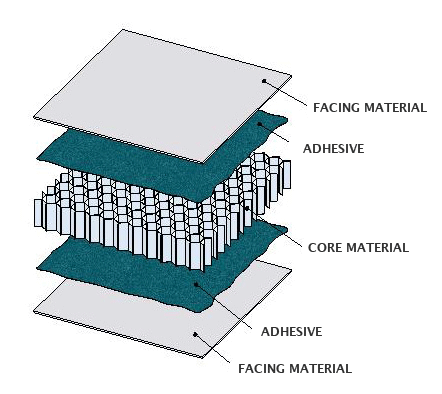 Their product dramatically reduces the weight of truck trailer flooring, panels, and sleepers, as well as for other specialized applications. Given that few fundamental changes have been made in truck trailer materials over the years, the CCV new layered composites offer major new potential for the Eastern's Industrial Hardware group.
2. Security Products Division
Sesamee, CCL's major brand name for retail combination padlocks has introduced a major new product for the travel industry called the Search Alert(R) Travel Lock. It is a proprietary product and patented. Working with the U.S. Transportation Security Administration (TSA), Eastern designed a luggage combination lock that allows the user to know if their luggage has been searched. This feature (green dot turns to red if the TSA has opened the lock) is unique in the industry. Here is CCL's catalogue of padlocks.
(Click to expand patent drawing.)
TSA Accepted SearchAlert 7470 series Patent Drawing
Greenwald Industries has introduced a truly magical wand-based product allowing the retail user to flash a card at a reader and having the transaction occur. It's called Flash Cash. Eastern owns and controls all the operating systems behind the Flash Cash contactless method of charging for laundry services. The product was specifically designed for the commercial laundromat operations (Greenwald sells on an OEM basis to Maytag, GE, Sears, Whirlpool, etc.), but it has broad application to parking meters and other controlled access situations.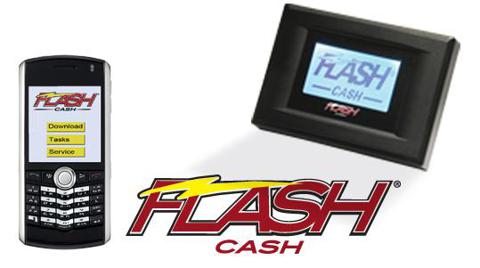 Click to enlarge
In the investment area, Greenwald Industries and their Flash Cash product are not identified as Eastern Co. products. Greenwald, with large market share and a leader in the commercial laundry smartcard/wand market, has major potential worldwide. [In case readers aren't familiar with the process, a customer gets Flash Cash with a money credit from cash or credit card deposit. They can then run the laundry machines by flashing the card at the reader that's installed in the machine.] Cities are also starting to use the Flash Cash system for parking meters.
3. Metal Products Division
F&J is the only significant producer of expansion shells in the U.S. These are cast and used to secure mine bolts that support coal and other underground mining safety products. The expansion shells flair out when the mine bolt is turned, thereby securing the overhead rock formations. Under new management, this 150-year-old business is now expanding into ductile castings for rail and other products such as some of Eberhard's latch products.
Here is a standard shell assembly for mining industry: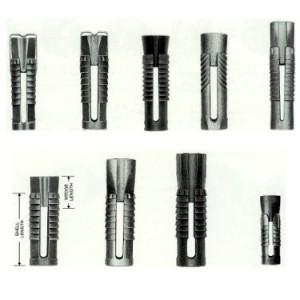 Frazer & Jones is a world leader in advanced castings for mine roof supports.
F&J has initiated a major new commitment to produce not only malleable iron mine products but also ductile-cast products for other markets like the rail industry. These products can significantly expand sales at F&J.
An important invention was developed by Sandvik of Sweden. It is a self-drilling bolt fitted with expansion shells. This is a developing market but could further entrench F&J with leading mine equipment manufacturers since the F&J expansion shells are specified in Sandvik's product literature.
Given the highly specialized market that Frazer & Jones serves, I expect continued good results from their mining business. But, incrementally, new ductile-cast products can generate major profit potential.
Purchase Recommendation
It is hard to identify a company with comparable products to those of the Eastern Co. However, for reference, note the EV/EBITDA valuation ratios of the following stocks:
Eastern Company's EV/EBITDA is 4.96x.
Eastern's business units are well known by industry, but Eastern Company itself is relatively unknown in the financial markets. Names like Eberhard Mfg., Illinois Lock, Frazer & Jones, and Greenwald have deep reaches into the leading U.S. original equipment manufacturers. Each one of these operating businesses has the resources to be a free-standing profitable enterprise.
I recommend paying up to a 7.0x EV/EBITDA ratio for Eastern Co. common stock. Today, that ratio would translate into a share price of 21.59 vs. its current 15.14 price.
Eastern is now poised to capture the significant upside potential inherent in CCV's advanced composite panel systems, Greenwald's Flash Cash wand-like payment and access systems, CCV's SearchAlert travel lock, and F&J's new ductile castings. Therefore, I hope Eastern Co. will remain independent company. In any case, I'm confident that Mr. Leonard Leganza and his team will make the right decision for stockholders.
Disclosure: I am long EML. I wrote this article myself, and it expresses my own opinions. I am not receiving compensation for it. I have no business relationship with any company whose stock is mentioned in this article.