Limited Brands (NYSE: LTD) is a women's intimate and other apparel, beauty, and personal care products and accessories company that operates mainly in the US and Canada. It has expanded into new markets like the UK and various others this year. It now operates over 2600 stores. LTD is driven by two brands and a variety of sub-brands that comprise the rest of the company. The company is really centered on Victoria's Secret (including its Pink line) and Bath & Body Works. C.O Bigelow, White Barn Candle, La Senza, and Henri Bendel make up the rest of the company's brands.
Many investors are looking at this company now because of the $3 special dividend just issued. This is the second special dividend this year, following the one in August. It is not the first year that management has done this, but it has been doing this since 2010. LTD is a cash-generating machine, with $600M to $1B in FCF annually. Les Wexner owns 17% of this company and just purchased about another 474,405 shares between 11/4/12 and 11/11/12. This is an investor who wants return and makes sure management gives back to shareholders. This return to shareholders is a great thing but it is not the reason to own The Limited. An investor should own LTD because of Victoria's Secret (VS) and Bath & Body Works (BBW). These two brands drive this stock. They both have room to expand and are experiencing strong comp sales month over month.
Industry:
VS and BBW have their own niche markets. They both have competitors but are the main market share in each of their main products. Both brands are specialty retailers that have a competitive advantage in the sense of market share, brand recognition, and the social trend towards their products. All one has to do is watch the recent video from Black Friday to understand what I mean by the 'social trend' of a brand like. (Source: YouTube). This is just Tulsa, OK and not even a larger market like NYC! Girls have to have the VS products and BBW is a favorite of females of all ages due to the innovative lotions and products.
Some comparable companies in the specialty retail sector, with arguably strong brands for each, include American Eagle Outfitters (NYSE: AEO), Urban Outfitters (NYSE: URBN), VF Corp (NYSE: VFC), PVH Corp (NYSE: PVH), and Abercrombie & Fitch (NYSE: ANF). Management uses H&M as a comparable as well. AEO is the best comparison to LTD because of LTD's strong dependence on VS and the fact that AEO has their Aerie line to compete with VS. There are other specialty retailers out there that could have been used but these were used for simplicity and perception that they have at least one strong brand.
A great advantage (or disadvantage in some cases) to owning a retail sector company is that they report monthly comp sales growth numbers. It provides investors greater insight into the company but can lead to volatility in the stock price. Over the year, both VS and BBW have had strong comp postings and have typically beaten estimates easily. Lately, they have been slowing due to the tough comps from last year and guidance of "mid-single" digits from management.

VS advanced 4% in November on-top of the 11% in November 2011! BBW is constantly pushing 6% over the last 2 years! The drag has been La Senza which according to management is due for a turn-around.
Sum of the Parts:
Are the values of the brands being realized in the market? One would think so given the strong run-up over the last few years. Unlike a lot of companies, LTD reports VS, BBW, and Other brands as separate parts in its results. That gives an investor in LTD another advantage: transparency.
Across the industry, the chart below shows the Average EV/Revenue for LTD, its comparable companies, and the average of the set (Source: Capital IQ). Also shown is the standard deviation of each companies' EV/Revenue.

Due to the large sample size and use of the central limit theorem then, it can be assumed that the average multiple is normally distributed. By looking at 2 standard deviations each way, one can capture a 95% probability that the EV/Revenue multiple for each is between the range. For example, LTD's EV/Revenue has a 95% probability that it lies between 1.43x and 1.82x, with an average EV/Revenue of 1.62x. Compared to the rest of the companies, LTD's multiple doesn't vary as much. URBN and VFC are the only two companies with average EV/Revenue multiples greater than LTD's average. VFC is a company like LTD in the sense that it has extremely strong brands, including The North Face, Vans, and Timberland. The takeaway though for the comparison is that LTD's brands are valued higher than most companies but not at the highest level. This could mean there is further upside for the brands potentially.
Below is the revenue for each segment for 2010 through the LTM (Source: Capital IQ):

Using these revenues, the brands' historical values could be determined by using the Average EV/Revenue multiple for LTD (1.62x) on a 'Base' case, and then using the lower and upper bounds to obtain a 95% probability range for the brands historical value. The following tables show the values of each brand and the summation of the parts given the used multiples:



Many investors believe VS is such a high-quality brand that it could be its own company. Given this insight, the strong growth, the niche market, social trend, strong and improving margins, direct to consumer segment, and other comparative advantages, VS should be assigned the 'Bull' case valuation. BBW is a strong brand as well for many of the same reasons. It could be argued that it deserves premium brand recognition (Bull case) or that it is just an above-average brand that is experiencing decent growth. Despite similar competitive advantages of VS, due to the ~4% 3-year CAGR for revenue, BBW should be valued at the 'Base' values. This maintains a level of conservativeness too. The Other segment has been a drag on LTD as a whole. The margin and product demand are weaker. Evidence of this is in La Senza, which management is hoping will have a turnaround year next fiscal year. This could provide LTD with a catalyst down the road, but for now, the Other segment deserves the 'Bear' case scenario. All of this sums up to a historical valuation of:

It would appear that given this approach, the share price lags the value of the brands. The market price over the last week has ranged between $50 to $52 a share, well below the $58.55 sum-of-the-parts valuation. The reason for the falloff between LTM and Calendar Year 2012 (FY ends in January) for the Other segment is due to the 3rd Party Apparel business being sold off. It should be noted that this was also done using a EV/EBIT approach which achieved similar results.
Forecast:
Management is looking to expand both VS and BBW across the globe and into new markets. This comes with expanding the direct to consumer segment, which carries higher margins. Management is also targeting another ~500 bps in operating margin improvements over the next couple of years. This is a huge jump but one that was just recently done over the last 5 years.
What will these brands be worth in the future? It was assumed that VS and BBW may be slowing down given management's "mid-single" digit guidance. However, management has tended to be conservative in the past, there lies international growth opportunities, and the online business is really taking off which will lead to higher margins. The other catalyst is the uptick in the Other brands, especially in La Senza as management is becoming more upbeat about that brand in particular. This segment is not profitable but could lead to further cash generation if it becomes so. Given these assumptions, the revenue forecast and valuation is: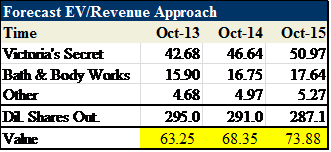 DCF Approach:
By looking at LTD from a discounted cash flow perspective, a similar target is easily obtained. The Base case assumes COGS will be fairly flat but decline slightly over time, with 5% long-term growth. This will also lead to management's expectations for margin improvement. The Bear case assumes COGS will be fairly flat this year but increase over time, with 2% long-term growth. The Bull case assumes COGS will be fairly flat this year but decline due to the sharply declining cotton prices as of late. Also, the assumption with the Bull case is for 8% long-term growth. Management cited a cost of capital between 9% to 10% on its Analyst Day , thus 9.5% was used. All of this leads to 12-month price targets of:

Conclusion:
These two approaches yielded similar targets well above where the stock is trading now. LTD generates $600M to $1B in FCF now, with potential to expand down the road. It gives back to shareholders in the form of buybacks, dividends, and brand acquisitions. It has room to take on additional debt at the $3.3B net debt load it has currently. Assuming the macro-headwinds do not interfere completely with this stock, LTD should be a buy for investors due to the brand strength alone. The special dividends are just the icing on the cake.
Disclosure: I am long LTD. I wrote this article myself, and it expresses my own opinions. I am not receiving compensation for it (other than from Seeking Alpha). I have no business relationship with any company whose stock is mentioned in this article.