Retail Properties of America (NYSE:RPAI), formerly known as Inland Western Retail Real Estate Trust, began trading on the New York Stock Exchange earlier this year. Investors who purchased this non-listed REIT during the offering period (September 2003 through September 2005) finally have the liquidity they were seeking. The REIT was fairly successful having raised $4.2 billion during its initial offering.
While many analysts stick with the larger better known companies such as Simon Property Group (NYSE:SPG), Boston Properties (NYSE:BXP), Equity Residential (NYSE:EQR) and Annaly Capital (NYSE:NLY), looking through smaller specialized REITS has the potential to unlock value. Retail Properties of America for example, currently offers a dividend yield just under 5.5% and has steadily improved operations. Following the recession of 2008/2009, I believe many parcels of real estate have likely seen a bottom, and if tenants move into empty buildings, cash flow would begin to flow directly to the REIT's who own those properties.
Throughout this article I will provide a brief review of this REIT's history prior to public trading, the recent IPO and name change and my expectations for the newly branded company going forward.
History
Inland Western began raising capital in September of 2003 as the real estate market began its climb. To be fair, the idea behind a retail REIT seemed genius at the time. Buying buildings (which were rising in price) and leasing them to retailers (who were selling more and more products due to all the equity being pulled out of consumers homes) appeared to be a cash flow generating machine. For the first four years this REIT paid out a dividend distribution of 6.4%, fully covered by funds from operations (FFO).
When the financial crisis hit in 2008 and 2009 Inland Western was in a difficult position. Due to an overwhelming amount of redemption requests the company stopped its share repurchase program in November 2008. Then in early 2009 the company ran into substantial financing problems. What Inland did incorrectly was borrow heavily during the good years and the bulk of this borrowing matured in 2009. Credit markets were virtually shut down during this period and the company struggled immensely, forcing them to slash the dividend to under $0.05 per quarter in order to preserve cash. Adding insult to injury a few of the REIT's tenants (Mervyn's, Linen and Things, and Blockbuster) filed for bankruptcy and buildings were left vacant. If it were not for a massive cash infusion from one of Inland's founding partners, who knows where this REIT may have ended up.
Inland Western hit rock bottom and shares were revalued to $6.85 in December of 2009. For the next few years the company negotiated with its creditors and began refinancing debt, although at significantly higher rates. It took a few years for the company to begin generating ample cash flow to cover debt payments and begin paying a substantial dividend again. Remember that investors had no liquidity during this time period and although management was very transparent in their decisions, the market was largely in control of what capital shareholders may receive back. Then came the public listing,
IPO and Name Change
In March of 2012 Inland Western listed its shares on the New York Stock Exchange and began trading under the new name Retail Properties of America. The REIT also went through a recapitalization involving a 10:1 stock split and four tranches of share classes which had different dates for liquidity. Although this sounds complex in nature, simple math showed that investors who had purchased shares at $10 now owned shares worth $3.50 (this does not include dividend distributions over the life of the REIT which would have equated to a larger share price if reinvested). Although new investors who purchased shares on an exchange saw $8.75 and up per share, original investors were left with substantial loses. Shares have moved higher since the listing as investors begin to witness a potential turnaround story in RPAI.
It is worth noting that on April 5, 2013 and October 5, 2013 the two remaining share classes will become liquid. I would caution investors to watch these dates closely as existing shareholders may liquidate their holdings.
Retail Properties of America Today
The past is the past and RPAI is a newly branded company today. Investors looking at the stock have an opportunity to invest in a retail REIT which I believe has been making moves in the right direction. As of the current quarter end the REIT managed 41 million square feet and 275 properties. Additionally, 92% of the properties are leased, a number which has grown significantly since 2009.
The REIT is diversified covering 35 states and various operating segments. Currently one tenant, Best Buy (NYSE:BBY) makes up 3.3% of the annualized base rent. Other than this company no one company makes up more than 3% of the portfolio. Many household names lease space from RPAI including TJX Companies (NYSE:TJX), Bed Bath and Beyond (NASDAQ:BBBY), Rite Aid (NYSE:RAD), Ross Stores (NASDAQ:ROST), and Home Depot (NYSE:HD). The table below illustrates the REITS largest tenants by percentage of annualized rent.
| | | |
| --- | --- | --- |
| Tenant | Number of Stores | % of total annualized based rent |
| Best Buy | 30 | 3.30% |
| Ahold USA | 11 | 3% |
| TJX Companies | 47 | 2.60% |
| Bed Bath and Beyond | 36 | 2.60% |
| Rite Aid | 35 | 2.40% |
| Ross | 40 | 2.30% |
| PetSmart | 39 | 2.20% |
| Home Depot | 9 | 2.10% |
| The Sports Authority | 17 | 1.80% |
| Supervalu | 10 | 1.70% |
Source: Inland Investor Presentation recent quarter end
Retail Properties of America has also smoothed out its lease expiration schedule. Excluding month-to-month leases, the table below shows the percentage of leases expiring over the next nine years. The current average is 7.6% of leases expiring per year. Due to the fact that there is a lack of new retail stores being built, I think the ability to choose strong credit worthy tenants and have much greater negotiating leverage than a few years prior is promising.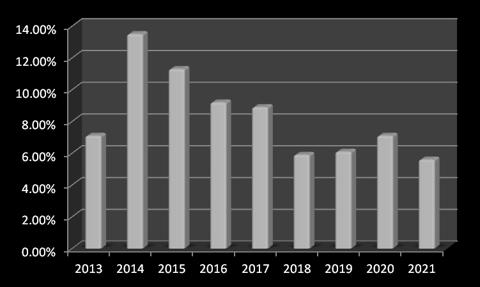 Source: Inland Investor Presentation
I mentioned the REIT is continuing to lease properties and cash flow is moving in the right direction again. Cash flows from operations during the first nine months of 2012 were $131.6 million and $90.1 million was paid out in dividend distributions. Net operating Income grew 0.8% in the recent quarter and 2.3% year-over year.
The company is also strategically selling properties in order to help pay down and extinguish debt. During the third quarter the company repaid $282 million of mortgage loans, $13.9 million of that was mezzanine debt with an 11% interest rate. The remaining $125 million of mezzanine debt carries a blended interest rate of 12.8% and is eligible for prepayment beginning in February of 2013. Management expects to repay portions of this in the first quarter of next year.
I will commend the management team for their attempt to rebuild this portfolio of properties. On the recent quarterly earnings call CEO Steven Grims laid out some promising statements regarding the future of RPAI:
"We are proactively reducing exposure to troubled tenants in problem categories. We are making significant strides in divesting of non-core and nonstrategic assets and we are continuing to focus on the responsible and prudent management of the balance sheet."
"We remain committed to our long-term objective of becoming an investment grade borrower, and believe the steps we have taken over the last 9 months position us well for making that transition over the next several years."
Conclusion
Retail Properties of America suffered their black eye over the past few years, and arguably has many hurdles to overcome. On page 27 of the recent 10-Q filiing the company lists out pending litigation. Although management believes the outcome of specific lawsuits will not have a material effect on the companies financial statements, it is worth taking note of. Given the power investors have in the courts regarding improper investment which suffered losses during the financial crisis, Retail Properties of America may be subject to ongoing legal fees or settlement payments.
All that being said, if the company is able dispose of appropriate properties, pay down debt, and lease empty space, this REIT may make sense in some investors portfolios. Prior to the financial crisis, Inland was one of the highest regarded real estate companies in the business. They have years of experience and many deals under their belt. For the right investor, potentially scaling into positions and watching quarter to quarter to see if management is living up to their projections may be an appropriate investment strategy for this company.
*Note: All data reported and graphed is pulled directly from Retail Properties of America SEC filings and press releases
Disclosure: I have no positions in any stocks mentioned, and no plans to initiate any positions within the next 72 hours. I wrote this article myself, and it expresses my own opinions. I am not receiving compensation for it (other than from Seeking Alpha). I have no business relationship with any company whose stock is mentioned in this article.