As investors prepare for President-elect Obama to take office in January, attention should be paid to the sectors that will be impacted most by changes in policy. The healthcare sector, one of Obama's key focal points, may present unique opportunities for ETF investors as the election dust settles and the country looks forward to the new administration.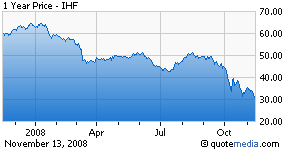 The healthcare sector comprises a variety of industries or subsectors, including pharmaceutical companies, medical device makers, hospitals and biotechnology. While some of these subsectors will be impacted more than others, healthcare providers could benefit most from the implementation of Obama's healthcare initiatives. iShares' U.S. Healthcare Providers ETF (NYSEARCA:IHF), which tracks the companies within this subsector, could see an upswing in price and volume over the course of the Obama administration as more Americans participate in healthcare programs.
Under Obama's proposed plan, healthcare providers will receive significant government support in an effort to insure a greater number of people. In addition to the direct support that these providers could receive from the government, healthcare providers could also gain income from an increased amount of traffic. As the number of Americans utilizing healthcare facilities for yearly checkups and critical care increases, the demand for hospitals and healthcare professionals will have to grow accordingly—a shift that could benefit many of the companies included in IHF's index.
While different healthcare subsectors will be impacted in different ways by Obama's proposal, the face of the sector will undoubtedly change. Obama's healthcare plan can be viewed as a more modest version of the failed Clinton proposal from the 1990s—more of a "filling in the gaps" approach than a complete overhaul of the current system. The heart of the proposal is a new publicly funded program for the 47 million Americans who are not currently covered by employer plans and who don't meet Medicaid requirements. The cost of this plan has been estimated to be somewhere in the neighborhood of $70 billion to $100 billion per year.
IHF's targeted nature could put the fund at a unique advantage while other healthcare industries could be negatively affected by Obama's healthcare proposals. One such proposal involves allowing the government to renegotiate Medicare drug prices, lowering revenue for large pharmaceuticals by what some analysts estimate will be $10 billion per year. Choosing a fund like IHF, rather than a broad healthcare sector fund, will allow investors to avoid the pitfalls that potentially lie ahead for large drug companies.
An investment in IHF could lead to gains when Obama begins implementing his proposals, but in the meantime those invested in healthcare providers may have to hold on tight. A difficult market, coupled with an increase in unemployment, has forced IHF components, such as Tenet Healthcare Corporation (NYSE:THC), to miss analyst forecasts in early November. THC, like other U.S. healthcare providers, has also reported that its allowance for "doubtful accounts" has increased. While IHF investors could benefit significantly if Obama's administration takes efforts to reduce these debts, buyers of IHF should be aware that they are entering the sector at what is undoubtedly a current low point.
The top holding in IHF's portfolio is UnitedHealth Group (NYSE:UNH), a company that has seen drops in healthcare enrollment as more unemployed chose to forgo private care. These enrollment problems may continue to put pressure on UNH in the short term as the economy continues to struggle, but an Obama healthcare plan does not signal the demise of private healthcare insurers. Rather than overhauling the system, as Clinton proposed, Obama wants to create a "National Health Insurance Exchange" for the uninsured. This formula should continue to allow private health insurers to operate alongside government initiatives.
With an 11% allocation of portfolio assets, Medco Health Solutions (NYSE:MHS) constitutes the second-largest holding in IHF's portfolio. MHS is well positioned to garner gains if Obama's drug cost plans are implemented. The secret to MHS' success will be an emphasis on generic drugs under the new administration. While generic drugs are currently available, many healthcare providers still pay for brand-name versions. The increase of generics could help to broaden MHS' margins, allowing cost-effective delivery of generic drugs to translate into investor profit.
IHF presents a unique opportunity for investors to participate in a select portion of the healthcare sector that could benefit from the proposed policies of the president-elect. Rather than investing in a broad sector fund—which could include pharmaceuticals that might suffer in a shift toward generics—investors can target the providers that could grow as policies become more universal. While investors should remain mindful of the concentrated risk involved in investing subsectors, IHF could provide a more stable opportunity if healthcare providers receive the type of governmental support that the incoming administration has pledged.