Since the first day of QE3 (September 13th), many of the agency-based Mortgage REITs have traded significantly lower, with names such as Annaly Capital (NYSE:NLY), American Capital Agency (NASDAQ:AGNC), Anworth Mortgage (NYSE:ANH) and Hatteras (NYSE:HTS) trading lower by an average of 13.97%. For those of you who may still be bullish on the sector, it's time to think again.
On Tuesday December 10th the Fed announced that it may be increasing its $40 billion per month spending habit on mortgages as well as 45 billion per month spending habit on treasuries. So what would this mean for you-- Mr. or Mrs. Mortgage REIT Investor? It could mean many of the once beloved agency-based Mortgage REITs need to diversify.
Stock Performance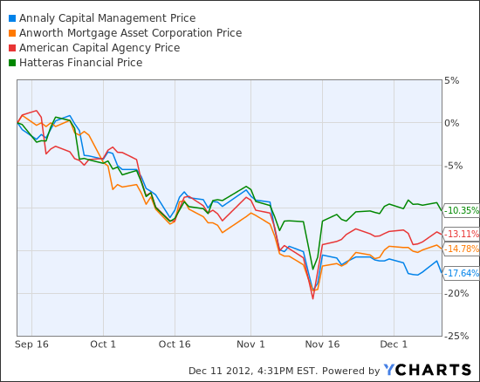 NLY data by YCharts
The only way any of these Mortgage REITs could buck such a downward trend, would be for the Fed to reduce its mortgage-based spending. As of December 10th, such an action will most likely not be the case, and as a result, the performance of these stocks will be directly affected.
For example, if the Fed increases its mortgage spending from $40 billion per month to $44 billion-- or even $48 billion per month, investors may be in for a drop of at least another 5% - 10% of current performance drops.
I have two major concerns when it comes to the latest round of Fed spending. First and foremost, the sustainability of Mortgage REIT dividends clearly comes into play. In the last 24 months, Mortgage REITs have substantially reduced their dividends, and such reductions will continue if the Fed continues to buy up residential mortgages and treasuries at such a torrid pace. If the Fed continues to fuel its $40 billion/month spending habit, I strongly believe the issue of supply will come into play. If supply diminishes, profits shrink, causing dividends to suffer.
The second of my concerns deals with the Fed's intention to buy up even more Treasuries. According to Roberto Perli of the International Strategy & Investment Group, Inc., "By adding Treasury purchases, policy makers "would continue to lower mortgage rates and create conditions that would be favorable for a continued recovery in the housing market." The purpose of QE3 was to stabilize the labor and housing markets, except for the fact that increased buying signals that things aren't going as planned. If such catalysts as the U.S. Unemployment Rate don't see a significant change to the downside, such spending tactics by the Fed may continue into the middle and latter parts of 2013.
Final Analysis
How can Mortgage REIT investors thrive in an environment that is saturated by Fed spending? They need to take a page out of Annaly's book and look for agency-based Mortgage REITs that may be willing to diversify. When it comes to some of the bigger Mortgage REITs such as Anworth, American Capital Agency, and Hatteras, near-term acquisitions could be on the horizon.
Although it was announced that Annaly has plans to acquire the remaining shares of Crexus (NYSE:CXS) in an effort to diversify its holdings portfolio, American Capital, Anworth and Hatteras may not be too far behind. One possible strategy could be the acquisition of a smaller, non-agency firm such a Chimera Investment (NYSE:CIM) or Newcastle Investment (NCT). Though no official plans to acquire either have been announced, both would offer off-setting assets that may boost the bottom line numbers of some of the agency-based Mortgage REITs.
Disclosure: I am long AGNC, NLY, CIM, HTS, NCT. I wrote this article myself, and it expresses my own opinions. I am not receiving compensation for it (other than from Seeking Alpha). I have no business relationship with any company whose stock is mentioned in this article.