By Pharmboy
Biotech stocks are my passion. My alter-ego is a scientist, working in the field of biotech, and I love it.
The days of becoming the next Genentech or Amgen are over. Big Pharma will become the juggernauts that will sell and market the drugs, while smaller companies will fill the pipelines and keep the juggernauts running. Premiums being paid to buy phase 1 compounds are increasing. Phase 1 includes all preclinical testing. The larger companies are paying 100M for phase 1 compounds, whereas it only takes about 25M to get to phase 1. (Phase 1 compounds are those that have completed very early trials, but for which there is no efficacy data yet.)
Typically, biotechs are more efficient than Big Pharma companies. The return on investments for biotech companies, if they are efficient and successful, is north of 300%. That is not a bad return, but biotechs are high risk and often have many failures that eat into those potential gains.
I am going to focus on a few companies that have a communal relationship to a technology - the monoclonal antibody (MAB) technology. Monoclonal antibody technology had its first success in 1986, when muromonab was approved for transplant rejection. mAbs are specific to a particular target. When a mAb binds to its target, it stimulates an immune response. The immune system then attacks and 'kills' the target.
Monoclonal Ab technology has exploded, with 'tags' now being attached to the mAb. Those tags can be radionucleotides, anti-neoplastic agents, other antibody-drug conjugates (ADC), and other proteins. All of these tags are released when the mAb binds to its target, the conjugates then perform their actions. There is a very good review here.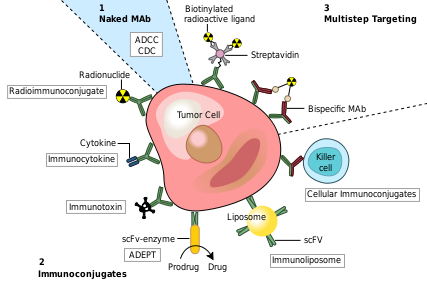 There are several companies that have employed the technology of attaching a drug to their specific mAb. One company that has both in-house and licensed-out technology is Seattle Genetics (SGEN, $25.31). SGEN is poised for growth - IF a few of its mAbs prove to be effective in treading various blood cancers. The company licenses out its technology to Roche (Genentech), Celldex (CDLX), Progenics (NASDAQ:PGNX), Abbott (NYSE:ABT), Astellas and many other companies for various types of cancer. In-house, its pipeline is heavily invested in Brentuximab Vedotin (Adcetris), but there are other drugs in SGEN's pipeline.
Brentuximab Vedotin (Adcetris) is a monoclonal antibody that targets the protein CD30, which is expressed on immune cells and in several different cancer types, including on classical Hodgkin Lymphoma cells. CD30, also known as TNFRSF8, is a cell membrane protein of the tumor necrosis factor receptor family and tumor marker. The CD30 receptor is expressed by activated, but not resting, T and B cells. (T and B cells are different kinds of lymphocytes,* which are a type of white blood cell.) Activating CD30 leads to apoptosis - cell death. (Wikipedia).
A lymphocyte is a type of white blood cell. Under the microscope, lymphocytes can be divided into large and small lymphocytes. Large granular lymphocytes include natural killer cells. Small lymphocytes consist of T cells and B cells. (Wikipedia)
Adcetris is approved in a small market for treating anaplastic large cell lymphoma (ALCL) as well as relapsed Hodgkin lymphoma. SGEN has 10 additional clinical trials ongoing for Adcetris. Should the ADC work in one or several different cancer indications, revenues will roll in and SGEN might become a takeout target for Roche (OTCQX:RHHBY) or another Big Pharma player.
Adding to my long virtual stock positions:
SGEN ($25.31) - buying 100 shares.
CLDX ($6.03) - buying 100 shares.
PGNX ($2.36) - buying 500 shares.
I am also going to add a virtual option play with SGEN: I like buying one March $25/30 bull call spread for $1.70, and selling one March 2013 $25 put for $2.55 for a net $0.85 credit, on Monday Dec. 3, 12. Alternatively, for a buy-write position, I like buying 100 shares of stock and selling one March 2013 $25 call and put for $5.35 combined.
I am keeping track of my Virtual Stock Portfolio at Market Shadows here. For more on SGEN, visit the Hammer Stock Blog.
Disclosure: I wrote this article myself, and it expresses my own opinions. I am not receiving compensation for it. I have no business relationship with any company whose stock is mentioned in this article.
Additional disclosure: Pharmboy has positions in SGEN, PGNX and CLDX. I have no positions. ~ Ilene