In my last piece on the trading action in Cognizant Technology (NASDAQ:CTSH), I wrote:
A close above the October high will be very bullish and suggest that the next rally in the shares is well underway. This becomes the more likely scenario given CTSH's recent 8K release suggests that revenue expectations for 2013 are safe and sound.
On December 11, 2012, CTSH perfectly retested that October high before pulling back slightly to close up 3.3% since that piece. It is CTSH's sixth straight positive close on strong buying volume. CTSH has closed up 9 out of the last 10 trading days.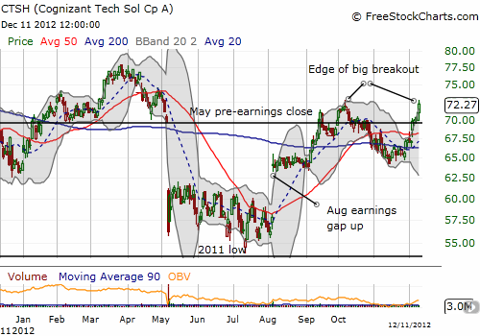 Cognizant Technology now at the edge of a breakout
Source: FreeStockCharts.com
Despite the strength on display, traders continue to dabble heavily in put options on CTSH. This time, the January $72.50 puts experienced the high volume: 2,727 contracts traded against an open interest of just 308. This strike hosted the most active options volume, by far, on CTSH for the day.
The open interest put/call ratio has been rising along with the rally in CTSH's stock, from 0.80 to 1.30 at one point. It is now sitting at the 86th percentile for the past 52-weeks. Normally, I would assume that these puts are trading as bets the rally will soon reverse. Such a reversal is approximately what happened when the put/call ratio ran up to 1.50 by mid-October and when the put/call ratio ran up as high as 1.30 in April ahead of a disastrous earnings report in May. However, a sharp and temporary spike in July punctuated a bottom in CTSH. A run-up to near 1.30 in mid-December preceded a 3-month rally. (All put/call ratios obtained from Schaeffer's Investment Research). It is difficult to compare these run-ups to each other without knowing the specific months and strikes that drove the open interest. However, it seems OK to assume that "something" big lies ahead for CTSH. This current test of the October highs could provide the important pivot.
As I stated earlier, my bias remains to the upside. With this bias, I am assuming that the heavy put volume is driven by traders looking for premium ahead of the next phase of CTSH's rally. For these traders, the worst case scenario is that they buy CTSH for about a $2 discount to current prices. As the chart above shows, such a price drop puts CTSH just above its May pre-earnings price.
For the traders looking to make bearish bets, I would have expected put spreads with the Jan $72.50 as the long side of the spread. Absent a spread, buying the $70 or even $67.50 strikes offer much better leverage.
Regardless, CTSH is now firmly planted on my radar as I continue to look for the best opportunity under the circumstances to make my next bullish bet.
Be careful out there!
Disclosure: I have no positions in any stocks mentioned, but may initiate a long position in CTSH over the next 72 hours. I wrote this article myself, and it expresses my own opinions. I am not receiving compensation for it (other than from Seeking Alpha). I have no business relationship with any company whose stock is mentioned in this article.