The Australian dollar can often be used as a barometer for risk for U.S. equities. The correlation between the two is typically high, currently .87 over the last 20 days. As we've seen U.S. equities rally into the current sideways price action, the Australian Dollar has come to a level of resistance.
The recent rally off the October lows has taken the Currency Shares Australian Dollar ETF (NYSEARCA:FXA) up to a level it's struggled to get past so far this year. We've seen FXA get to the $105 to $106 level, but it's yet to break through. As the chart below shows, the current rally has been accompanied by flat momentum, based on the Relative Strength Index. The RSI has been having difficulty getting past 60, which is a warning sign for bulls. While we often view a break of 70 on the RSI as overbought, it also tells that there seems to be heavy buying interest in a security. When momentum is unable to advance alongside price, buyers can lose confidence, putting a halt to a rally.
While momentum has stayed in this sideways action, volume has also been trailing off. As you can see in the bottom panel of the chart, since early November volume has been dropping, a possible sign the FXA is advancing on fewer and fewer buyers.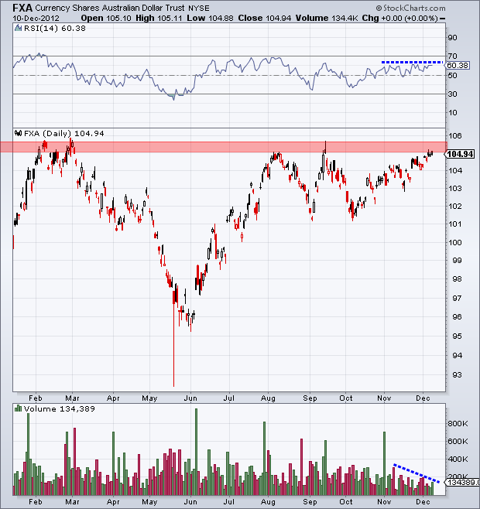 Next up we have the Commitment of Traders (COT) data for the Australian Dollar. In the bottom panel we can see the three main types of traders, commercial (dealers in the Australian dollar and considered the 'smart money'), large (often institutions and hedge funds), and small (individual traders and smaller firms). The commercial traders have been aggressively building net-short positions, as we can see from the declining red line. When we see the 'smart money' take such a large stance in a market like this, we can expect the price action to follow suit, in this case - potential weakness.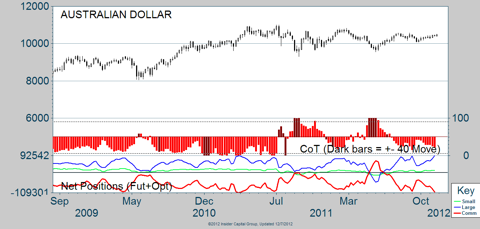 Bulls will keep the $106 level in their sights, hoping to break through resistance, while the 'smart money' appears to not think this will happen. We'll see who wins out in the end.

Disclosure: I have no positions in any stocks mentioned, and no plans to initiate any positions within the next 72 hours. I wrote this article myself, and it expresses my own opinions. I am not receiving compensation for it. I have no business relationship with any company whose stock is mentioned in this article.
Disclaimer: Do not construe anything written in this post or this blog in its entirety as a recommendation, research, or an offer to buy or sell any securities. Everything in this post is meant for educational and entertainment purposes only. I or my affiliates may hold positions in securities mentioned in the blog. Please see my Disclosure page for full disclaimer.