One of the few unequivocally positive economic stories over the past half dozen years has been the huge increase in domestic energy production. One of the main drivers of this expansion has been the Bakken shale region. From around 100,000 bpd six years ago, the Bakken produced a record 700,000 bpd in August on its way up past 1mm bpd. To put this in perspective, OPEC member Qatar produces 770,000 bpd. It is also estimated that this development is creating 2,000 millionaires a year in North Dakota alone.
Here are two fast growing producers in the region for growth investors. They should benefit from continued production increases and also could benefit if M&A activity accelerates in the business as the oil majors look to add to reserves.
Northern Oil and Gas (NYSEMKT:NOG) is an independent energy company with crude oil and natural gas properties primarily in the Bakken and Three Forks formations within the Williston Basin in North Dakota and Montana.
4 reasons NOG is a good growth pick up at just over $16 a share:
Analysts believe the stock has substantial upside. The 12 analysts that cover the stock have a median price target of $26 a share on NOG, more than 50% above the current stock price.
NOG's revenues are on track to almost double this fiscal year to just over $300mm. Analysts project another 35% rise in sales to over $410mm in FY2013. The stock sports a small five year projected PEG (.47).
The stock is selling for less than 13x forward earnings, a huge discount to its five year average (32.8). The company has only developed a little over 30% of its net acreage so has years of growth ahead of it.
The stock has a solid technical support range right under the current price level (See Chart).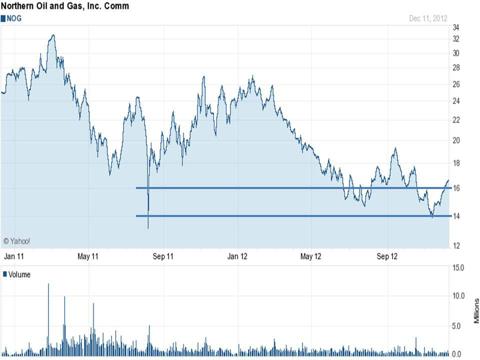 Oasis Petroleum (NYSE:OAS) is an independent exploration and production company with oil and natural gas resources in the Montana and North Dakota regions of the Williston Basin:
4 reasons OAS is a solid growth play at just over $30 a share:
OAS is selling at under 13x forward earnings, a significant discount to its historical average (24.6).
Revenues are set to double to over $670mm in FY2012 from FY2011's $330mm. Analysts currently project approximately $1B in revenue in FY2013. The stock has a five year projected PEG of under 1 (.59).
The median analyst price target held by the 22 analysts that cover the stock is $39 a share, around 30% above its current stock price.
The company has quintupled its operating cash flow over the last two years and operating costs per BOE have consistently come down over the past few years and approximately 90% of its current production is oil & liquids.
Disclosure: I am long OAS. I wrote this article myself, and it expresses my own opinions. I am not receiving compensation for it (other than from Seeking Alpha). I have no business relationship with any company whose stock is mentioned in this article.