It turns out that recent put buyers in Molycorp (MCP) may have had the right idea, but their bearish trade may have a very short shelf life.
After hours on December 11th, MCP announced that the Board of Directors appointed Constantine Karayannopoulos - who came to MCP courtesy of the Neo Materials acquisition in March - to serve as Interim President and Chief Executive Officer to replace former CEO Mark A. Smith. Smith left MCP under mysterious circumstances and the dark shroud of an SEC investigation. Strangely, MCP rallied ahead of this latest bombshell. The stock closed up on the day 5.9% adding to a big breakout move from Monday of 19.7%. That breakout finally recovered all of MCP's losses from the disclosure of the SEC investigation on November 9th.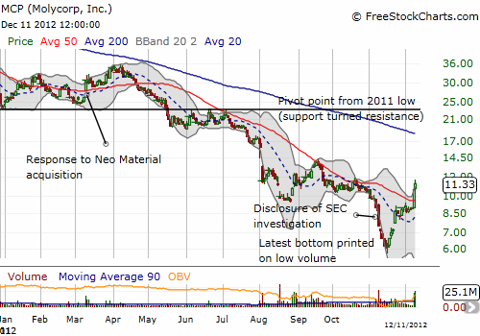 Before the CEO switch MCP printed an impressive breakout that finally recovered losses from the news on the SEC investigation
Intra-day trading in MCP was a fascinating display of leaked information and panicked options buying. The intra-day chart below shows that a little after 3:00pm, MCP suddenly plummeted on high volume. That was the first real warning sign but the plunge was treated as a buying opportunity. MCP rallied sharply to close flat on the day. The chart below uses 5-minute intervals to make it clear where the selling suddenly began.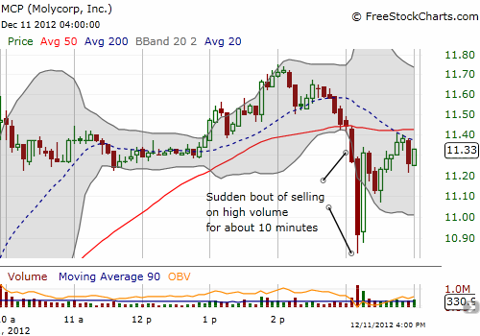 MCP plunges briefly on high volume and then quickly recovers
Source: FreeStockCharts.com
All day long, MCP call options were trading in heavy volume, especially relative to put volume, even in the weeklies which at the time would expire in just three days. It was if traders expected some good news, were hedging large short positions, and/or were simply stepping all over each other to chase momentum. Here is the breakdown on the put/call ratio on volume across strikes from $8 to $14 (data from Etrade.com):
Expiry Dec 14: 13,047 calls vs 6902 puts, put/call ratio = 0.53
Expiry Dec 22: 12,884 calls vs 4709 puts, put/call ratio = 0.37
Expiry Jan 19: 11,483 calls vs 2100 puts, put/call ratio = 0.18
Expiry Mar 16: 3,112 calls vs 992 puts, put/call ratio = 0.32
So, the options trading was not just for a quick flip. Traders were actually more bullish the further the expiration and calls were trading in equal volumes until the March expiration. The tally on open interest will confirm whether these trades were for more than just day trades.
This trading directly contradicts the slow and steady rise in the open interest put/call ratio since October, from 0.56 to 0.75. The open interest put/call ratio spiked higher from 0.72 to 0.75 after MCP rallied almost 20% on Monday. In other words, traders had been trying to fade the rally until Tuesday's flurry of call action. Indeed, in a quick post titled "Option Bears Shouldn't Rush to Fade the Molycorp Rally," Todd Salamone from Schaeffer's Investment Research pointed to an increasing skew in MCP options with implied volatility in puts rising to higher levels than implied volatility for calls. Salamone warned:
It won't cost you a lot to play further gains, but buying puts into this rally is expensive and could be dangerous, given how highly shorted this stock is.
I have come to believe that an increasing skew to puts indicates the market's belief that a large sell-off is imminent in the stock. In this case, perhaps options traders were starting to anticipate the change in CEO. Regardless, it is quite telling that the put/call ratio was rising along with short interest; that action is maximum bearishness. As of November 30th, shorts have soared against MCP, 75% in just the last four months. Shares short now sit at an incredible 61.8% of the stock's float.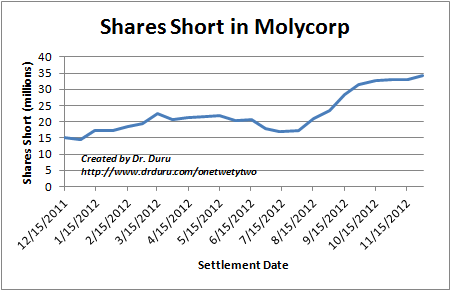 Shares short against Molycorp have soared recently
Source: NASDAQ.com short interest
All this trading in MCP indicates the stock will continue to be a powder keg, up or down. Given the strong history of the new interim CEO, I believe that shorts are likely going to take this opportunity to start closing out positions (or hedge even more). I could be wrong given all the insider buying in the stock has not deterred bearish bets against MCP. The stock almost doubled from the all-time low just four weeks ago. The incremental shorts that piled into MCP during that time are in a world of hurt and should be looking for an exit. Shorts that thought $6 or so was still not quite low enough are in a world of regret. The scramble for call options on Tuesday indicates that process may finally be underway.
In the meantime, I stopped buying puts and selling calls to hedge my long position on MCP once the stock dropped into single digits. The stock has certainly been a huge disappointment for a long time now, but it seems catalysts are finally brewing to flush out the remaining bad news in this company. 2013 should be a make or break year.
Be careful out there!
Disclosure: I am long MCP. I wrote this article myself, and it expresses my own opinions. I am not receiving compensation for it (other than from Seeking Alpha). I have no business relationship with any company whose stock is mentioned in this article.