I know it might seem like a bit of a reach to some folks (especially the Immelt haters), however I am reaffirming my opinion that shares of General Electric (NYSE:GE) can surge from the current share price of $20-$21/share to over $45/share within 12-18 months.
To avoid "burying the lead," let me put this right out in front: With a global footprint as enormous as GE has, the shares can simply no longer be ignored to the extent that they have in the last few years.
I have said this before, but I believe it needs to be restated firmly:
GE has its hands basically in every business sector, in every part of the globe, touching virtually everyone on the planet. I want a company in my portfolio that has the ability to generate revenue from just about anything.
Home appliances
Healthcare
Aviation
Lighting
Consumer electronics
Oil and gas
Renewable energy
Software and services
Consumer and business finance
Rail technology and innovation
Medical imaging equipment
Water treatment products and technology
General Electric is the one stock that I can point to that has all of those ingredients. Plus, it has an incomparable brand. For my portfolio it is, and will always be, a must-own.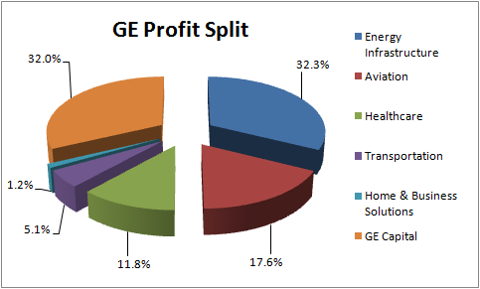 This chart shows the breakdown of where GE makes money. GE Capital has been reduced from the mid 40% area down to the current lower 30% range. It has always been a sticking point to investors that the financial arm of GE was its largest money maker and did not use the profits to pay dividends. That has since changed, and profit from every business sector is now calculated for future dividend growth.
As the company rids itself of the toxic assets within the financial division, the entire balance sheet will continue to strengthen, as it has over the last 18 months or so.
I first suggested this stock last November, when it was selling for roughly $14.80/share when we placed it in the core of the Team Alpha portfolio. The next 12-18 months could be even more spectacular.
The Entire World Is GE's Market
Not enough can be said about the global impact of GE. As emerging markets mature from their current status as "emerging markets," the smart companies have been consistently re-positioning themselves firmly within each market to grow exponentially from within each of its business sectors.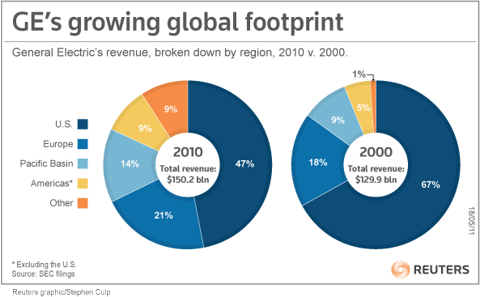 As this chart from 2010 clearly shows, GE has reduced its footprint in the U.S. by 20%, but has "gone where the business is ripe for the taking." Increasing market share in the emerging markets (other) by nearly 900%, the Pacific by over 40%, the "other" Americas (mainly Latin) by nearly 50% in just 10 years shows the commitment by GE to "go where it grows."
There is no denying that the majority of any major corporation's growth will be greater when derived from the nations that are either in their early or mid stages of economic growth.
Over the next five years, GE expects to pursue $90 billion in Chinese opportunities. Add another $30 billion in Australia and New Zealand and $50 billion in Latin America, as noted in this fine article.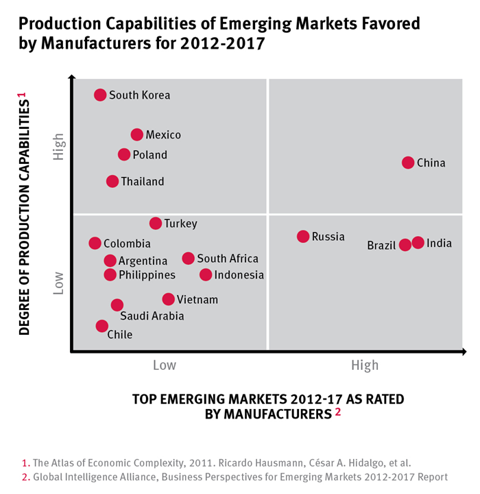 When we look at where the future of GE lies, this chart shows where the business will be. As shown in the previous chart above, GE is rapidly moving into all of these markets, and already has a foothold in the majority of them.
As noted in this article:
"In the Business Perspectives on Emerging Markets 2012-2017 Report conducted by GIA, 26 percent of manufacturing and industrial respondents said they are investing in emerging markets in order to gain a foot hold in future large markets. The reason is clear; manufacturers say they expect 41% of their global revenues to come from emerging markets by 2017..... GE is one of these companies. It asserts that manufacturing prices are frequently 30% lower in secondary emerging markets...."
Cost savings, production efficiencies, and revenue growth are the keys to any company's success, and GE appears to know exactly what it is doing.
What About The Fundamentals Now, And The Emerging Markets Impact
One look at this chart will give investors a pretty clear picture:
Every basic metric is headed in the right direction. It is my opinion that the growth will be even faster in 2013. Much of the continued growth will come from the emerging markets.
Take one more look at what the future should bring in those markets.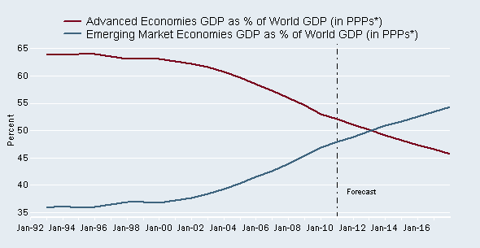 Emerging markets are countries undergoing rapid economic growth and industrialization that are becoming bigger players on the world stage. These countries make up 82% of the world's population and 36% of the world's economic output. And they are growing fast.
Emerging market economies are expected to grow an impressive two to three times faster than their developed counterparts, according to an April 2012 International Monetary Fund estimate. GE is positioned perhaps better than any other conglomerate in the world to take advantage of this trend.
Add to these facts, the raw fundamentals:
An enterprise value of $570 billion.
Quarterly YoY revenue growth of nearly 3% and earnings growth of over 8%, even in a difficult global economy.
$85 billion in total cash.
A low forward P/E of 12.70 for 2013.
A price to BV ratio of only 1.83 (sector competitors are closer to 2.75).
A current dividend yield of 3.25%.
A payout ratio of a manageable 52%.
An ESS rating of BULLISH
Not to mention this chart of future trends: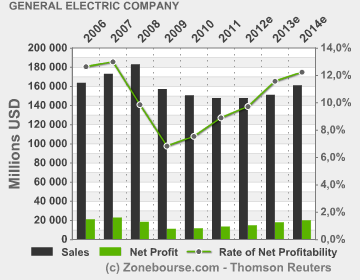 My Opinion
Obviously you must do your own research, however as I have presented here, future growth of GE and the share price appears to be dramatic if my thesis is correct. GE has disappointed in the past and I have no crystal ball to peek ahead. It sure looks good though.
Every investment carries risks, and GE is not an exception and there are never any guarantees. That being said, a 3.25% dividend yield is quite appealing while awaiting GE to use all "cylinders" to grow quickly.
Team Alpha owns it, do you?
Disclosure: I am long GE. I wrote this article myself, and it expresses my own opinions. I am not receiving compensation for it (other than from Seeking Alpha). I have no business relationship with any company whose stock is mentioned in this article.