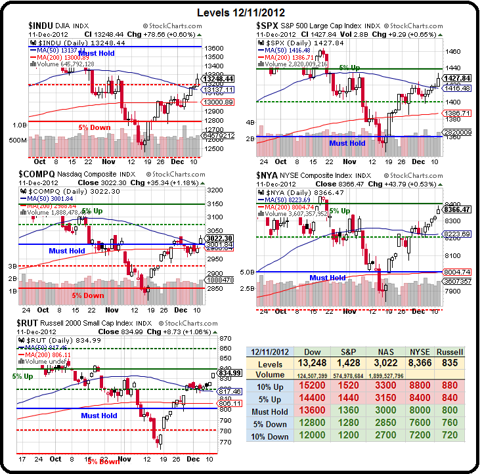 Click to enlargeCome to poppa!
I can't believe that, after all that drama, we're right on track for S&P 1,450 - the target we set a year ago for what was to be a 16% gain on the year. I wrote a great article on January 2nd about the folly of trying to predict the future but it's still lots of fun when you nail those predictions, right?
The point I was trying to make was the same point I often make - don't try to guess what the market will do - just BE THE HOUSE and sell premium to other suckers who think they know what's going to happen in the future.
In that article, my trade idea was selling the Apple (NASDAQ:AAPL) Jan 2013 $300 puts for $18.50, much like my idea to sell the 2015 $400 puts for $52 the other day. The Jan 2013 puts are already down to .11 so I suppose we can call that one an early winner but the 2015 $400 puts are still $49.50 - so don't complain to me if you're sitting here in Jan 2015 and wishing you'd listened to me and sold those puts, the same way you wish you sold the Jan 2013 puts last year when I told you about them.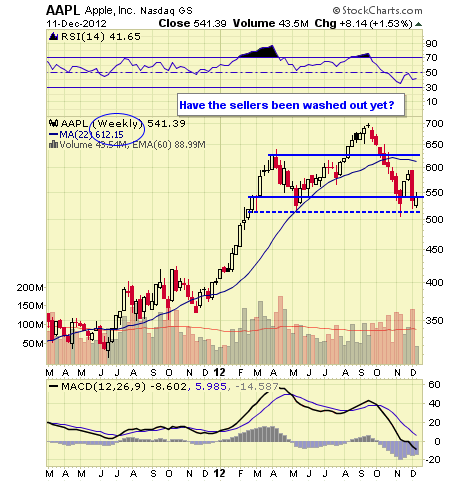 I'm sorry to talk about AAPL (Dave Fry chart left) so often but if they were selling brand new Porsche's for $25,000 I'd talk about those or if IBM (NYSE:IBM) were $120 - I'd probably talk about them every day but currently it's AAPL that's the deal of the century so I'll likely talk about them until they are back over $600 and no longer so compelling. Back in May I was on TV telling people to go bullish at S&P 1,275 and my picks at the time were Best Buy (NYSE:BBY) , which went from $17 to $23 in June but now back to $12 and MEMC (WFR), which was $1.80 and is now $3.25 - up 80% in just over 6 months.
These were a couple of picks from our "Twice in a Lifetime" list that we published for Members on 5/22 that included other gems like BAC at $6.97 (now $10.51), [[CHK]] at $13.83 (now $17.09), CSCO at $16.70 (now $19.78), FTR at $3.20 (now $4.77) and HOV at $1.83 (now $5.49). As our Members know, these are stocks I pounded the table on when their PRICE (not VALUE) dropped and, of course, we hedged our entries to get even better discounts - profiting from the panic of others. Even the people interviewing me on BNN that day were panicking - blinded to the VALUE just because the prices were dropping. This is what we teach INVESTORS to take advantage of at PSW.
Today we are waiting on the Fed and the FOMC announces their rate decision at 12:30 and expectations are high that there will be some additional form of Quantitative Easing to replace Operation Twist - which officially winds down this month. At 2pm, we get the FOMC Economic Forecast which, according to the last Beige Book reading - is not likely to be all that positive. Then, at 2:15, Ben Bernanke holds his press conference and that will be the last chance to get the bulls back on track with some happy talk or we'll be kissing S&P 1,450 goodbye before we even have a chance to hold it for a day.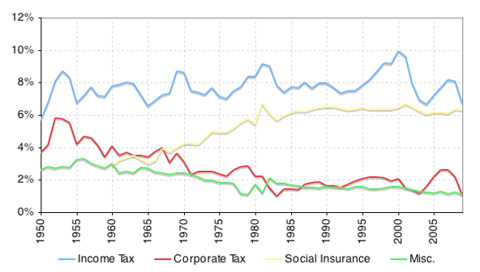 Click to enlargeThe White House is pressing its advantage on Fiscal Cliff negotiations by putting Corporate Taxes on the table. This I consider fantastic news as it's the ridiculous lack of collection of Corporate Taxes that is the number one problem this country faces. While Corporate Profits are now hitting over 10% of our GDP ($1.7Tn and that's AFTER deducting losses from some corporations, which shouldn't affect collections from profitable corporations), collections are down to below 1% of our GDP - not even a 10% tax rate on Corporations.
It's a very simple concept - bringing the Corporate Tax Rate back to 4% of GDP would allow us to cut Income Taxes in half and be revenue neutral. What would be better for America - especially our struggling middle class? 3% of GDP is $480Bn a year - that by itself would put a huge dent in our deficit and think about how much this lack of collection has caused our National Debt in the first place! I am thrilled to see this ridiculous Corporate Entitlement program finally being put on the table - it's about time our Corporate Citizens began paying their fair share.
Disclosure: I am long AAPL, XLF, HPQ, HOV, BBY, T, SCO, IMAX, GDX. I wrote this article myself, and it expresses my own opinions. I am not receiving compensation for it. I have no business relationship with any company whose stock is mentioned in this article.
Additional disclosure: Positions as indicated but subject to change (fairly bullish mix of long and short positions - see previous posts for other trade ideas).