Last month, I read an excellent article about CH Robinson Worldwide (NASDAQ:CHRW). I wanted to share with you my opinion about this stock.
First of all, I don't hold any shares of this company. I was a shareholder until the last earnings conference. Here are the reasons why I first bought some shares and then sold out my position.
The business
CH Robinson is a third party logistics (TPL) company. CH Robinson links supply and demand, providing multimodal transportation services and logistics solutions to its worldwide customers.
For transportation to be effective, it tends to become more and more door-to-door. That's why CH Robinson is the only interlocutor with the customers.
But CH Robinson doesn't own any physical freight distribution assets (except a few containers). It's called a non-asset-based transportation provider.
Therefore, the business is based on networks of customers (around 40 000) and transportation companies (more than 50,000) and digital services. Digital services are easily replicable, the network clearly not.
The sector is very fragmented, and many providers are specialized. With a 2.5% market share, CH Robinson is a leader. CH Robinson operates on:
Truck (75.1% of net revenues)
Intermodal (2.3% of net revenues)
Ocean (4% of net revenues)
Air (2.2% of net revenues)
Other logistics services (customs, supply chain analysis, payments services…) (16.3% of net revenues)
CH Robinson have had a tremendous growth for 10 years, both the size of the networks and earnings (an average 18.6% CAGR). For several quarterly earnings, gross margin has been under pressure, so EPS growth rate declines. I first looked for clues examining the cost of energy because I thought CH Robinson might not be able to easily bear sudden variations in energy prices.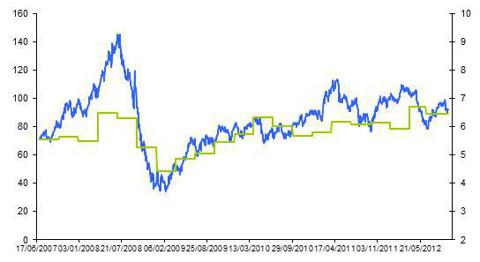 This chart shows inverse gross margin of CH Robinson (green) and the WTI price (blue). There is a correlation (72%), but in my opinion, it is inadequate. CH Robinson confirmed it during the last quarterly results:
"Fuel not a factor in net revenue margin compression" - Last earning presentation
Net revenue margin is under pressure:
Due to a certain lack of pricing power of CH Robinson, where cost per mile increased for truck transportation, CH Robinson price to customers was flat.
Due to an evolution of a mix of business for intermodal transportation. Obviously, structural costs and fees are different for railroad and truck.
Revenues growth is in the high single digist, but net revenues growth is in the low single digit zone:

In other words, the COGS (Cost of Goods Sold) rose. It is around 85%, similar to the beginning of the 2000s. It only came down under 84% in the mid-late 2000's.
An upside of the net revenue margin might be possible.
Financial statements, ratios
Balance sheet
For a provider, CH Robinson is a non-asset-based company (except a few containers). CH Robinson doesn't make money with fixed assets (trucks, trains, boats and so on): it sells empty space, at a given time, in trucks, trains, and boats not owned by CH Robinson.
In fact, the balance sheet is quite easy to understand: fixed assets are buildings, software and equipment; some goodwill was written when CH Robinson purchased smaller TPL companies.
Inventories are nonexistent.
The cash conversion cycle is positive: it means CH Robinson pays transportation companies before being paid by its customers. The Day Sales Outstanding ratio represents an average 40 days of activity. The Day Payable Outstanding ratio is around 25 days.
Considering:
The business does not need lots of investments in Property, Plant & Equipment
The past growth was strong and profitable: Return On Invested Capital (ROIC) > Weighted Average Cost of Capital (WACC),
CH Robinson has no long term debt in its balance sheet. Then the ROIC (=ROE because there are no long term debt) is impressive, in a range of 25 to 35% for the 4 last years. Equity keeps growing with the retained earnings.
Margins
Gross margin is defined as: (Revenues - Cost of Goods Sold) / Revenues.
For CH Robinson, it's mainly: (Revenues - Cost of Transportation Services) / Revenues.
For ten years, gross margin has been ranged between a low 15% (2008 and today) and a high 20% (2009). On the long haul, it shows a quite good resilience.
One has to consider the Sales, General and Administrative expenses to get operating margin. Here, it includes:
The staff, representing around 40% of net revenues
Software, counting for 15% of net revenues
On the long haul, operating margin is ranged between 6.5 and 7%, with fewer variations than gross margin. The reason is simple: much of the SG&A is staff expenses, partially linked to the EPS growth.
During lean years, compensation is less significant; and operating margin is much more resilient than gross margin.
CH Robinson does not hold many fixed assets; net margin differs from operating margin mainly due to tax: an average 38% tax rate for the 4 last years.
Cash Flows
Coming to cash flows, the last quarterly earnings shows a slight slowing cash conversion cycle. Accounts receivable rises a bit faster than accounts payable, and cash decreases. Nevertheless, net earnings stay close to Operating Cash Flows. Capital expenditures are low, that means Operating Cash flows are almost Free Cash Flows.
For shareholders, CH Robinson mixes growing dividends and share repurchases. The Pay Out Ratio is very low and it's perfectly normal. With such a growth rate (around 20%), I'm sure CH Robinson compounds better than almost every investor.
At this point, CH Robinson is clearly a wonderful business, with small needs but very high returns.
Outlook
This 2009 study shows more than 75% of the Fortune 500 companies are using TPL services. Nowadays (2012), this figure is certainly more significant. One would understand past growth of the TPL sector is soon over. Growth might be closer to the average growth rate of the economy than the 20% CAGR. But, a TPL company might still grow with:
Companies outsourcing more of their logistics needs. I have no figures telling which part is currently outsourced by Fortune 500 companies and others (SME and so on)
Market share gaining to competitors and classic transporters. From this point of view, CH Robinson is a leader with its network. On a simple basis, CH Robinson is more easily able to fill trucks.
Market consolidation, with mergers and acquisitions.
CH Robinson recently announced the acquisition of Phoenix International. Phoenix International operates significantly on international transportation, mainly more maritime then air. It will help CH Robinson reinforce its presence on international businesses, for future growth. The acquisition represents $571.5 million in cash and approximately $63.5 million in newly-issued C.H. Robinson common stock (0.6% dilution). A loan will be necessary.
Until then, balance sheet was long term debt free. One would argue that the sum ($500 million) stays clearly smaller than equity. And the WACC should decline a bit. The CEO argues in the sense during the last earnings conference, to benefit from current credit conditions:
"But yes, we do feel like a different capital structure will be in place and is appropriate, given a low interest rate environment, the low valuation of the stock and some of the growth opportunities that we think we have."
Dealing with shareholders distribution, the CFO implied the past share repurchases weren't effective.
"For much of the period since we went public, it was only slightly accretive, if accretive at all, to repurchase shares based on the combination of where interest rates were, as well as where our PE was. Both of those have changed in the directions that obviously make share repurchases more accretive. »
The share price has declined. More significant share repurchases might happen, but the management told they prefer external growth.
Valuation
I made an estimate of intrinsic valuation, using:
Assets Value (reproduction value).
Earnings Power Value (EPV).
Total value, including growth in franchise.
I prefer investing in profitable companies, with a margin of safety on reproduction value, then EPV. Consequently, I prefer paying 0 or less for growth.
The estimate is completed with:
A valuation considering historical data (PER, PB, PS)
A rapid valuation of the Free Cash Flows. I accumulate FCF over 15 years, and adjust it with cash and debt.
A relative valuation (PER, PB, EV/Revenues, EV/EBIT, EV/EBITDA, EV/NOPAT, FCF yield), comparing CH Robinson to Expeditors International of Washington, Radiant Logistics, UPS and Fedex (the two lasts are not the most relevant).
Assets Value
Any valuation using book assets is biased because it doesn't consider the network effect. Yet, CH Robinson is able to generate high returns with little book assets. I simply count all book assets, with an adjustment for accounts receivable. I also count all liabilities and add the $500 million credit revolving. Here is for the book value. Now I try to adjust it for the network effect. Off-balance-sheet, I add the value of 4 years of SG&A expenses to value the network (federating transporters and customers).
This leads to a $10 adjusted book value / share. I don't want this calculation to be very accurate. I just want to show that one doesn't buy CH Robinson for its book assets.
Earning Power Value
It's most likely that CH Robinson has an economic moat. It generates very high returns on a quite long haul, but there are not that many competitors. EPV allows estimating the valuation of the business without any growth. The difference between EPV and adjusted assets value is normally the valuation of this moat, as an "earnings power". Now we know adjusted assets value is very difficult to estimate because almost every asset is off-balance-sheet, or even not measurable: fidelity of customers, transporters and so on.
I use the formula for EPV: Normalized Net Operating Profit After Tax (NOPAT) / WACC.
I choose after taxes (NOPAT) instead of before taxes (EBIT): I want net earnings accessible to the shareholder. Some adjustments are made to get a normalized profit: average operating margin, unusual items, growth needs (mainly SG&A).
The last adjustment is made with debt and excess cash. I estimate EPV around $40 / share.
Growth in franchise
Considering CH Robinson has a moat (network), we should value expected growth in this franchise. The calculation is a DCF one, with professor Damodaran method. Then I estimate the growth valuation, from the difference between EPV and the DCF calculation. The total value comes: EPV + growth value.
High growth rate
The first calculation is based on the past 18.6% CAGR. I extend it for another 5 years. With such data, I estimate the total value around $70 / share. It's close to Morningstar's valuation. I estimate a $60 / share intrinsic value using a weighting of each valuation.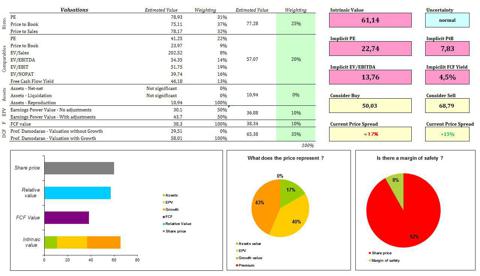 Charts are based on total value.
Reduced growth rate
For the second calculation, I estimate growth to be much reduced. The last EPS growth rate was around 6.7%. I extend it for another 5 years. This leads to a total valuation around $50 / share and a $54 / share intrinsic value.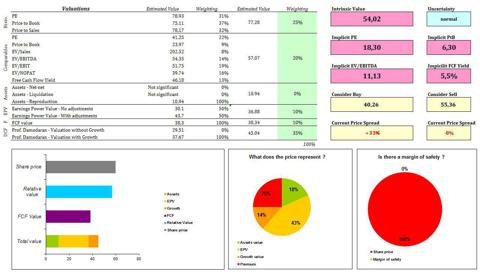 Charts are based on total value
In this case, the margin of safety is almost gone. Assuming the hypothesis, buying CH Robinson at this price might lead to overpay the stock. In defense, the hypotheses for EPV calculation were tough. Gross margin might grow and that would really boost earnings. Through mergers and acquisitions, I do not doubt CH Robinson has the potential and balance sheet to grow significantly. But, this would certainly lead to a deterioration of the balance sheet through debt issuing.
Conclusion
Finally I sold of my position because I felt less comfortable with a margin of safety on a total value (including growth in franchise) than on EPV. In my opinion, CH Robinson is a wonderful business. But for my investing philosophy, the price is a bit too high.
Dataroma tells us which "super-investors" own CH Robinson shares:
Richard Cuniff (Sequoia), 1.26% of portfolio
Robert Zagunis, Robert Millen (Jensen), 2.8% of portfolio
William Frels (Mairs & Power Growth), 0.83% of portfolio
Donald Yacktman (Yacktman Focused), 0.58% of portfolio
They have mainly been constituted during the last two quarters. Richard Cuniff has also a stake in Expeditors International of Washington, another leading TPL company.
Disclosure: I have no positions in any stocks mentioned, and no plans to initiate any positions within the next 72 hours. I wrote this article myself, and it expresses my own opinions. I am not receiving compensation for it (other than from Seeking Alpha). I have no business relationship with any company whose stock is mentioned in this article.