I have been covering Westport Innovations (NASDAQ:WPRT) for quite some time. Time and again, I have been stressing that there are multiple catalysts on the horizon that are expected to drive the stock price upwards in the future. One of the important catalysts is that WPRT's light-duty segment (LD) expects strong sales from the Ford (NYSE:F) F-series.
Last Monday, the company announced that it is expanding its product line to include natural-gas powered versions of Ford's F-450 and F-550 Super Duty trucks in mid-2013. Not only this, the company is also developing relationships with service body companies to offer installation of second unit bodies on its F-250 and F-350 pickup trucks.
WPRT is actively working to spread the usage of natural gas in the US. The news of the new product offering has sent bullish signals to the market. The stock is 4.5% up since the announcement. In March 2012, the company developed the Wing Power System for Ford's F-250 and F-350 series. The Wind Power System, launched at National Truck Equipment Association Work Truck Show, is a fully-integrated, CNG bi-fuel system. It was targeted to serve Ford's 6.2-L hardened engine platform.
The new agreement between Ford and WPRT on the F-450 and F-550 series trucks shows that the Wing Power System was a success with the end consumer. Had this technology failed, Ford would not have signed another agreement with WPRT. It is important to note that the second agreement with a major OEM like Ford has acted as an endorsement for WPRT's products and their superior product quality. The Vice President of WPRT's LD division was heard saying:
"Our CNG bi-fuel systems for Ford F-250 and F-350 trucks have been very well received and as a result, our customers are making increasing requests for customized options and natural gas trucks with higher gross weights."
The new 2013 F-450 and F-550 trucks will be built at the Westport Kentucky Integration Centre (WKIC). This factory is located adjacent to Ford's Kentucky truck plant. WKIC has also been the production home for F-250 and F-350 series. The new Ford products being equipped with WPRT's technology will be checked and audited by Ford in a similar manner to the one employed for the F-250s and F-350s. After a rigorous validation for safety and durability, these trucks will be delivered using Ford's transportation system which will provide cost efficiencies in delivery to the end customer.
Ford enjoys a strong reputation in the LD truck market. The F-series has been the best-selling truck in America for the last 30 years. The Ford-150 was named Motor Trend's "Truck of the Year" for 2012. Wide selection of models, impressive physical capabilities, impressive towing and innovative electronic features have been some of the factors behind the success of Ford's trucks. Above all that, the superior fuel economy offered by these trucks has helped Ford to win a large chunk of the share in the truck market. Therefore, Ford is increasingly focusing on bringing an improvement in the "fuel economy" aspect of its trucks and WPRT has helped it to achieve this target. The following table shows the success of Ford F-series in the month of November: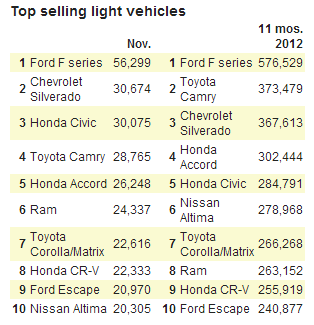 Source: The Automotive News
The Westport WiNG System comes at a competitive cost of $9,500. WPRT claims that the new natural gas powered Ford F-450 and F-550 Super Duty truck models are expected to be offered at an equally competitive price, saving fleets between 25 and 40 percent in fuel costs with positive payback demonstrated in two years.
The following table shows the calculations:

*Smart Equity's estimates
*The calculation for $1,500 has been made in the light of a recent study issued by a Professor of MIT.
According to WPRT, fleets will save 40% (bullish estimate) of the fuel costs. Currently, an average pick-up truck covers a distance of 15,000 miles in a year and gives mileage of 15 miles per gallon consumed. Therefore, the truck consumes a total of 1,000 gallons in one year. Current gasoline price: $ 3.46/gallon. 40%= $1.384; for 1,000 gallons @ $1.384 = $1,384 (almost $1,500)
According to my calculations, the claim of a payback period of 2 years seems unrealistic. However, I still see an upside in the deal given the IRR of 13% which is more than treble the cost of capital (4%). Therefore, the demand for Ford's F-450s and F-550s are expected to be high given the favorable economics.
Conclusion
Currently, the stock is down 18% YTD. The stock has been shorted in large quantities. Currently, around, 32% of the stock float has been shorted. This shows the bearish sentiment of the market towards the stock. However, I have mentioned in two of my previous articles that this stock is ready to be short-squeezed after the shale gas boom. There are many potential catalysts on the horizon that are expected to push up the stock price. For example, WPRT's HPDI engine is expected to be introduced in China in 2013. Volvo cars fitted with WPRT's engines are expected to hit European roads in 2014.
Morgan Stanley believes that WPRT's revenues will double in two years time and treble in three years. I recommend the stock as a buy.
Disclosure: I have no positions in any stocks mentioned, and no plans to initiate any positions within the next 72 hours. I wrote this article myself, and it expresses my own opinions. I am not receiving compensation for it (other than from Seeking Alpha). I have no business relationship with any company whose stock is mentioned in this article.