Priceline.com (NASDAQ:PCLN) is a travel booking company. It helps the average consumer book bundled vacation packages at a discount. Priceline offers customers hotel room reservations, car rentals, airline tickets, vacation packages, destination services, and cruises. It offers booking services at booking.com and priceline.com, and through Agoda brands.
Qualitative Analysis
The revenue model is simple. The company earns a commission from hotel room reservations, rental cars, cruises, and other travel services. PCLN earns transaction gross profit and customer processing fees from its price-disclosed merchant hotel room and rental car reservation services. Other gross profit is derived from selling advertisements on its website.
PCLN's business is seasonal. A vast majority of bookings occur early in the year, as customers plan and reserve their spring and summer vacations in Europe and North America. However, PCLN does not recognize the revenue until the travel occurs. This means Priceline.com experiences the highest level of profitability in the second and third quarters of the year. It experiences the highest levels of booking and travel consumption from Asia-Pacific and South America in the first and fourth quarters. The growth in earnings from the Asia-Pacific and South American markets outpaces the European and North American markets. This implies that the Asia-Pacific and South American markets may become a more significant percentage of operating income, and therefore an upside surprise may came from the Latin and Asian markets in Q4 2012 and Q1 2013.
PCLN has been sued on numerous occasions for unpaid taxes at the state level (sales and hotel taxes). Ongoing legal expenses are likely, and have been factored into future growth estimates.
Technical Analysis
On Dec. 9 through Dec. 11, Pricline.com experienced a sharp decline. PCLN traded lower on moderate volume from $670 per share to $623 per share.
I anticipate limited downside. The stock is likely to fall to $590.00 per share. This does not mean I'm short, or would recommend shorting the stock -- just the opposite.
Click to enlarge images.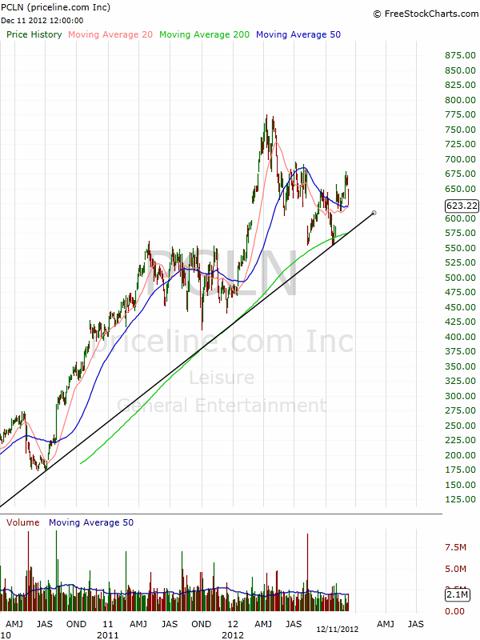 Source: FreeStockChart.com.
Priceline.com remains above the 20-, 50-, and 200-day moving averages (two-day chart). The moderate-volume implies accumulation and limited trading. Notable support is at $620 and $590.00 per share. Notable resistance is at $640.00, $690.00, and $770.00 per share.
I anticipate the stock to rally off support from $620.00-$590.00 per share. The downside is extremely limited, while upside is extremely large (further discussion of this appears below).
Street Assessment
Analysts on a consensus basis have strong expectations for the company going forward.
| | | | | |
| --- | --- | --- | --- | --- |
| Growth Estimate | PCLN | Industry | Sector | S&P 500 |
| Current Qtr. | 21.60% | 7.10% | N/A | 8.50% |
| Next Qtr. | 19.60% | 46.30% | N/A | 14.80% |
| This Year | 31.60% | 20.80% | 68.80% | 5.50% |
| Next Year | 21.40% | 25.40% | 0.70% | 13.20% |
| Past 5 Years (per annum) | 54.93% | N/A | N/A | N/A |
| Next 5 Years (per annum) | 20.31% | 19.41% | 17.68% | 9.19% |
| Price/Earnings (avg. for comparison categories) | 20.19 | 5.81 | 10.12 | 17.89 |
| PEG Ratio (avg. for comparison categories) | 0.99 | 1.21 | 1.13 | 0.33 |
Source: Table and data from Yahoo Finance.
The company shows great potential as analysts, on a consensus basis, have a five-year average growth rate forecast of 20.31% (based on the above table).
| | | | | |
| --- | --- | --- | --- | --- |
| Earnings History | 11-Dec | 12-Mar | 12-Jun | 12-Sep |
| EPS Est | 5.05 | 3.95 | 7.36 | 11.81 |
| EPS Actual | 5.37 | 4.28 | 7.85 | 12.4 |
| Difference | 0.32 | 0.33 | 0.49 | 0.59 |
| Surprise % | 6.30% | 8.40% | 6.70% | 5.00% |
Source: Table and data from Yahoo Finance.
The average surprise percentage is 6.6% over analysts' forecast earnings over the past four quarters (based on the above table).
Forecast and History
EPS History and Price History

Year

Basic EPS

P/E Multiple

2007

3.69

31.13

2008

4.64

15.87

2009

11.54

18.93

2010

11.00

36.32

2011

21.27

21.99
Source: Table created by Alex Cho, data from annual shareholder report, and price history is from Yahoo Finance.
The EPS figure shows that throughout the 2007-09 period, revenue growth slowed as the company was adversely affected by the Great Recession. Once the United States economy exited the recession in 2010-11, the company's earnings rapidly improved.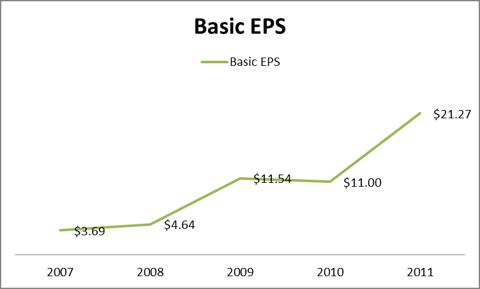 Source: Table created by Alex Cho, data from annual shareholder report.
By observing the chart we can conclude that the business is cyclical and is affected by macroeconomics. Therefore, the largest risk factor for Priceline.com is the slowing of international gross domestic product growth. So, as long as the world economy continues to grow the company will generate outstanding returns over a five-year time span based on the forecast below.

Source: Forecast and table by Alex Cho.
By 2016, I anticipate the company to generate $61.74 in earnings per share. This is because of its past growth trend, improving global outlook, and the continued success of its product offerings. The forecast is proprietary, and below is a non-linear chart indicating the price of the stock over the next five years.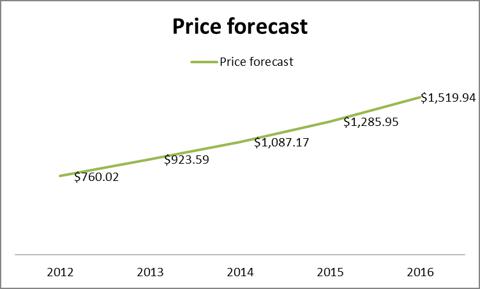 Source: Forecast and chart by Alex Cho.
Investment Strategy
PCLN closed at $623.22 on Dec. 11, and although the holiday season is coming to a close, I remain optimistic. I have a price forecast of $750.02 for 2012, being that there are only 18 days before the end of 2012. It may not necessarily hit that price target due to the short-term time frame. That means we should move to the long run, and focus on 2012-13. In the first quarter of 2013, Priceline will announce earnings for the fourth quarter of 2012. Up until the earnings are announced, the stock should experience a strong run-up. I anticipate the stock to trade to around $760.02 to $923.59, implying a lot of upside going forward.
The Short Term
Over the next couple months, the stock is likely to appreciate from $623.22 to $760.02-$923.59. This implies 22%-48% upside from current levels. The technical chart readings imply a weakness in recent price action; however, the stock is likely to find support on both the 20-day and 50-day moving average (refer to the price chart above). This supports my price target. Therefore, both the forecast model for fundamentals and the market sentiment make me inclined to recommend buying at $623.22 and selling at $760-$920 per share. There is notable resistance at $640.00, $690.00, and $770.00 per share. It is likely that the stock will experience minor pullbacks at each level throughout 2012-13.
I recommend investors sell the stock beyond $760 per share to pocket short-term gains in 2013.
The Long Term
The company is a great investment, and I anticipate PCLN will deliver on the price and earnings forecast despite the risk factors (a global economic slowdown). Priceline.com's primary upside catalyst is international growth. I anticipate company will deliver on my forecast price target of $1,519.94 by 2016.
Conclusion
Priceline.com is a great investment opportunity. The growth forecast, along with strong market sentiment, reinforces my optimism in this large-cap stock.
Disclosure: I have no positions in any stocks mentioned, and no plans to initiate any positions within the next 72 hours. I wrote this article myself, and it expresses my own opinions. I am not receiving compensation for it (other than from Seeking Alpha). I have no business relationship with any company whose stock is mentioned in this article.