When it comes to energy, there's no more powerful stock than (NYSE:PWR), officially known as Quanta Services. This little-known giant employs 14,000 people and sprawls across 40 states, delivering power in the form of electricity as well as oil and gas.
A Hurricane Recovery Play
If there's anything we should have learned from the devastation of Hurricane Sandy, it is that the nation's electrical grid is badly in need of an upgrade. In fact NBC News just reported that there are still 30,000 homes in the northeast without electric power.
That's because America's electrical grid has been poorly maintained for decades.
Remember the Great Blackout of 2003 that left 55 million people in America's northeast and Canada in the dark? That was caused by inadequate maintenance at a company called FirstEnergy in Ohio.
Clearly this is a problem affecting both sides of the border. Today's stock pick is growing earnings at a stunning pace as it races to bring the North American energy grid up to scratch.
A Safe Petroleum Play
The worrisome thing about investing in energy companies is the fluctuating price of resources. Just take a look at what happened to top-tier coal companies like Peabody Energy (BTU) as a surge of cheap new natural gas came on line.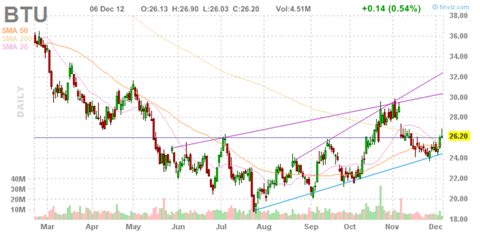 As power plant operators switched as quickly as they could to gas, a stunning bonanza of new natural gas came to market from the many shale-gas resources being discovered across the United States. The abundance of gas drove prices down to lows not seen since the 1980s and clobbered investors even in high quality companies like Chesapeake Energy (NYSE:CHK).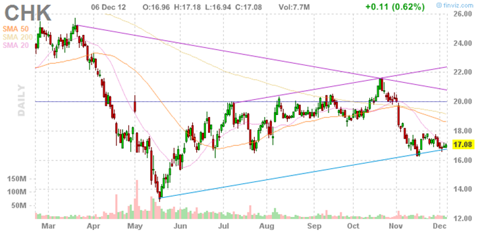 Just as in the gold rush times of old, the real money is to be made not by the miners but by those who provide the picks and shovels.
In the case of America's new energy boom, some of the best plays have proven to be the companies which build and operate pipelines as well as drilling under contract.
Picks & Shovels in Sand and Shale
Quanta Services fills the bill beautifully because its second specialty (after building electrical infrastructure) is construction of pipelines to move oil and gas out of America's new resource centers.
Quanta is a specialist in natural gas pipeline transmission and distribution as well as petroleum pipeline maintenance and construction.
Surprisingly, Quanta even offers horizontal directional drilling for shale exploration, permit clearances, gathering systems, and transmission infrastructure for big name companies like Kinder Morgan Energy Partners (NYSE:KMP), Markwest Energy Partners (NYSE:MWE) and Enterprise Products Partners (NYSE:EPD).
PWR is at work in the Eagleford and Bakken shale reserves as well as Canada's oil sands.
Obviously this is a large scale company, but its stock capitalization is still priced below its annual sales, estimated at more than $6 billion!
Pipe Dreams?
Don't let the trends mislead you. Quanta has hard numbers to prove that it is as busy as it can be with its electricity and petroleum-related businesses. The company reports a stunning $4.17 billion order backlog. Earnings per share grew by 14.04% in 2012.
Looking to the future, Quanta expects 16.91% earnings growth in the coming year.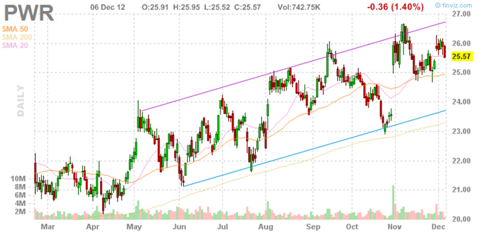 Quanta has not been a laggard over the past twelve months, but it is not priced like a company with a record of stunning earnings growth and an almost monotonous record of beating earnings expectations.
The past PWR earnings report was a stunner.
With earnings per share of 45 cents the company blew away analysts' expectations and topped results for the same quarter last year by 80%.
At today's prices, PWR shares are relatively cheap, selling at about 16 times next year's earnings, slightly less than the company's projected growth rate for the coming year.
Getting Focused
Although Quanta's website doesn't reflect the fact that it has left the telecommunications industry, the company has just completed the sale of its telecom branch for $275 million.
That means Quanta is free to focus all of its attention on what I consider the sweet spot of America's growth story, energy services. Picks and shovels.
A remarkable total of 15 analysts are covering Quanta and the most optimistic of them has a price target of $36.00 on the stock.
I'm a bit more conservative but very optimistic about this energetic company.
Action to Take: Buy PWR at $26.00 or less. Target: $34.00. Sell-stop limit: $23.95.
Disclosure: I have no positions in any stocks mentioned, and no plans to initiate any positions within the next 72 hours. I wrote this article myself, and it expresses my own opinions. I am not receiving compensation for it. I have no business relationship with any company whose stock is mentioned in this article.