Thursday morning, with the market appearing to move moderately higher (before a dip and then another rally!), I looked to find my fifth position to complete my five position minimum in my portfolio. Applying my reduced size strategy,  the average size of the other four positions was $3000, so looking to invest 1/2 of that amount to complete my five position minimum, I saw that Esco Technologies (NYSE:ESE), one of my old favorites on the blog was on the list of top % gainers on the NYSE, and I purchased 47 shares at $32.56/share. 
As I wrote, shortly before the close of trading Thursday, Esco was continuing to move higher (along with the rest of the market) and was quoted at $34.36, up $3.97 or 13.06% on the day. Relative to my own purchase price, the stock was higher by $1.80 or 5.5% since my acquisition of shares.
Let me try to briefly review some of the things that led me to select Esco Thursday to fill out my minimum portfolio holdings. First of all, after the close of trading yesterday, Esco announced fourth quarter 2008 and full year results. For the quarter ended September 30, 2008, the company reported net sales of $196.0 million, a 40.1% increase over the same quarter from last year's result of $139.9 million in sales. Net earnings came in at $20.1 million, up 34.9% from last year's $14.9 million result or on a per share basis, this worked out to $0.17/share, up over 100% from $0.07/share last year.
Longer-term, if we review the Morningstar.com "5-Yr Restated" financials on ESE, we can see the steady rise in revenue from $397 million in 2003 to $528 million in 2007 and $651 million in the trailing twelve months [TTM].  Earnings have been a bit less consistent increasing from $1.00 in 2003 to a peak of $1.70 in 2005, before dipping back to $1.20 in 2006 then increasing steadily once again to $1.70/share in the TTM.  No dividend is paid.  The outstanding shares have been very stable at 26 million in 2003 and 26 million in the TTM.
Free cash flow is positive but decreasing (not a positive sign), with $60 million in 2005, dipping to $50 million in 2006 and $26 million in 2007. The balance sheet appears adequate with $23 million in cash and $223 million in other current assets, resulting in a total of $246 million in current assets which when compared to the $135.1 million in current liabilities, yields a current ratio of 1.82. The company has an additional $308.9 million in long-term liabilities per Morningstar.
Looking at the "point & figure" chart on Esco from StockCharts.com, we can see that after peaking at $54 in September, 2008, the company continues to be under pressure, bottoming at $29 in October, 2008, and appearing to be trying to work its way slowly higher. This appears fairly typical for the severe bear market that we find ourselves in today.
click to enlarge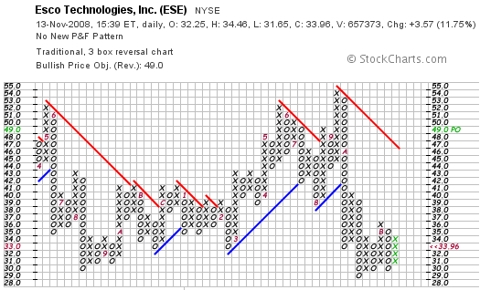 In terms of valuation, looking at Yahoo "Key Statistics" on Esco, we can see that the company is a mid-cap stock with a market capitalization of $883.89 million. The trailing P/E is 22.94, but with the rapid growth expected, the forward P/E (fye 30-Sep-09) is only 15.57. Thus, the PEG ratio comes in at a very reasonable 0.61.
In terms of valuation, utilizing the Fidelity.com eresearch website, we can see that the Price/Sales [TTM] ratio of 1.33, is higher than the industry average of 0.66.  Even by profitability, the Return on Equity [TTM] comes in at 10.25%, compared to the industry average of 20.87%. Neither of these indices come out particularly flattering to ESE relative to its peers. 
Finishing up with Yahoo, there are 26.04 million shares outstanding with 25.34 million that float. Currently, there are 2.42 million shares out short (as of 10/10/08), representing 8.1 trading days. This is significant relative to my own arbitrary 'three day rule' for short interest.
As noted, no dividend is paid, and the last stock split was a 2:1 split back on September 26, 2005.
To summarize, being under my five position minimum (my own trading rule), I had a 'permission slip' to be adding another position to bring be back to my minimum in equities exposure. Esco made the list Thursday, was a fairly good fit for my blog and my strategy and I purchased a 'reduced' position for my trading account. The latest quarterly report was strong, the last five years have been strong, valuation is reasonable with a PEG well under 1.0, but the chart looks rather dismal.
It is good that I have a little price appreciation Thursday as so many times I have purchased shares recently on a positive earnings announcement, and many have declined on profit-taking even the same day. The follow-through Thursday is encouraging.
Disclosure: The author owns ESE.