Several analysts are negative about McDonald's (NYSE:MCD), citing European problems, but this is not really the case. Other companies in different sectors like St. Jude Medical (NYSE:STJ), Baxter (NYSE:BAX), or Medtronic (NYSE:MDT) can be more affected and, in this case, European problems are overlooked.
Countries like Greece, Spain, Italy are cutting spending in the healthcare sector. Monti, the Italian PM, already cut 600 millions € in 2012 and 1 Billion in 2013. The system will be unable to buy the more expensive and modern medical supplies and will turn back to the less expensive and oldest products, as stated in a letter written by the CIC (Collegio Italiano dei Chirurghi- Italian Surgeons union) and sent to Monti.
On the other side, MCD is offering low cost meals, potentially taking market shares from more expensive restaurants. In the following picture (click to enlarge), from the company report, we can see the downward trend of the same store sales for MCD in the 3 different areas.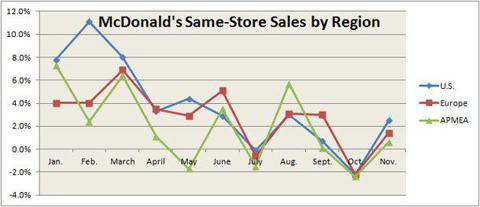 Click to enlarge
What is remarkable is that in the last year Europe was the least affected area, less than US and APMEA, with a decline a little over 2%, compared to the 6% decline in US and 7% in APMEA. Additionally, most of that decline is caused by a temporary currency impact. So, my conclusion is that European problems are overstated for MCD, and the stock deserves a recession resistant status, showing also some price flexibility.
There are problems, of course, like the possible upside in commodity price next year, especially for meat; the anti-American sentiment spread in the APMEA regions by military operations; and some poorly managed restaurants in franchise.
The stock is still in downtrend since the beginning of 2012. However, this downtrend is nearing a strong support level of $80, where the long term uptrend line is situated.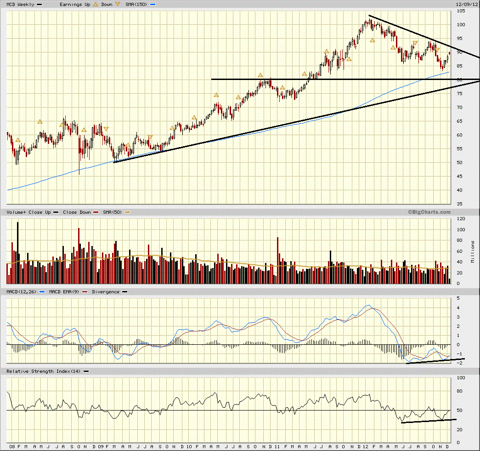 Click to enlarge
Also the MACD and RSI are showing a bullish divergence.
Actually the PE is 16.8, but with the stock priced at 80, PE is 15, an attractive entry point.
For a complete analysis see the article of Tim Travis: "McDonald's: An Income-Oriented Investor's Dream." Debt level is manageable, as cash flow is 5116M (reported in the company website) versus 4151M of current liabilities. So the 3.5% dividend is safe in the actual conditions.
Recent increased November same store sales gave some upside to the stock Dec.10th, but the downtrend could resume, as there is a resistance line showed in the chart.
My opinion is that the downtrend is ending, if not before year end, most probably next year. With a long term horizon, accumulating the stock in the low $80s looks like a good investment. Also selling 80 to 85 puts is a good strategy.
Disclosure: I am long MCD, MDT. I wrote this article myself, and it expresses my own opinions. I am not receiving compensation for it. I have no business relationship with any company whose stock is mentioned in this article.