Spectra Energy (NYSE:SE) is a pure-play natural gas firm with operations in gathering and processing, transportation and storage, and retail distribution. Unlike many of its natural gas infrastructure competitors, SE is not structured as a Master Limited Partnership or MLP, but retains that MLP flavor. For investors seeking exposure to natural gas infrastructure but not wanting to deal with the MLP tax implications, and for investors looking for an above-average yield in the natural gas utility sector, Spectra Energy is worthy of serious consideration.
In 2007, Duke Energy (NYSE:DUK) split its electricity and gas businesses by spinning off the natural gas infrastructure assets into Spectra Energy. SE is one of the largest midstream companies in North America with favorable assets that should provide higher earnings and a growth platform. Since the firm does not play in the riskier Exploration and Production segment, SE could be considered a bit more conservative than others in the natural gas business. Spectra collects most of its revenue from economic rent paid to move gas from wellhead to end user.
Overall, SE operates 19,000 miles of interstate pipelines in the U.S. and Canada, moving about 12% of all natural gas in North America. SE operates one of the largest networks of natural gas storage facilities capable of servicing 7% of U.S. storage needs. Through its subsidy Union Gas, SE provides regulated gas services to 1.4 million customers around the Ottawa, Ontario, Canada area.
The company is 50% owner of DCP Midstream, one of the largest midstream natural gas processors, with its partner Phillips 66 (NYSE:PSX). DCP operates 62,000 miles of pipelines and 61 natural gas processing plants. Further diversifying its business, Spectra owns 61% of Spectra Energy Partners (NYSE:SEP), a drop down MLP operating various natural gas infrastructure assets. In addition, SE is the General Partner of the partnership.
Spectra is separated into five distinct operating segments, mainly by geographic location. There are large overlaps in the type of assets operated and services provided:
US Transmission (38% of 2011 EBITDA): Focused on the eastern and southeastern U.S. and the Maritime provinces of Canada, this segment operates 14,600 miles of pipelines with eight primary transmission systems: Texas Eastern Transmission, LP, Algonquin Gas Transmission, LLC, East Tennessee Natural Gas, LLC, Maritimes & Northeast Pipeline, L.L.C. and Maritimes & Northeast Pipeline Limited Partnership, Ozark Gas Transmission, L.L.C., Big Sandy Pipeline, LLC, Gulfstream Natural Gas System, LLC, and Southeast Supply Header, LLC.
Distribution (19% of 2011 EBITDA): The Distribution segment provides retail natural gas distribution in Ontario, Canada, as well as natural gas transportation and storage services to other utilities and energy market participants in Ontario, Quebec and the U.S. Union Gas is the company's regulated transmission and distribution subsidiary, operating 39,000 miles of distribution pipelines and 2,900 miles of transmission pipelines. Union Gas is the second-largest distributor of gas in Canada and the segment operates the largest natural gas storage facility in North America with capacity of 150 Bcf.
Western Canada Transmission and Processing (20% of 2011 EBITDA): This segment provides transportation, gathering and processing, and storage of natural gas and natural gas liquids to customers in western Canada and northern U.S. It owns and operates BC Field Services, BC Pipeline, the Canadian Midstream operations and Natural Gas Liquids marketing operations. BC Field Services, located in British Columbia, operates 1,550 miles of gas gathering pipelines, five natural gas processing facilities, and 17 field compressor stations. BC Pipeline stretches 1,725 miles, and includes 18 mainline compressor stations. The pipeline transports gas gathered primarily in northeast British Columbia to southern British Columbia, Alberta and the U.S. Pacific Northwest. Its Midstream business offers gas gathering and processing services in British Columbia and Alberta and includes 11 natural gas processing plants and approximately 650 miles of gathering pipelines. Its Natural Gas Liquids business operates NGL extraction, fractionation, transportation, storage and marketing services to western Canadian producers and NGL customers throughout Canada and the northern tier of the United States.
Field Services (23% of 2011 EBITDA): The Field Services segment includes the joint ownership of DCP Midstream (NYSE:DPM). In addition to the operational joint venture, SE owns 14% of outstanding shares of DPM. Looking to expand its coverage into the Eagle Ford, Permian and Mid-Continent gas fields, DCP has an aggressive capital expansion budget of about $1 billion a year over the next three years, fully supported by its operating cash flow and separate debt.
Management has announced a $1 billion a year capital expansion plan that can be funded with operating cash flow and expansion of debt. The current debt-to-equity ratio of 56% falls within management's target of 55% to 60%. Debt maturities of $936 million in 2013 and $1.2 billion in 2014 should be rolled over without problem. Management has pegged a dividend payout ratio 60% to 65%.
About 80% of cash flow is generated from regulated activities, but 20% is linked to commodity pricing and low natural gas prices have negatively influenced SE. However, the opposite will be true as well - rising commodity pricing will positively affect SE earnings potential.
A nice attribute for investors is the implied lack of competition to Spectra pipeline assets. Currently, the Federal Energy Regulatory Commission will not approve competitive projects without a demonstrative need. As Spectra has been adding bolt-on assets to its current vast pipeline structure, there has been little economic need for the FERC to create competitors. For example, SE is adding to its Marcellus pipeline and expanding in the Northeast where the demand to replace heating oil with natural gas is substantial.
Reviewing the assets in picture form may assist in understanding not only the depth but also the strategic placement of SE businesses. In the U.S., pipelines, processing and storage facilities run from Texas, to Maine, and from Florida, to Ohio. In Western Canada, SE is well suited to service the proposed LNG export facilities in British Columbia. Taken from the Investors Presentation Supplemental Information (pdf) Dec 2012:
U.S. Transmission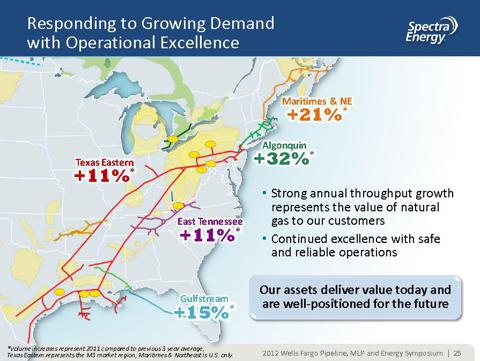 Distribution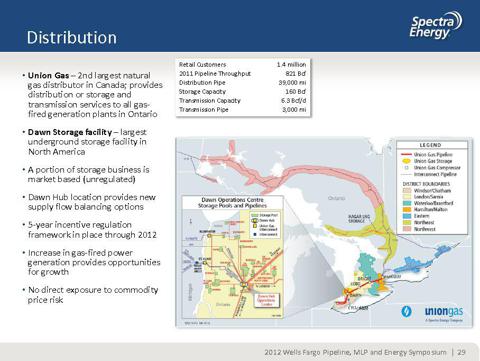 Western Canada Transmission and Processing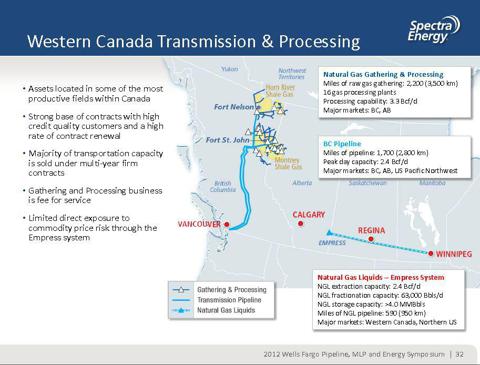 Field Services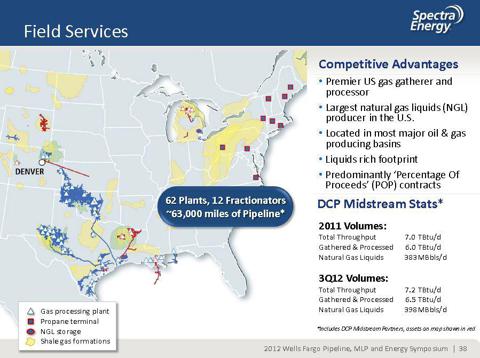 With a combined capital budget for expansion between SE and DPM of $8 billion over the next few years, these projects will have very positive impact on earnings. A recap of major projects scheduled for completion by 2015:
Connection of the Utica field to the Texas Eastern pipeline, running the backbone of gas fields from Texas, to eastern Pennsylvania.
Connection of the Utica to Eastern Canada and Union Gas
Connection of the Marcellus field to the Texas Eastern pipeline
Expansion of the Texas eastern pipeline to NY, and New England
Connect southern Appalachian supply to Tennessee, Alabama, and Georgia
Expansion of storage facilities along the eastern U.S. pipelines by 50%
Build pipeline from Horn River and Montney to potential LNG facilities at Prince Rupert and Kitima, BC
Connection and expansion of Eagle Ford, Permian, Mid-continent NGL pipeline and processing facilities.
Pages 56 to 66 of the Supplemental Presentation linked above outline these various projects in pictorial form along with providing additional information.
Within the gas utility segment, Spectra seems to be valued on the low side, based on the current PEG ratio. However, unlike many of the firms listed below, Spectra offers a larger exposure to stable operating cash flow from natural gas infrastructure. Below is a table of several natural gas utility company valuations:
| | | | | | | |
| --- | --- | --- | --- | --- | --- | --- |
| Ticker | Company | Market Cap (MIL) | 5-yr Growth % | Current PE | Net Margin % | PEG Ratio |
| EGN | Energen | 3,177 | 7.00 | 12.4 | 13.9 | 1.77 |
| GAS | AGL Resources | 4,557 | 7.00 | 14.3 | 5.9 | 2.04 |
| ATO | Atmos energy | 3,125 | 5.00 | 14 | 6.3 | 2.80 |
| WMB | Williams | 20,702 | 10.0 | 28.7 | 3.4 | 2.87 |
| NJR | New Jersey Resources | 1,681 | 5.00 | 14.7 | 4 | 2.94 |
| SWX | Southwest Gas | 1,903 | 5.00 | 15.3 | 6.5 | 3.06 |
| SE | Spectra Energy | 18,252 | 7.50 | 18.6 | 19.7 | 2.48 |
| NFG | National Fuel Gas | 4,328 | 6.00 | 21.2 | 13.5 | 3.53 |
| OKE | Oneok | 9,183 | 5.00 | 24.9 | 2.8 | 4.98 |
| AVG | | 7,434 | 6.22 | 18.23 | 8.44 | 2.93 |
Much like the relationship between Plains All American (NYSE:PAA) and PAA Natural Gas Storage (NYSE:PNG), since 2007 Spectra has been dropping down various assets into a majority owned MLP, Spectra Energy Partners . Some of the assets are 100% owned by SEP while others are jointly owned with SE dropping down a minority interest. More information on the assets owned by SEP can be found in the fact sheet here (pdf). Below is a pictorial of SEP assets: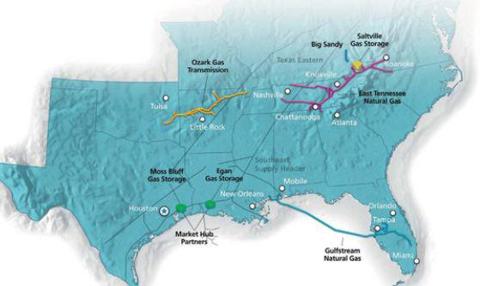 In addition to the drop down assets, SEP has been buying assets from other gas companies. For example, in 2009, SEP purchased the NOARK gas pipeline from Atlas for $294 million in cash and in 2011 purchased the Big Sandy pipeline from EQT for $390 million. The relationship between SE and SEP is advantageous for SE shareholders as SE has a captive buyer of assets while retaining a very profitable interest through the General Partner and as a majority unitholder.
SE acts as the General Partner of SEP. As with many General Partner Agreements, SE receives an increasing management fee as the limited partner's surplus cash grows. Known as Incentive Distributions, these fees can be quite lucrative for the general partner. SE threshold is $0.345 per share per quarter of SEP quarterly distribution after which it earns up to 50% in excess of the threshold. From SEP 10-k:
Total Quarterly Distribution
Minimum Quarterly Distribution . . . . . . . . . . . . . . $0.30 - 2%
First Target Distribution . . . . . . . . . . . . . up to $0.345 - 2%
Second Target Distribution . . above $0.345 up to $0.375 - 15%
Third Target Distribution . . . . above $ 0.375 up to $0.45 - 25%
Thereafter . . . . . . . . . . . . . . . . . . . . . . .above $0.45 - 50%
Currently, SEP quarterly distribution is $.49 per quarter and SE earns the maximum incentive of 50%.
In 2010, SEP paid SE $10 million in general partner fees. In 2011, the fees grew to $20 million and could reach $34 million this year. In addition, SE owns 61% of outstanding SEP units, making total contributions from SEP to SE from general partner fees and unit distributions about $143 million this year. With 635 million SE shares outstanding, this would equate to about $0.213 per share of SE annual income.
On Dec 11, Spectra announced the purchase of an additional pipeline. From a press release concerning the impact of the purchase on Spectra credit rating:
Dec 11 - Standard & Poor's Ratings Services said today that the announcement that Spectra Energy Corp (BBB+/Stable/--) has entered into a definitive agreement to purchase 100% of the ownership interests in the Express-Platte Pipeline System from Borealis Infrastructure, the Ontario Teachers' Pension Plan, and Kinder Morgan Energy Partners for $1.49 billion would not affect the company's ratings or outlook. We believe the transaction enhances Spectra's business risk profile because it will provide stable, fee-based cash flow and expands Spectra's investment in related crude and refined product assets. The Express-Platte system is strategically located to supply U.S. refineries in the Rockies and Midwest with price-advantaged crude oil from Canada and the Bakken oil field. Completion of the transaction is subject to regulatory approval and the parties expect it to close during the first half of 2013.
What should be noteworthy to investors is the expansion into an area previously underserviced by Spectra, mainly the Bakken and Midwest customers. This expansion could offer additional bolt-on acquisitions or expansion projects in the future, enhancing management's growth plans.
There are no ETFs that currently focus exclusively on natural gas utilities. However, FBR offers its Hennessy Natural Gas Utility Fund (MUTF:GASFX) that invests 85% of its assets replicating the American Gas Association Stock Index. Currently yielding 2.5%, GASFX holds many of the leading natural gas utilities and can be used as a proxy for the sector.
Below is a five-year chart of SE, GASFX and the broad-based S&P Utility ETF (NYSEARCA:XLU):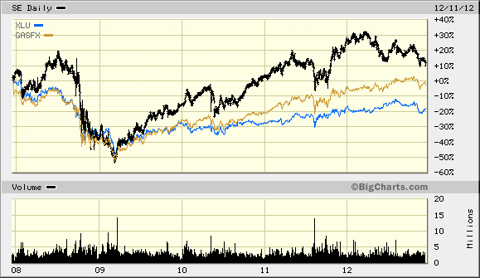 SE has outperformed both its natural gas utility peers and the overall utility sector. The charts are inclusive of price only and do not include the positive impact of a substantially higher yield than its gas utility peers. The outperformance as shown by the graph understates results by about 2% a year, or about 10% over the timeframe shown compared with GASFX and about 2.5% compared with XLU.
Earnings for SE are expected to be $1.49 per share, down from $1.77 last year. Anticipated EPS next year is for a rebound to $1.67 and continued growth in the 7.5% range over the next few years. However, with a strong rebound in natural gas pricing, earnings growth could be accelerated. The dividend is currently $1.22 a share and yields 4.5%. The current yield for Spectra Energy is substantially above the average natural gas utility, as reflected in the 2.5% yield of GASFX.
EBITDA this year is expected to be $2.7 billion down from $2.9 billion last year. With the growth projects outlined above, EBITDA could increase to $3.6 billion in 2015. Using current valuations, a reasonable price target would be $36 a share, and including a current yield of 4.5% would create a total annual stock return of 14% a year.
Some investors do not want the hassle of MLP tax issues but desire the portfolio exposure to MLP-like assets. Spectra Energy may fit the bill. The current yield of 4.5% is a bit light compared with many MLPs and a projected growth rate of 7.5% a year is in line with many MLPs. Management has supported the growing dividend through expansion projects and the future looks to be much of the same. If earnings expand at a 7.5% rate, investors should expect a similar increase in the dividend.
Disclosure: I have no positions in any stocks mentioned, and no plans to initiate any positions within the next 72 hours. I wrote this article myself, and it expresses my own opinions. I am not receiving compensation for it (other than from Seeking Alpha). I have no business relationship with any company whose stock is mentioned in this article.
Disclaimer: Please review important disclaimer in author's profile.