Citigroup (NYSE:C) seems to be running out of deck chairs. The day after the company's stock fell below $10, the Wall Street Journal reported Citi is considering yet another shuffle in its executive suite. That should fix things. This time, Citi's chairman, Win Bischoff (who?), will be replaced by none other than lead director Richard Parsons, the same guy who presided over one of the most notorious conflagrations of shareholder value in the history of American industry. In a weird way, he could be just the man for the job.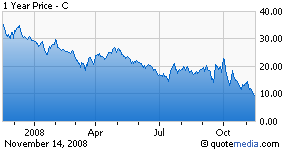 We also learn Citi is bidding to acquire Chevy Chase Bank. Oh, how the mighty have fallen! One of the largest banks on the planet is now so desperate for deposit funding it's reduced to chasing an unprofitable regional thrift that has great locations, but no free deposits and a large option-ARM book. How do you suppose Citi proposes to improve things? Convert the bank's locations to Citi's winning retail model, perhaps?
This is too painful to watch. Here we have the spectacle of a clueless board trying to provide oversight over an inexperienced, unproven CEO, who's trying to run a company too big to manage, that's wedded to fix a business model that's hopelessly broken. 
As Tom Brown has said so often, there's only one way out: break up Citi.