Freeport-McMoran Copper & Gold Inc. (NYSE:FCX) has built an enviable position as a leader in global mining, with a strong portfolio consisting mostly of copper, gold and molybdenum. The crown jewel of the portfolio is the world's largest copper and gold mine in terms of recoverable reserves, which is the Grasberg mineral district in Indonesia. The company also has strong positions in North America, South America and the Democratic Republic of Congo. While it has been apparent that FCX has been reasonably cheap based on the net assets value of its properties and its enviable balance sheet, I've limited my operations on the stock to some very limited put sales well-below market prices to take advantage of the high implied volatility. My primary reluctance stems from my belief that China engaged in a hard asset lollapalooza, which inflated various commodity prices, including copper. I became fascinated by the company's recent announcement that it acquired Plains Exploration & Production Company (NYSE:PXP) and McMoran Exploration (NYSE:MMR), and I thought it would be worthwhile to assess the company's merits as an investment, and to try and understand the rationale for the investment.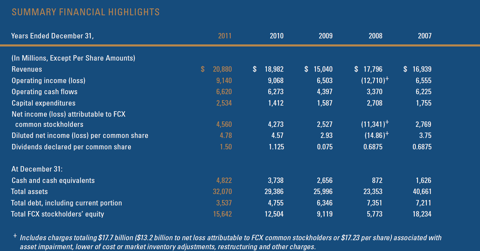 Freeport's primary assets are its lucrative global copper operations, which are low-cost, and have long lives of production ahead of them. It is amazing how many functions copper has in fields as divergent as construction, electronics, transportation and healthcare. It is certainly a commodity levered towards global economic and population growth, therefore the long-term outlook looks strong, particularly when you consider the lack of large low-cost discoveries. Freeport is investing heavily to increase production capacity globally. The Grasberg mine in Indonesia is currently an open-pit operation, but the company intends to begin closed-pit operations in a few years. This mine has a far lower cost structure than most other mining operations and is incredibly valuable. After the expansion programs are completed Freeport could have 5 mines capable of producing 1 billion pounds of copper per year. Below you'll see the breakdown of mining costs for the various regions.





As of December 31, 2011 FCX's consolidated proven and probable reserves, included 119.7 billion pounds of copper, 33.9MM ounces of gold, 3.42 billion pounds of molybdenum and 0.86 billion pounds of cobalt. These estimates of recoverable proven and probable reserves were determined using long-term average prices of $2.00 per pound for copper, $750 per ounce for gold, $10 per pound for molybdenum and $10 per pound for cobalt. It doesn't take a mathematician to realize that if commodity prices exceed cost inflation over the long-term FCX stands to make an absolute killing. My belief is that this will be the case over the long-term but it is essential to find the right entry point into the stocks when the outlook looks gloomiest, likely due to some serious short-term issues. If we experienced another global recession with China as a leading cause, copper prices could potentially plummet. Because FCX like other commodity producers invests a heavy amount into new and expanded projects, declining prices have a leveraged negative impact. The last decade plus, has seen generally rising prices so many market participant and companies may not really be prepared for when the industry sees a more serious rough patch.
In 2007, Freeport made a bold acquisition with the debt-financed purchase of Phelps Dodge. This could have been disastrous considering the acquisition happened right before the Great Recession of 2008-2009.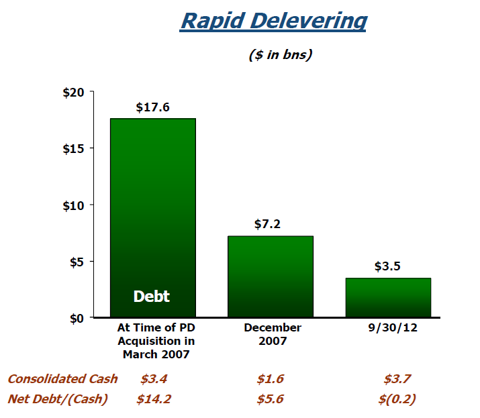 http://www.fcx.com/ir/2012present/States_IR_DEC12.pdf
As you can see in the table above, the company at the time of the acquisition had $14.2 billion in net debt. Buoyant commodity prices allowed the company to aggressively pay down the debt, which greatly helped the company navigate the global downturn. China's aggressive infrastructure development and stimulus package were a huge boon to Freeport during that time. Current issues in Europe and questions regarding Chinese growth could potentially be more problematic for Freeport than that traumatic time was. The Phelps Dodge acquisition allowed Freeport to capitalize on a low-cost resource base, where the key variable was the underlying commodity cost. If copper prices would have plunged more than they did in the Great Recession, the debt pay-down would have been slower and the risks of the acquisition might have turned into a gloomier reality. Freeport points to the success of this acquisition as justification for the new one, but obviously there were real and legitimate synergies with Phelps Dodge, which simply is not the case for this acquisition.
Many articles have been written regarding the huge conflicts of interests and bonuses that are signaling loud alarm bells on this deal. PXP and MMR are both highly dependent on rising oil and to a lesser extent natural gas prices. I'd imagine that in an environment where we see higher energy prices, copper and gold would likely hold up fairly nicely as well. The problem lies in the huge premiums and valuations that Freeport paid in these transactions, when the company could have just bought back its own stock at a much lower valuation. Currently Freeport trades at less than 7.5 times forward earnings and has a dividend yield greater than 3.5%. Assuming any belief that copper prices would at least hold steady and due to the low interest rates available, buybacks would have been quite accretive up to at a minimum the $35-37 level. Because Freeport is not generating any synergies, the company really is just leveraging up on the global commodity boom. Granted the company's stronger financial profile will allow both PXP and MMR to most efficiently utilize their unique asset bases, which they likely couldn't do as separate companies, it makes no sense for Freeport to have paid such rich premiums for control stakes. There was no honest incentive in my opinion for shareholders of Freeport to have been forced into paying a premium when minority interests could have been obtained at much cheaper levels had management truly believed that the price was just too good to pass up. These "owner earnings", which would be defined as the pro-rata share of earnings on the minority stakes would have been just as valuable as earnings on the entire companies, but the far cheaper prices paid would have likely led to a much higher return on investment, and less financial risk.
As with the Phelps Dodge acquisition, higher commodity prices for oil and natural gas could be the panacea that saves management's hides in terms of this acquisition.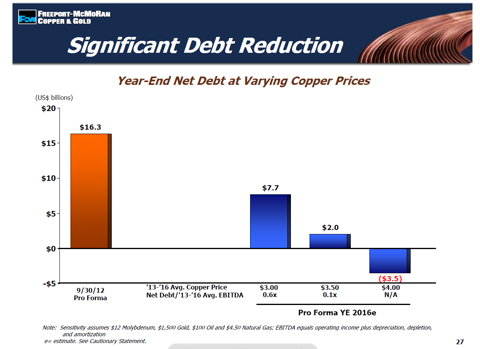 http://www.fcx.com/ir/2012present/States_IR_DEC12.pdf
As outlined in the table above, Freeport plans to aggressively deleverage using its free cash flow. While the valuations and earnings prospects for PXP and MMR likely assure the acquisition to be non-accretive to short-term earnings, it is possible that when you back out the amortization, the operating cash flows should cover the companies additional CAPEX incurred with this transaction.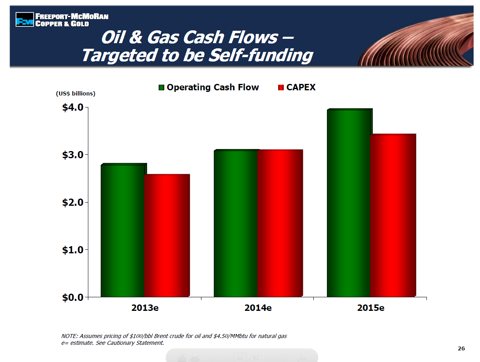 http://www.fcx.com/ir/2012present/States_IR_DEC12.pdf
My problem is that why would you take this risk in the first place? One of the really attractive aspects of Freeport in relation to its peers was its strong net cash position, and the high quality of its assets. The major wild card was simply commodity prices, which is really unavoidable in this sector. Now the company is taking on leverage, paying aggressive multiples with no prospects of synergies, and diverting management's attention away from the key assets. I just wonder if the CFO, CEO and board of directors even computed an analysis assuming $70 oil and $2.75/MMbtu when it made this acquisition. I'm not predicting these prices but they are certainly within the realm of reasonable outcomes assuming a very weak global economy. Proponents of the deal point to the deal as being far cheaper on a net asset value basis, as opposed to looking at it simply on earnings or through focusing on the premium paid to the common stock prices prior to the acquisition. I don't disagree that it looks more reasonable on this basis but I still completely disagree with the idea of paying a control premium when it was not necessary, and I also wonder if the conflicts of interest within the board of directors and management teams of these companies, might have clouded some more attractive assets that could have been purchased more cheaply. I believe both Sandridge Energy (NYSE:SD) and Devon Energy (NYSE:DVN) would have made more sense if bought at a slight premium to current prices, or the most common sense approach of all would have been to either buy back stock or increase the dividend.
http://www.fcx.com/ir/2012present/States_IR_DEC12.pdf
If Freeport were to experience lower copper and oil prices at the same time, the impact could be quite severe given the much higher debt profile. This would likely result in a cut to the dividend and significant reductions in capital expenditures. I understand that debt financing is cheap and if the company wanted to lever up to buy back its own stock I'd be a huge supporter in the low $30 range, but these risks seem to greatly outweigh the benefits of greater diversification that this acquisition does bring. Once again, proponents might say that higher oil and gas prices will make this leverage financed by cheap debt highly accretive. I'd agree with this assessment only if copper prices declined markedly in relation to oil, because FCX's own stock could have been bought back much more cheaply giving it even more upside optionality to leverage in my estimation.
Because the stock price has dropped as a result of investor dismay, the decline in intrinsic value that I believe occurred as result of this transaction has been reasonably offset by the decline in valuation on the stock. Even with my concerns about global growth and China hard asset investment in particular, I'd likely be willing to buy FCX at around $32 prior to this deal. I've had a mixed history of investing in companies once I lose trust in management, with the most damaging scar done to me by the infamous Leo Apotheker, formerly CEO of Hewlett-Packard (NYSE:HPQ). I believe there is a considerable amount of pessimism that was already baked into the stock price so if FCX did continue to come down I'd likely be a buyer. To take advantage of the ample volatility in FCX stock, I've begun selling some long-term put options around $25. I'd like to see an activist investor get involved as a result of this deal, and I believe the company should aggressively look to divest assets to reduce debt if asset valuations improve in the next year or two. Regardless this will be an interesting story to watch but sadly I believe it is a really poor case of managers putting their personal interests ahead of shareholders without any shame whatsoever, and it has diminished the respect I had for a management team, which has proven itself to be highly competent. These types of deals are fine when the company is private and has one owner, but when you access public capital and don't even allow a vote on such a huge matter, management is damaging a reputation that it has spent many years building.
Disclosure: I am long FCX, HPQ. I wrote this article myself, and it expresses my own opinions. I am not receiving compensation for it (other than from Seeking Alpha). I have no business relationship with any company whose stock is mentioned in this article.