Kinder Morgan (NYSE:KMP) is one of the largest publicly traded pipeline limited partnerships in the world. The company pays its investors well, currently yielding 6.26%. However, a case can be made that there is growth potential to go along with this income. First, for those who are unfamiliar with the company, here is a quick summary:
Kinder Morgan transports refined petroleum products and natural gas through 28,000 miles of pipeline. It also operates 180 terminals handling refined products coal, and other materials. The company's objective is to grow its portfolio of fee-based energy transportation and storage assets, and also to increase the utilization of its existing assets. This strategy puts KMP in a unique position, whereby the company is not as affected by short-term commodity price fluctuations as its peers.
Performance
Kinder Morgan has performed excellently for its investors. Over the past 20 years, the share price has increased from $6.50 to its current level of $78.60, as of this writing. This is a 14% average annual gain sustained over two decades. Very impressive, indeed!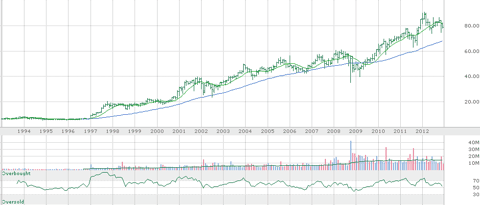 Click to enlarge
During the same time period, the company also raised its dividend by 12.3% annually, on average. I think it is pretty safe to assume that this type of performance will help investors keep up with inflation and then some.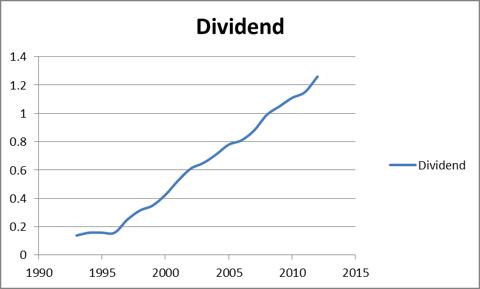 Click to enlarge
When investing in a high-yield company like this, one of the most frequently asked questions by investors is "Is the dividend safe?" In this case, I believe the answer to be a solid "yes." While it is true that KMP currently pays out more than it earns, the company is expected to grow its earnings at a very rapid pace, following the recent acquisition of El Paso Corporation. In fact, analysts at Standard and Poor's estimate that KMP will increase its cash distribution to $5.36 per share for 2013, up from $4.98 per share this year.
Adding to the confidence in the dividend is KMP's solid balance sheet, which includes almost $1.3 billion in cash and receivables. The company has a total of $24.1 billion in assets and $12.8 billion in debt.
Valuation
KMP trades at a hefty premium of 36.8 times 2012 earnings. Although this sounds expensive, bear in mind that analysts expect the company to grow its earnings at 21% annually for the next three years, as the previously mentioned acquisition enables to company to control more market share. The company also operates with a net profit margin of 23.3% as opposed to the industry average of 15.15%. All in all, I believe the company to be fairly valued given both its projected growth, as well as its outstanding record of increasing cash payouts to shareholders.
Conclusion
Kinder Morgan is a solid, relatively low-risk addition to any dividend portfolio based on its large and diversified asset portfolio, its stable businesses, and solid record of dividend increases as well as increases in share price. In fact, the analysts covering the company have an average 1-year target of $88.39, which represents a 12.4% upside over current pricing. The holy grail of dividend investing is solid increases, and enough growth to beat inflation over the long run and Kinder Morgan delivers in both areas.
Disclosure: I have no positions in any stocks mentioned, and no plans to initiate any positions within the next 72 hours. I wrote this article myself, and it expresses my own opinions. I am not receiving compensation for it (other than from Seeking Alpha). I have no business relationship with any company whose stock is mentioned in this article.