Gilead Sciences, Inc. (NASDAQ:GILD) is a research-based biopharmaceutical company, which develops and markets therapies to treat life-treating infectious diseases with the core portfolio focuses on HIV and hepatitis B. The focuses were broadened to include pulmonary and cardiovascular diseases and cancer through the acquisitions of Corus Pharma, Myogen, CV Therapeutics, Arresto Biosciences and Calistoga. With the recent acquisition of Pharmasset, GILD had strengthened its hepatitis C pipeline. Despite the expiration of HIV patents in 2018, GILD's new HIV regimens offer enough of a safety benefit to older alternatives and the company should be able to extend its HIV-based profitability in the long term. By further diversifying its product portfolio through acquisitions, GILD will continue to maintain its wide economic moat.
Stribild Update
According to GBI Research's publication, GILD's combination drug Stribild (previously known as the "Quad pill") is expected to bolster the HIV/AIDS therapeutics market as a number of significant medications go off-patent over the next few years. Forecasts from the new report indicate that the global HIV/AIDS therapeutics market will increase in value at a Compound Annual Growth Rate (CAGR) of 7% between the years 2011 and 2018, from $13.5 billion to $21.8 billion. As reported by Global Information, Inc.,
The multi-class fixed dose combination tablet from Gilead Sciences, Atripla, saw global revenue increase from $2.9 billion in 2010 to $3.2 billion last year, while potential blockbuster Stribild was approved by the U.S. Food and Drug Administration in August of this year and is expected to make a major impact. Gilead announced Stribilds initial price as $28,500, which is one-third greater than that of Atripla, but with impressive efficacy and strong patient compliance, GBI Research do [sic] not expect this higher cost to be a significant barrier to widespread use.
Recent News
On December 11, 2012, GILD's board of directors authorized a two-for-one stock split, which will take shape through a stock dividend for stockholders as on record on January 7, 2013. As reported by Zacks Equity Research, following the stock split, every shareholder at Gilead (on record on January 7, 2013) will get an additional share for each share he/she currently holds. Gilead intends to commence trading on the NASDAQ at the post-split price from January 28, 2013. Gilead in its press release further stated that purchasers of its shares between January 7 and January 28, 2013 will get a due bill. The due bill will make the buyer eligible for an additional share for each share bought.
On November 15, 2012, GILD announced Phase 3b clinical trial results from STaR (Single Tablet Regimen), the first head-to-head study comparing the single tablet regimens Complera and Atripla in treatment-naive adults with HIV infection. Data demonstrated that Complera, which is marketed as Eviplera in the European Union, is non-inferior to Atripla based on the proportion of patients with HIV RNA levels (viral load) < 50 copies/mL at 48 weeks. As quoted,
"Since its U.S. approval in 2006, Atripla has become a standard of HIV care, so the rate of viral suppression demonstrated by Complera in this study is impressive," said Calvin J. Cohen, MD, M.Sc., Director of Research, Community Research Initiative of New England and principal investigator of the STaR study. "Further, these data reinforce the tolerability profile of Complera and support its role as an important single tablet treatment option for many HIV patients new to therapy."
On October 31, GILD announced that a Phase 2 clinical trial evaluating tenofovir alafenamide fumarate (TAF; formerly referred to as GS-7340), an investigational prodrug of tenofovir for the treatment of HIV-1 infection, met its primary objective. As reported,
The TAF-based regimen achieved a similar virologic response to Stribild based on the proportion of patients with HIV RNA levels (viral load) of less than 50 copies/mL at 24 weeks of therapy (87% versus 90%, respectively). Compared to Stribild, the TAF-based regimen demonstrated statistically significantly smaller reductions from baseline to week 24 in bone mineral density at the lumbar spine and hip (p <0.005).
On October 23, 2012, GILD had increased its product sales guidance for fiscal 2012 to $9.1 billion, representing a $200 million increase from the top end of its previous guidance range, due to strong year-to-date commercial performance.
Analysts' Calls and Earnings Estimate
On December 11, 2012, Zacks reiterated its neutral rating on GILD with a price target of $78.00. As quoted from Zacks' report,
Gilead's third quarter 2012 adjusted earnings of $0.95 per share beat the Zacks Consensus Estimate of $0.90 per share. Higher-than-expected revenues led to the earnings beat in the quarter. Revenues climbed 14% to $2.43 billion, driven by higher product sales. We are optimistic on the growth prospects of Truvada and Atripla. We are also encouraged by the approval of Complera/Eviplera, which together with Stribild, approved in August 2012, has further fortified the HIV franchise and should help mitigate the impact of the upcoming patent expirations. Gilead is looking to combat the threat of genericization by inking deals and acquisitions and introducing new products. We see limited upside potential from current levels and hence retain our Neutral stance on the stock.
On December 10, analysts at Guggenheim reiterated a buy rating on GILD with a price target of $87.00. On December 5, analysts at Oppenheimer reiterated an outperform rating on GILD. On December 4, 2012, Barclays Capital reaffirmed its overweight rating on GILD with a price target of $76.00. On November 30, 2012, GILD had its "overweight" rating affirmed by Piper Jaffray with a price target of $85.00. On November 13, 2012, analysts at Stifel Nicolaus raised their price target on GILD from $80.00 to $85.00 with a buy rating. On the same date, Lazard also raised its price target on GILD from $89.00 to $100.00 with a buy rating. Finally, on November 12, 2012, analysts at BMO Capital Markets reiterated an 'outperform' rating on GILD and wrote,
ELECTRON data for the 3-drug all-oral regimen of sofosbuvir + GS-5885 +rbv appear robust with SVR4 of 100% across a fairly representative group of patients with HCV GT1 and importantly in patients with tougher to treat IL28B polymorphisms and across GT1a and GT1b patients. Absence of data in patients with cirrhosis represent one limitation of the ELECTRON data but should be addressed with target enrollment of 20% cirrhotics in phase 3. Based on precedent data from a similar combination of sofosbuvir with BMY's NS5A inhibitor daclatasvir we expect GILD to succeed with a once daily fixed-dose combination of sofosbuvir + GS-5885 without ribavirin and to establish a high barrier to entry. [Our] $89 price target is based on 20x our 2013E EPS of $4.44, discounted 25%, and rate Gilead stock Outperform.
Analysts estimate an EPS of $0.95 for the current quarter, which is the same as 90 days ago. For the full year, ending December 2012, analysts are expecting an EPS of $3.84, which was increased from $3.78 90 days ago. The full-year EPS estimate for 2013 remains $4.39 currently, as seen from the table below.

Source: Yahoo Finance
Fundamental Overview and Technical Analysis
With the data obtained from MorningStar, GILD's key stats will be compared with its competitors in the biotechnology industry, including Pfizer Inc. (NYSE:PFE), Abbott Laboratories (NYSE:ABT), Merck & Co Inc. (NYSE:MRK), and GlaxoSmithKline PLC (NYSE:GSK). In the past 3 year, GILD achieved higher average revenue growth of 16.3 and EPS growth of 19.9, compared with the industry average of 13.6 and 15.1. GILD also achieved higher operating margins of 40.5%, ttm, and stronger net margin of 26.8%, ttm, as compared to the averages of 28.5% and 14.4%, ttm, respectively. GILD generates attractive ROE of 33.9, compared with the average of 14.9, with a lower debt-to-equity of 0.8, compared with the average of 2.6. GILD is currently under-valued compared with its peers with P/E of 23.8, compared with the average of 44.4.
GILD closed at $76.34 with 2.81% gain on December 11, 2012. GILD also recorded a new 52-week high of $76.76 on Tuesday. The volume of 9.21M is 26.86% higher than the 30-day average volume of 7.26M. GILD had been trading in the range of $36.98-$76.76 in the past 52 weeks with a beta of 0.45. The MACD (12, 26, 9) indicator showed a bearish sign since December 3, 2012; however, the MACD difference continued to converge. The momentum indicator, RSI (14), is showing an increasing buying momentum at $66.20. GILD is currently trading above its 50-day MA of $70.50 and 200-day MA of $56.90. As seen from the chart below, the next resistance will be $79.47, the R1 pivot point, followed by $83.95, the R2 pivot point. GILD is short-term bullish, technically.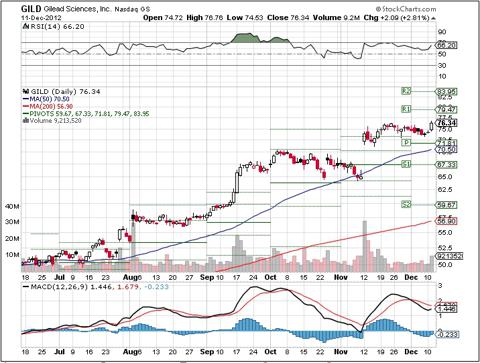 Source: StockCharts.com
Options Play
With the continued success in the HIV market and strengthened hepatitis C pipeline, along with the strategy of diversification through acquisitions, GILD looks promising in the long term. For bullish investors, a credit put spread will be reviewed below, which will allow investors to acquire the stock at a discount price while gaining upside potential.
Short 1x February 16, 2013 Put at the strike price of $67.50 for the credit of $0.90

Buy 1x February 16, 2013 Put at the strike price of $62.50 for the cost of $0.33
The maximum profit is $0.57, and the maximum risk/margin requirement is $4.43 ($5 loss - $0.57 credit received). If GILD closes above $67.50 on February 16, 2013, 12.87% return on margin will be gained. If GILD falls below $67.50 upon options expiration, GILD stock will be acquired at the cost of $66.93, which is 12.33% lower than the current price of $76.34.
Note: All the prices are quoted from the closing of December 11, 2012 and all calculations are before fees and expenses. Investors and traders are recommended to do their own due diligence and research before making any trading/investing decisions.
Disclosure: I have no positions in any stocks mentioned, but may initiate a long position in GILD over the next 72 hours. I wrote this article myself, and it expresses my own opinions. I am not receiving compensation for it (other than from Seeking Alpha). I have no business relationship with any company whose stock is mentioned in this article.