While it is true that renewable oils innovator Solazyme (SZYM) is not alone in the use of conversion technology, what makes the company particularly unique is the ability to design tailored oils. Using algae strains that can grow in the dark inside of a closed system, Solazyme feeds these evolved microorganisms sugars which can be derived from a variety of sources. The resulting output are oils that can replicate existing profiles. They can even be oils which are customized for the end user's exact specifications - even if such oils do not naturally exist in the world.
In my other article found here, I mention that Solazyme's technology is allowing agribusiness a new means to produce oils with more efficiencies and capabilities than the current system is able to provide. Above all, the company's technology is beginning to gain traction as witnessed through Solazyme's recent partnerships with leading agricultural companies such as Bunge (NYSE:BG) and Archer Daniels Midland (NYSE:ADM). Yet while this is beneficial from an upstream point-of-view, the truth remains that the company also contains a significant value proposition to its downstream markets. Solazyme can help play a key role in modernizing the logistical supply chain of oil-dependent industries.
What allows this modernization to be possible is Solazyme's ability to deregionalize the production of oil through a fermentation process that can convert low-cost carbohydrates into tailored oils. The company can create a localized source of oil production throughout the world. It can more tightly integrate the supply chain network. What remains important about this process for our purposes here is the fact that the company can use a variety of feedstock materials in order to create a multitude of oil outputs. This is why the company can use sugar cane in Brazil with its partner Bunge while simultaneously planning on using corn stover in the United States under its arrangement with ADM. For the time being, the company is sticking to feedstock sources with established infrastructure networks. Eventually, Solazyme is bound to use waste materials such as forest residue and even glycerol, both of which have already been tested. In any case, the company is still able to provide the same variety of tailored oil outputs.
The problem with oil production today is that it's highly dependent on adequate sourcing, reliable transportation, geopolitical stability, and consistent weather. In particular we're speaking of oils derived from petroleum, plants and animal fats. As it stands, the majority of crude oil is derived from the Middle East. Yet as demand for oil continues to grow, so do the complexities of transportation. The following graphs illustrates the dynamics of world trade and the key chokepoints to major waterways.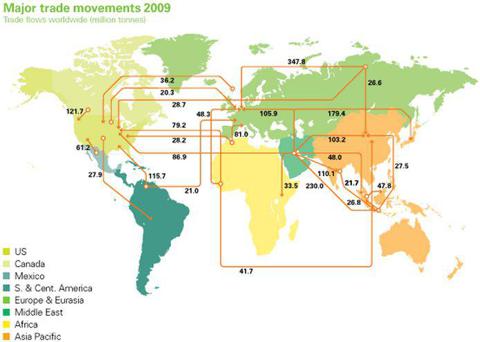 Click to enlarge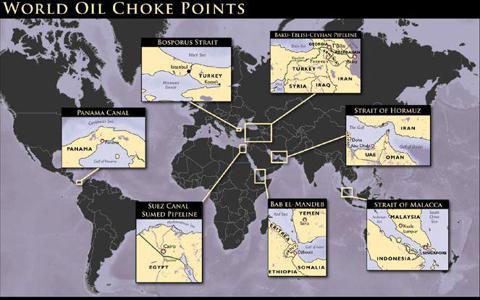 Click to enlarge
These chokepoints are narrow channels along widely used global sea routes. The blockage of any of these chokepoints for any given time can lead to heavily volatile price fluctuations in the underlying goods. As a result, even political tensions can introduce volatility into a commodity price. Just this past year alone, oil prices significantly rose over threats from Iran to cut off the Strait of Hormuz. More on this can be read in the article found here. Such price uncertainty creates instability for downstream producers who prosper under conditions of consistent supply chains.
Yet crude oil is not the only commodity that is heavily transported for downstream production. Let us take a look at two other goods mentioned by Solazyme found in palm oil and cocoa butter (derived from cocoa beans). As is the case with crude oil, these commodities are also highly centralized around a few key countries that have the optimal weather to support their production. Yet the concentration of commodity sources also increases the risk of supply destabilization and increases the cost of transportation.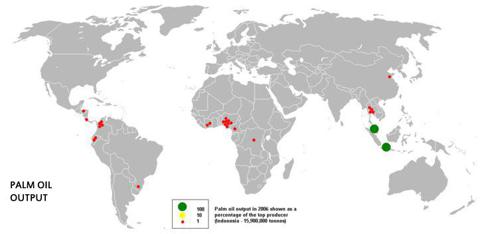 Click to enlarge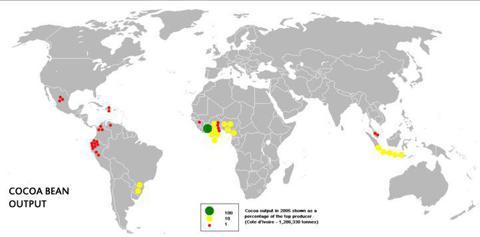 Click to enlarge
Both palm oil and cocoa butter are highly used in foods as ingredients. As the developing world continues to bring more people into the middle class, the people's demand for such products has continued to raise the respective prices of these commodities. This remains advantageous for Solazyme, which is able to switch production outputs in order to address the most lucrative markets.
Because Solazyme is able to create an alternative source of oil for products such as these, the company offers its future downstream partners significant value. The closer geographical proximity from resource to manufacturing facility remains a large advantage of indeterminate worth. The same applies to the product quality, a factor which is more controlled under Solazyme's process when contrasted against the whim of ill-timed weather effects.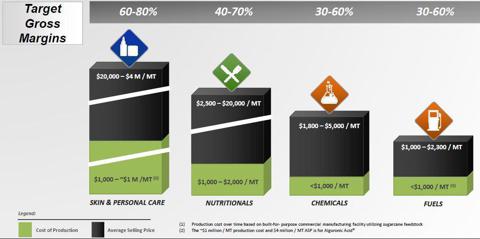 Click to enlarge
With Solazyme's lucrative target gross margins for nutritionals ranging from 40-70%, this also suggests a significantly cheaper product than what the existing market can provide. At the time of its IPO, the company believed it was possible to manufacture oils in a built-for-purpose facility at a cost below $1,000 per metric ton as seen in the S-1 filing found here. This bodes well for the company which stated the following in the latest earnings call found here:
"To put this in economic terms, global average selling prices for cocoa butter currently run at over $3,600 per metric ton and a five-year average is over $5,000 per metric ton. Cocoa butter alone represents a global market of more than $5 billion." - Jonathan Wolfson, CEO of Solazyme
Solazyme currently trades with a market capitalization of $503 million as of December 11, 2012. While analysts expect the company to have a loss of $1.33 per share in 2013, this is largely due to the fact that Solazyme is just beginning to bring its first large commercial-scale facilities online. In the meantime, the company remains adequately capitalized with a current ratio of 8.01. The majority of the company's assets remain in cash and short-term investments which are easily able to be converted back into cash. For a better breakdown of the company's future earnings power, one could take a look at my other article found here.
Taken as a whole, Solazyme's inherent value lies in the big picture understanding of its ability to change the existing oil production system. The company creates a cheaper product source that can require less transportation, more readily available access, and increased output flexibility. The technology is greener and more sustainable with efficient use of land resources. Most importantly, the process introduces an element of control into a process that currently exists outside of man's control when it comes to sourcing and quality of product.
All of these advantages help to add value to downstream markets that prosper from the cost savings Solazyme's process is able to provide. The company can address the same high-margin oil markets, which are difficult to source on their own, by applying the differing feedstock materials to a modified algae strain. By ultimately creating a more integrated supply chain, Solazyme can become an influencing player in a niche market with very few competitors. This in itself remains a promising prospect that long-term investors should bear in mind.
Disclosure: I am long SZYM, BG. I wrote this article myself, and it expresses my own opinions. I am not receiving compensation for it (other than from Seeking Alpha). I have no business relationship with any company whose stock is mentioned in this article.