Here is a concise, erudite, and entertaining history of the lithium business and SQM, the world's largest lithium supplier.  I have been unaware of this history of SQM and the contest for control of it between a Canadian potash giant and a Chilean gentleman related (sorry to report) to the late dictator Pinochet. 
Some interesting investment perspectives regarding SQM include:
  1. It's lithium business is not presently prospering due to new, low priced Chinese competition, the incipient global depression that is reducing sales of consumer electronics that use lithium batteries, and the new low price of oil that puts lithium powered cars on hold for a while.  Nonetheless, a substantial part of SQM's current capital budget includes funds to expand its lithium production by 25%.  That could also prove a depressant to lithium prices in the short term. 
  2. In an economic recovery, demand for lithium is likely to soar and lift lithium prices.  So SQM is a likely early participant in a market rally that anticipates better economic conditions.  Another potential boost to the price of SQM could come from a battle for control of the company between the two dominant owners and possible surrogates.  
  3. SQM's non-lithium businesses including potassium nitrate and iodine are both very healthy.  As I have pointed out before, iodine is used in the new method of generating electricity via thermal solar technology, so SQM has a second potential energy play beyond lithium. 
I note that the  present chart of SQM looks especially healthy compared with many others given current market history.   Since early October SQM has substantially outperformed POT as the following chart shows.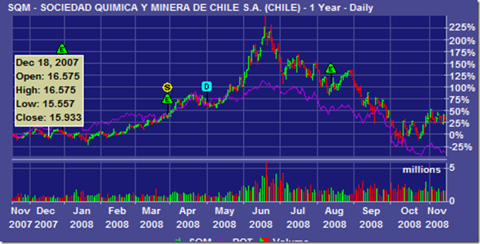 Note in the above chart that the thin purple line is POT.  Both are shown on percentage basis over the past year.  The article from Forbes follows: