Why should you bet on copper to benefit from a China recovery?
Earlier this year in October, copper got a hard kick from China. It was not pleasant. Mining.com reported:
China's copper consumption levels are set to fall for the first time since 2008 on the country's easing growth and the resulting tepid demand for commodities.

Bloomberg reports that analysts from commodities consultancy Weybridge expect consumption to fall 8.5% to 5.6 million metric tons in 2012 before rebounding 5.6% in 2013.

Weybridge CEO Simon Hunt says the Chinese economy's slowdown and the attendant decline in demand for commodities will impact prices for base metals as well as harm the profits of miners.
Copper prices duly fell in response.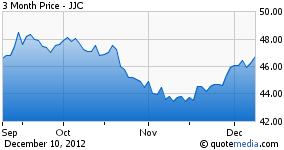 As a reminder, as goes China so goes copper. A full 40% of the global copper consumption came from China in 2010. An examination of the iPath DJ-UBS Copper total Return Sub-Index ETN (NYSEARCA:JJC) and the iShares FTSE China 25 Index ETF (NYSEARCA:FXI) show that copper prices move in lockstep with the change in the FTSE China 25 index.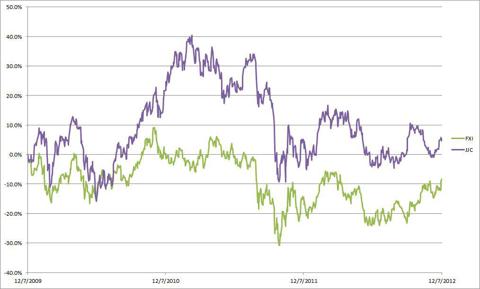 Click to enlarge
So why is copper so sensitive to China? Copper is used heavily in power transmission and construction. China entered an infrastructure boom in the early 2000, and copper took off with it. As the Chinese lay down more power lines or modernize their grid, and as they build more houses and need to lay down the electrical wires and water piping, they use copper. Lots and lots of it.
So, is the Chinese infrastructure boom back? The last few years have certainly not been good. Weaker demand took a bite out of the growth of the economy, and with it the Chinese housing boom slowed. Inflation hit at the same time, and the Central Bank raised interest rates. That one-two punch took a toll on Chinese infrastructure growth, and with that copper demand. Inventories rose, and prices first fell, then moved sideways as the market waited for the China boom to resume.
It seems like the boom may be back. The new Chinese leadership came out swinging last week, pushing urban development. Reports Bloomberg:
Copper reached a six-week high in New York yesterday after China's new government backed urban development, a policy that stands to support demand in the world's biggest consumer of the metal.

China also will keep macroeconomic policies stable and expand domestic demand, the official Xinhua News Agency said.

...

As many as 300 million people will move from China's countryside by 2030, to join 600 million already living in cities, the Organisation for Economic Cooperation and Development estimates.
The jury remains out if the China recovery is back. I personally believe that it is based on Chinese government positions as above. When the leaders of a managed economy want to build, build they will.
If the Chinese recovery is indeed back, taking a long position in copper may be a prudent action at this point in time.
Disclosure: I am long FXI. I wrote this article myself, and it expresses my own opinions. I am not receiving compensation for it (other than from Seeking Alpha). I have no business relationship with any company whose stock is mentioned in this article.