Stocks To Trade
Today, we are looking at an earnings trade in Oracle (NASDAQ:ORCL), longs in Valero (NYSE:VLO) and General Motors (NYSE:GM), shorts in Apple (NASDAQ:AAPL) and Teva Pharmaceuticals (NASDAQ:TEVA).
For an earnings trade, we are looking at Oracle. The company reports earnings Tuesday, and we are excited about the company's prospects. First off, ORCL is expected to report about 13% growth in earnings and 2.5% growth in revenue. The company's report will focus mostly around their growth in the cloud network that they have been building. Results were solid in the previous quarter, and we expect those results to continue to be strong. Credit Suisse aannounced Wednesday that they believe Q2 will be better than expected due to licenses for their growth in their application software and Exa-series, which is the company's cloud offering. Cloud results from other companies like Salesforce.com (NYSE:CRM) and F5 Networks (NASDAQ:FFIV) have also been strong, and we are looking for a positive report from Oracle. The company has very solid support at $30, which is where the 200-day MA sits. That level has not broken since it was overtaken over the summer, and we like using that area for a bull put spread. We can make 9% on that spread still, and it seems very safe. Further, the company announced that they will accelerate the next three dividend payments to investors as of December 14, and we believe that this move will also help put a floor on ORCL even with earnings. Further, the company is not doing this through any debt or bond package like many other companies, which means they have ample cash on hand - another bullish mark.
Trade: ORCL, Dec22, 30/29 Bull Put Spread
Max Gain: 9%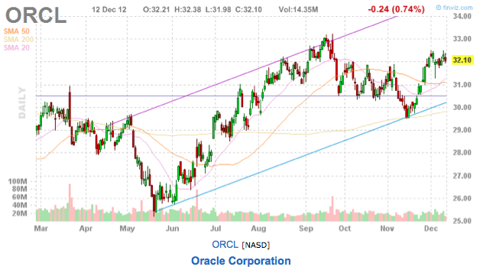 For longs, we like the looks of Valero and General Motors. VLO is looking very solid and appears ready to break out higher. VLO looks very solid for 2013. The company is expected to do well in 2013, and a lot of that expectation has to do with the company's value potential. They are sitting with a future PE of just under 7, price/sales at 0.1, and price/book at 1.0. All three of those indicators show a ton of value for VLO right now. The company was named to Bank of America (NYSE:BAC)/Merill Lynch's Top 10 Investments for 2013, and we have to agree that there is a lot of value in VLO right now. BAC expects VLO to increase EPS by 77%, which is one of the reasons for such a low future PE ratio.
Oil prices have kept a lot of energy companies in check in 2012, but 2013 could see a strong increase in those prices as well, which would help VLO. The Iran/Israel issue, increase in growth in China/USA, and resolution of the fiscal cliff would all help the oil market. VLO has resistance at $34, which is its high for the year. If the stock got back to $34 it would be a solid "U" bottom, and we can see it breaking out above that level. With a lot of uncertainty in the market still existing, we would be careful, but we like VLO for a potential breakout above $34.
Another company we are fond of right now is General Motors. The first thing that has attracted us to GM is the long-term upward channel they have. Further, fundamentals look solid for GM, heading into 2013. The company is expected to see 4% growth in revenue in 2013 along with 15% growth in earnings. The increase in margins is key to our liking of GM. The company is increasing prices in India, and they look ready to cut costs in 2013. The company wants to save $500M in 2013-2015 in cost savings and job cuts in Europe. We believe the decrease of expenses will help their stock performance greatly as auto growth may slow in 2014-2015 due to cyclicality. The stock has not seen a failure of $23 since it was overtaken in September. The 200-day MA is sitting there as well, which is strong support. The company has a lot of positive momentum going right now, and they would see even more upside if a fiscal cliff deal occurs. Without one, we believe that GM still has a lot of strength as can be seen by months of trending upwards. We like them for a bull put spread at the $23 area.
Equity Trade: VLO, Long
Breakout Point: Break of 34.00
Options Trade: GM, Jan19, 22.50/21 Bull Put Spread
Max Gain: 8%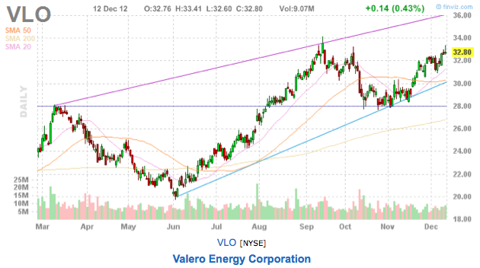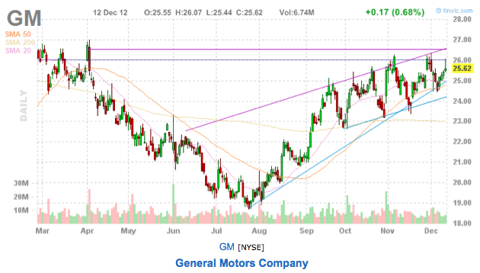 For shorts, we like the looks of Apple and Teva. Despite our positive long-term outlook for AAPL, the stock is broken right now, and we believe it actually could show some more near-term weakness. Apple has a number of negative headlines that we believe are going to keep it weak at least in the next couple weeks. First off, Sterne Agree commented that AAPL could be suffering from checks that showed iPad sales were below expectations, which is due to supply constraints. The company is suffering from Foxconn's inability to increase production via automation in their plants. Foxconn's struggle has hurt Apple's supply chain, which has caused shortages. That issue remains a black eye for Apple as well. What's interesting about Apple is that the company appears to have such great value with a PE ratio at 12 and future PE just over 9, but people rarely mention its price-to-book ratio that is above 4. Typically, solid value is seen below 3.0 for price-to-book. Therefore, when individuals discuss how valuable Apple is, there are value indicators that do not show the same strength as PE. With the supply issues still at hand, AAPL not actually trading at rock-bottom value, and supply checks showing weaker iPad sales, this stock could see weakness moving forward.
Technically, the stock looks weak as well. It is below the 20-day, 50-day, and 200-day MA, and the stock has failed to retake any of those key MAs. Until it does, the stock is in a downtrend, and we like it short until it shows sustained trading above the 20-day MA at least. Despite its popularity, Apple remains a short with issues at the company, issues with the government, and technical weakness.
TEVA is also looking very weak after the stock received a number of justified downgrades Wednesday. The company received three negative commentaries or downgrades this morning from analysts after Tuesday's press conference. The company was removed from Wells Fargo's Priority List due to what they see as transitional weakness in 2013 for the stock. Leerink downgraded TEVA from Market Perform from Outperform due to lack of catalysts and revenue concerns for 2013. Susquehanna commented similar ideas with a lack of catalysts causing the shares to remain range bound. The company's investor day showed several interesting developments. The company is closing twelve programs, and it will be developing eighteen new ones next year. The closing down will cause weakness in the year as they transition to new drugs. Expectations are that the company will see a -1% drop in revenue, and margins will compress causing earnings to drop around 5%. That drop will make sense as the company will have to incur larger costs to get new drugs off the ground and restructure.
All in all, 2013 looks like a transition year for TEVA, and they look safe for bearish plays. For the near-term, TEVA looks solid for a bear call spread. The company has shown a lot of resistance at 41-42 over the past six months, and we like using the $42 level for a bear call spread, which is where the stock showed a large gap/drop from based on these recent developments.
Stock Trade: AAPL, Short
Breakout point: Break of Wednesday's LOD
Options Trade: TEVA, Mar2013, 42.50/45 Bear Call Spread
Max Gain: 16%
Today's Outlook
The market popped higher in early trading only to give up a large portion of gains later in the day for the second day in a row, which is causing concerns for us that the market may be faced with a gap down for Thursday. The market rallied early on when the Fed did as suspected and extended Operation Twist. Yet, with the fiscal cliff issue still on hand, upside created sellers. The latest development in the fiscal cliff is no development at all. The sides do not appear close to a deal still with only 18 days remaining before a cliff. At some point, the market will start to see some fear creep into the market and cause some weakness for stocks. We have Retail Sales today, so that can distract the market for another day, but if those numbers are weak, it could cause a weak start to the day, which would only be further by the dilemma over the fiscal cliff. Watch out Thursday!
Chart courtesy of finviz.com.
Disclosure: I have no positions in any stocks mentioned, and no plans to initiate any positions within the next 72 hours.
Business relationship disclosure: The Oxen Group is a team of analysts. This article was written by David Ristau, one of our writers. We did not receive compensation for this article (other than from Seeking Alpha), and we have no business relationship with any company whose stock is mentioned in this article.