Limited Brands (LTD), owner of Victoria's Secret and Bath & Body Works, loves to reward its shareholders. Their board is extraordinarily shareholder friendly - so friendly, I predicted Limited Brands would give another special dividend on top of their earlier $1 a share payment. Right on cue, the board took advantage of the 15% dividend tax treatment, declaring a second special dividend of the year - a juicy $3 payment scheduled to be mailed out the day after Christmas.
The board certainly does well here. Insiders hold over 7% of Limited's stock. CEO Leslie Wexner alone has a billion dollars worth of stock.
Present shareholders should be grateful. The checks will buy lots of goodies this season.
It's the next-generation of investors though that may be paying the piper.
Total bill for this year's $4 in special dividends and $0.75 in regular dividends - $1.4 billion. When last we checked, Limited Brands had $500 million in cash, $4.5 billion in debt, and -$500 million in equity. Gulp. I understand balance sheet reengineering - drain the cash, lever up the debt but really?

(From most recent 10Q)
This is the fifth special dividend in the last 3 years (two this year; two in 2011; one in 2010.) Limited Brands has parted with over $3.7 billion in dividends and $2 billion in share repurchases over the last 3 years. Yet, Limited Brands' free cash flow was a much lower $2.2 billion over the same period.
The hand outs have emptied out every dime and nickel on the equity side of the balance sheet - and then some.
Retained earnings? Gone.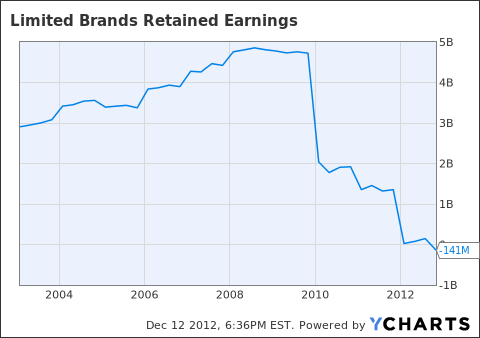 Long-term debt? Plenty.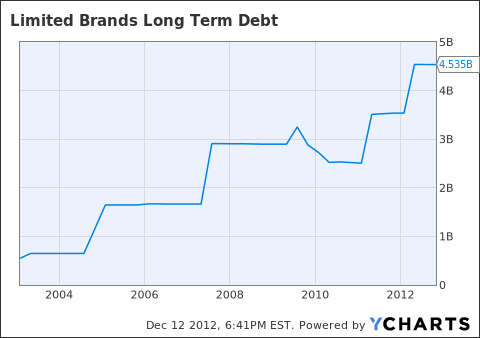 Debt to equity?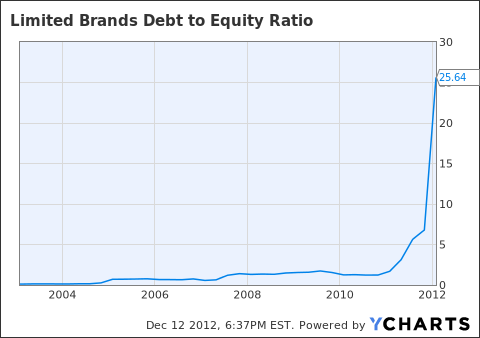 Sometimes shareholder friendliness goes too far. We all know gift-giving gets expensive especially around holiday time. The problem: You've got to pay the bills come January.
Limited Brands' balance sheet is in need of repair. Better take the credit card away.
Disclosure: I have no positions in any stocks mentioned, and no plans to initiate any positions within the next 72 hours. I wrote this article myself, and it expresses my own opinions. I am not receiving compensation for it (other than from Seeking Alpha). I have no business relationship with any company whose stock is mentioned in this article.
Additional disclosure: The opinions in this document are for informational and educational purposes only and should not be construed as a recommendation to buy or sell the stocks mentioned. Past performance of the companies discussed may not continue and the companies may not achieve the earnings growth as predicted. The information in this document is believed to be accurate, but under no circumstances should a person act upon the information contained within. We do not recommend that anyone act upon any investment information without first consulting an investment advisor as to the suitability of such investments for his specific situation.