When thinking about the performance of Berkshire Hathaway (NYSE:BRK.B) (NYSE:BRK.A) and its famous CEO Warren Buffett, we are reminded of an apocryphal quote about Detroit Tiger Hall of Famer Ty Cobb. When Cobb was asked why he could only hit for a .290 batting average against modern pitchers when he hit for a career record .366 batting average over his 24 year career, Cobb stated it was because he was 72 years old.
That's how we see Warren Buffett and Berkshire Hathaway. We don't see Buffett, Combs and Wechsler repeating the 19.8% returns Berkshire enjoyed from 1964-2011 due to its size and the fact that it has already bought up many of the most desirable investment opportunities out there. However, we believe that Berkshire's shares will continue to either meet the major market indexes or provide incremental outperformance relative to the indexes due to Berkshire's mix of profitable, cash flow generating businesses and marketable securities.
We are impressed that Berkshire's Book Value Growth has exceeded the S&P 500 and the broad bond market since 1999 despite the challenging environment for stocks, Berkshire's gargantuan size and the easy money policies of the Federal Reserve pushing up bond prices. We believe that Berkshire's recent $1.2B share buyback as well as the increased price offered for future buybacks (from 110% of book value to 120% of book value) will bode well for investors.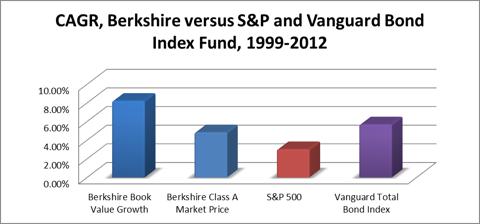 Source: Morningstar Direct
Berkshire's Liquidity
In our July 5th report on Berkshire Hathaway, we concluded that Berkshire should consider paying a dividend to shareholders since its gazelle-like growth days have long since passed it by. Berkshire and its subsidiaries had over $72B in cash and marketable fixed income securities as of Q2 2012 and it has nearly $80B in gross liquidity as of Q3 2012, with nearly $73B attributed to Berkshire's Insurance and Other subsidiaries.
Although Berkshire and its subsidiaries have $62.5B in gross borrowings, we believe that BRK doesn't need to go out of its way to deleverage its balance sheet and it could pay down its debt in 5-6 years based on its TTM free cash flows of nearly $11B. The majority of Berkshire's borrowings is attributed to its railroad, utilities and energy subsidiaries ($35.7B in gross debt, 57% of BRK's gross debt) and is more than offset by $86B in property, plant and equipment. Berkshire's Finance and Financial Products subsidiary's debt is almost offset by its Loans and Finance Receivables and Berkshire's Insurance and Other subsidiaries' assets outweigh its liabilities by 2.35X.
Even if Berkshire and its subsidiaries did not have the healthy financial strength that it currently enjoys, we can't think of many lenders that would turn down the opportunity to lend to Berkshire or its business units. Berkshire in the 1970s had more investment ideas than cash but now it has more cash than ideas.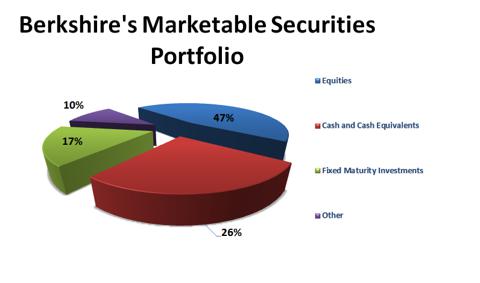 Source: Berkshire Q3 2012 10-Q
Berkshire's Buyback Program
In September 2011, Berkshire announced that it would be willing to buy back its shares at prices no higher than a 10% premium over the then-current book value of the shares. Another caveat on the repurchase program was that Berkshire would not repurchase shares if the firm's consolidated cash equivalent holdings fell below $20B including the impact of the repurchase. Berkshire did not say if fixed income holdings would be included as part of the cash equivalent holdings calculation so we will presume that it will not, though it most certainly should in our humble opinion.
The company repurchased a staggering 98 Class A shares from September 26th, 2011 to December 31st, 2011 and a stupendous 801,985 Class B shares during that period. We would like to remind everyone that Berkshire's Class B shares have one-fifteen hundredth the economic value and one-ten thousandth the voting rights of Berkshire's Class A shares. This represented 632.657 Class A equivalent shares and Berkshire spent a mind-boggling $67.5 million. We hope that Berkshire didn't break the bank with this repurchase program and that it able to pay the nearly $1B in back taxes that it owes the government dating back to 2005.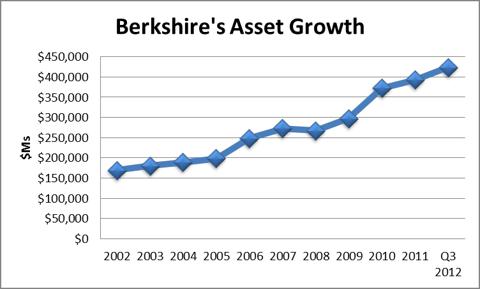 Source: Morningstar Direct
Berkshire did not make any repurchases in the first 9 months of 2012 however it recently announced a $1.2B share repurchase from the estate of a long-time shareholder. Berkshire recently purchased 9,200 Class A shares at $131,000/share. It was speculated that Berkshire bought shares previously held by the estate of Albert Ueltshci, the founder of FlightSafety International which was acquired by Berkshire Hathaway in 1996. Mr. Ueltshci died in October and owned some 16,256 Class A shares that he received for the sale of his company. Ueltshci had also recently signed Buffett's Giving Pledge as well. We're genuinely touched by Ueltschi's support of the vision care charity Orbis International that we're not going to point out the irony about how the President's friend Warren Buffett complains about how all the billionaires need to pay more in taxes and how Ueltschi's estate avoided up to $745M in estate taxes and up to $319M in capital gains taxes by giving away his Berkshire stock to charity.
Berkshire also announced that it would increase the price it pays to repurchase shares from 110% of current book value to 120% of current book value. Berkshire's Book Value per Share as of Q3 2012 was $111,711 and this repurchase was at a premium of 17.25%. Berkshire's Class A shares closed at $134,000/share on December 12th and its Class A shares increased by 2.42% and its Class B shares increased by 2.35% thanks to the news about its share repurchases and it is now trading at just under 1.2X Book Value. We believe that this announcement has served to set a floor for Berkshire's shares.
Considering that Berkshire was 20 days away from closing the quarter when this announcement broke, we believe that it would be more appropriate for investors to use estimated book value as of the most recent applicable quarter rather than using the last reported quarter. Based on Berkshire's $10.3B in net earnings for the first nine months of FY 2012, we're estimating that Berkshire will earn $3.45B-$3.61B in earnings excluding extraordinary events for Q4 2012, which will represent $2100-$2200 in EPS.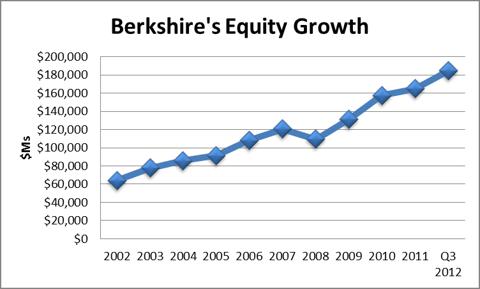 Source: Morningstar Direct
Conclusion
In conclusion we are satisfied that Berkshire Hathaway took a small step towards solidifying the value of its shares. Although we would prefer to see Berkshire make bigger steps down the road towards returning capital to shareholders, we are pleased with this move because it has established an implicit floor of 120% of book value for Berkshire's shares. Because Berkshire generates the majority of its pre-tax income from its wholly owned business units rather than through net investment income, we expect its earnings and book value to be less dependent on the performance of capital markets than a typical mutual fund.
We expect that Berkshire's book value and market price will see a consistent long-term increase with less volatility than the market due to Berkshire's willingness to repurchase shares at 120% of its book value. We'd like to see more share repurchases or even a dividend from Berkshire because the company will most certainly be unable to enjoy the 19.8% compounded annual growth it enjoyed from 1964-2011.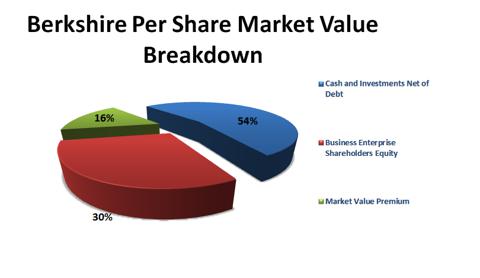 Source: Morningstar Direct
Disclosure: I am long BRK.B. I wrote this article myself, and it expresses my own opinions. I am not receiving compensation for it (other than from Seeking Alpha). I have no business relationship with any company whose stock is mentioned in this article.
Additional disclosure: This article was written by an analyst at Saibus Research. Saibus Research has not received compensation directly or indirectly for expressing the recommendation in this article. We have no business relationship with any company whose stock is mentioned in this article. Under no circumstances must this report be considered an offer to buy, sell, subscribe for or trade securities or other instruments.