Shares of one of the biggest telecom companies in the world, Vodafone Group Plc. (NASDAQ:VOD) have dropped over 8% since the company reported a loss in the first half of the year. The group, like the majority of telecom operators in the region, fell victim to a plunge in demand in the European countries. However, in my opinion, Vodafone is in a better position to deal with the economic meltdown, thanks to its diversified revenue base and exposure to the faster growing U.S. market through Verizon (NYSE:VZ) Wireless. Moreover, the company is sticking to its guidance of dividend growth of 7%, while other telecoms in the region have either cut dividends or suspended them. The stock has attractive valuations and is currently trading near its 52-week low of $25.92, which makes the current level an excellent opportunity to long the stock.
Stock trading near 52-wk low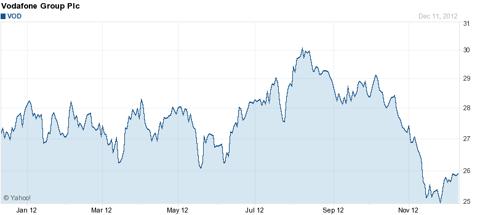 Click to enlarge
(Click to enlarge)
Economic meltdown weighing on revenue growth
Vodafone announced its results for the first half of the year last month, reporting organic service revenue growth of -1.4% year-over-year. This is a major drop for the group that now boasts over 450 million mobile subscribers. However, it also suggests the degree of slowdown the entire Europe is facing. In addition to decrease in revenues for the first half, EBITDA was also disappointing at 6.6 billion pounds, with EBITDA margin contracting slightly to 31% from 32% reported in H1 2011-12.
Southern Europe- the worst performer
Service revenue from Europe rose 2% in the second quarter compared to the second quarter of the last year. Relatively lower smartphone penetration rate and strong growth in data led to this growth. UK is also proving to be a very competitive market and the company is battling with the rapidly declining prepaid segment of the market. Southern Europe continues to be the worst performing region, with countries like Greece, Spain, Italy and Portugal, all reporting a drop in revenues.
Slowing growth in India
Service revenue from its Africa, Middle East and Asia Pacific segment was 3.02 billion pounds, down 0.5% quarter over quarter, largely due to slower growth in India. Even though India produced a double digit growth in revenues, it was significantly lower than last quarter's growth.
Key catalysts
The company continues to see growth in data revenues. In the second quarter data revenues grew 4% year over year, largely due to the steadily rising smartphone penetration. The company has, in the past, indicated that data represents the single biggest market opportunity for the entire telecom industry and the latest results seem to endorse the view. Data revenues, as a percentage of total service revenues, have grown to 16% by the end of Q2 2012-13 from 14% in Q2 2011-12.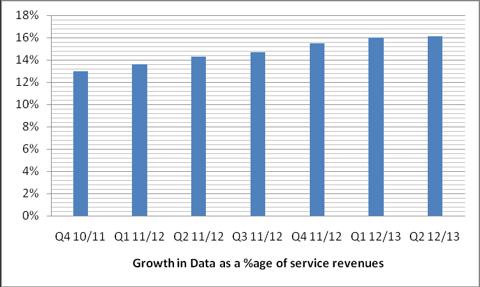 Click to enlarge
(Click to enlarge)
Smartphone penetration is relatively low and continues to rise in most of Europe. It is a similar story with Vodafone as the company is experiencing a steady increase in smartphone penetration along with the rise in data attach rates. This can be identified as another key catalyst of growth, going forward.

Click to enlarge
(Click to enlarge)
Source: Company presentation
Verizon Wireless
Vodafone owns a 45% stake in Verizon Wireless, which is proving to be the main growth engine for the U.K. based telecom carrier. Verizon had an excellent second and third quarter in the current financial year, with record growth in postpaid additions, as well as improvement in other metrics like EBITDA margins, churn and ARPU. These improvements have also helped Vodafone, reflecting positively in its financials. Importance of Verizon Wireless to Vodafone can be judged from the latest figures released by the company. The group reported an EBITDA of 6.6 billion pounds in the first half of the year, with Vodafone's share of Verizon wireless EBITDA at 4.5 billion pounds. Even though Vodafone's share of VZW's EBITDA is not recorded in the calculation of the group's EBITA, it is a significantly large share. With this much growth coming from VZW, it can be expected that in the next financial year, VZW will represent more than half of the group's earnings. Apart from the impressive growth coming through VZW, Vodafone is also enjoying dividends from the leading wireless company in the U.S. For a detailed analysis on Verizon Communications Inc., click here.
Dividends
Vodafone has done well to continue with the dividend growth of 7% it had promised its shareholders. Moreover, Verizon wireless has recently announced that it will pay both of its parents a total dividend of $8.5 billion, which roughly translates to a Vodafone share of 2.4 billion pounds. Vodafone is expected to buy back almost 1.5 billion pounds of its own shares with the proceeds from VZW, which are expected by the end of the current year.
Valuations
VOD is trading at 10 times its forward earnings, while Verizon Communications Inc. is trading at 15x. Compared to VZ's multiple, VOD's valuation looks reasonable.
I am bullish on VOD based on the catalysts identified and strength of Verizon Wireless.
Disclosure: I have no positions in any stocks mentioned, and no plans to initiate any positions within the next 72 hours. I wrote this article myself, and it expresses my own opinions. I am not receiving compensation for it (other than from Seeking Alpha). I have no business relationship with any company whose stock is mentioned in this article.