Earlier this week I wrote an article, Why REITs Should Become More Attractive In 2013, in which I explained that REITs, due to their very efficient dividend fundamentals, should provide investors with a more tax-advantaged value proposition in 2013. As such, The Jobs and Growth Tax Relief Reconciliation Act of 2003 (also known as the "Bush Tax Cuts") is set to expire at the end of this calendar year and that is certain to bring REIT investor income and other tax dividends into tax parity (assuming Congress makes no changes) as both revert to being taxed at ordinary income rates in 2013.
As explained in a previous article I wrote in Forbes.com:
Demand for tax preferred qualifying dividends could shift partly over to REITs as this tax advantage is removed, that increased demand should be a tail wind for REIT share values. Said more simply, when the Bush Tax Cuts expire, REITs will not be affected and that will make the well-positioned asset sector even more attractive, compared to the C-Corporations.
In addition, REIT investors will continue to benefit from the low interest rate environment making REIT dividends much more attractive vs. the 10 year and corporate - providing a continued low cost of debt tailwind for commercial real estate and REITs.
For many REIT investors that tailwind works best for the sectors that are generating the lowest risk with the highest returns. Office REITs, which typically don't pay high dividends (3.3%), remain concerning as the fundamentals remain weak due to continued weakness in job growth.
Healthcare REITs are predominantly considered a defensive sector due to the non-cyclical nature - namely, people do not tend to change their healthcare spending patterns depending on the economy. Accordingly, healthcare REITs indirectly participate in the defensive nature of their tenants through their lease payments. Clearly Obama's re-election is viewed as a positive for healthcare REIT stocks with meaningful exposure to hospitals, medical office buildings and lab space.
The Healthcare REITs
As I wrote in a previous Seeking Alpha article:
The Affordable Care Act is projected to add an additional 35 to 45 million insured patients into the marketplace. These individuals are expected to increase their utilization of health services which should bode well for hospitals and physicians volumes - a net positive for hospitals and the owners of on-campus medical office buildings.

These additional patients are expected to be somewhat funded by Medicare and Medicaid cuts to providers. In total, the increased volume for hospitals and physicians are expected to offset any reimbursement cuts. However, skilled nursing facilities are expected to face difficulties from the cuts.
According to NAREIT, there are eleven healthcare REITs with a combined market capitalization of $67.34 billion. In recent years, one of the most in demand sectors of healthcare real estate have been Medical Office Buildings (MOBs). MOBs provide office space for clinics, physicians and hospitals, demand for which is expected to rise over the next decade.
Because the doctor's office is an individual's entry point into the healthcare system, an increase in the demand for all types of healthcare, from impotence treatment to chemotherapy, fuels an increase in the demand for doctors offices and the MOBs in which they locate.
As explained in wikinvest:
Due to the falling cost of complex medical equipment and advance of non-invasive procedures, there is an ongoing shift towards the delivery of care in an outpatient setting. Small doctors and clinics, many of which locate in MOBs, can now provide treatments that used to be available only in major hospitals. This is creating a shift towards smaller care centers, which is expected to fuel an increase in the demand for MOBs
The healthcare sector, considered one of the smallest REIT sub-sectors, consists of 11 healthcare REITs (included in the composite FTSE NAREIT All Equity REIT Index). This necessity-based sector has a market capitalization of around $67.36 billion which represents around 13% of the entire equity REIT capitalization (as of November 30, 2012, the total market cap was $512.78 billion).
The healthcare sector has the second highest overall average dividend yield performance (triple-net is first) as the sector boasts a current yield of 4.83% and year-to-date total return performance of 17.36%.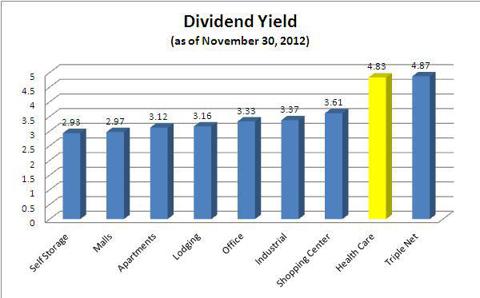 Of the eleven healthcare REITs, the largest three operators - Ventas Inc. (NYSE:VTR), HCP Inc. (NYSE:HCP), and Health Care REIT (NYSE:HCN) - make up around 78% of the total market capitalization of the entire sub-sector.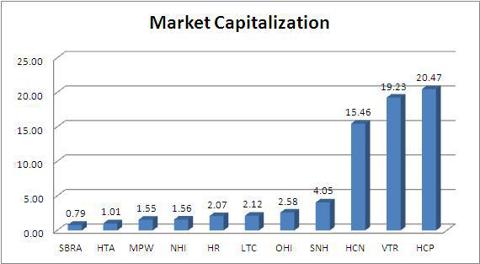 These three dominating healthcare REITs are considered diversified operators as they invest in a variety of sectors, including senior housing, skilled nursing, medical office buildings, hospitals, and life science properties, among others. In addition, these diversified REITs own at least one thousand individual assets which makes the overall diversification fundamentals extremely attractive.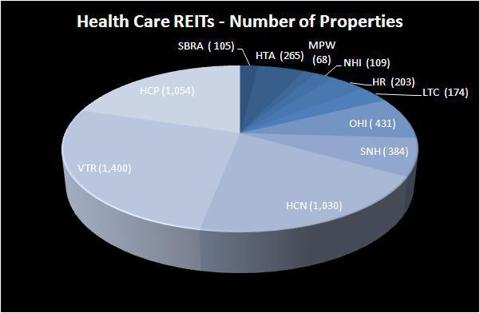 Today fellow Seeking Alpha writer, Dane Bowler, posted an article, A Justifiably Expensive Health Care REIT, and in his words,
Ventas showed dominance with an incredible $1.7B of acquisitions year to date.
As Bowler explained,
About 51% of VTR's NOI comes from its senior housing with the rest split primarily between skilled nursing (SNFs), Hospitals and medical office buildings (MOBs) which it is increasingly branching into.
Ventas is trading today at $65.07 per share with a dividend yield of 3.81% (below the sub-sector average of 4.83%). Based on the recent market cap of 19.23 billion and latest (Q3-12) funds from operations (FFO) of $289.73 million, Ventas has a P/FFO multiple of 16.59. Not considered a hugely overpriced healthcare REIT; however, more expensive than many of the smaller more focused healthcare REITs that are paying much higher dividends.
Ventas Inc. is one of the largest healthcare REITs today and also the largest owners of senior housing and healthcare assets. One of the things I like most about Ventas is that over the past ten years or so, the company has focused on recapitalizing its balance sheet by maintaining conservative financial stewardship. Accordingly, Ventas has lowered its debt ratios (debt to total capitalization is 27.89%) and the company was upgraded to investment grade (BBB).
By focusing on the industry's positive supply and demand fundamentals (healthcare real estate is a $1 trillion market, and it's growing as the demographics continue to support increased demand), Ventas has been able to "synergize" the sector by capitalizing on the over-85 cohort - the fastest growing segment of the population - and the first of the 79 million baby boomers that became Medicare eligible in 2011.
Does It Pay to Focus on a Circle of Competence?
One of the keys to Warren Buffett's financial success is his belief in the circle of competence. The circle of competence is simply the theory that an investor should choose one particular area in which to focus his efforts. Ideally, this should be an area in which his skills and experience are above that of the average investor. According to Warren Buffett, a successful investor does not need to have a large circle of competence; he merely needs to know when he is operating outside his area of expertise.
Although diversification is considered one of the simplest and cheapest ways to build a "margin of safety," investing in a "circle of competence" can also lead to potentially successful safety and performance. As I mentioned above, Ventas has a powerfully attractive platform with an extremely diverse portfolio of over $18.4 billion assets. But what if you could gain exposure to the healthcare sector by investing in four focused sectors? Could an investor benefit from the same diversification fundamentals with properties managed by operators within a core circle of competence?
To answer the hypothesis, I have constructed a portfolio of four REITs that specialize in core healthcare related sectors: Healthcare Trust of America (NYSE:HTA), Omega Healthcare Investors (NYSE:OHI), Medical Properties Trust (NYSE:MPW), and Senior Housing Properties Trust (NYSE:SNH). I have previously written article on HTA, OHI, and MPW.
The combined four REITs have 1,148 properties compared with VTR's 1,400 properties, and the "core" portfolio has a market capitalization of $10.3 billion compared VTR's market value of around $19.2 billion. Clearly VTR, an S&P 500 company, has considerable scale as its financial strength has allowed the company to acquire around $1.77 billion in assets year-to-date.
However, when combining the hypothetical portfolio of four "pure-focused" REITs, diversification risks are muted and returns appear to be substantially higher for investors. In terms of dividend performance, the average dividend yield for the conceptual "core of competence" portfolio is 6.82% compared with Ventas at 3.81%.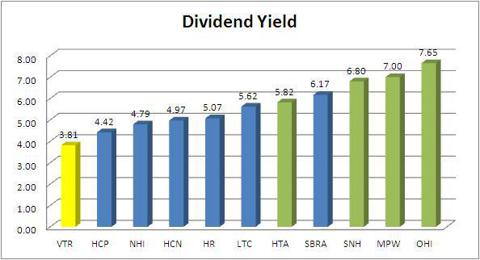 In terms of capital appreciation, Ventas shares have increased by 18.03% year-to-date while the combined "circle of competence" portfolio has increased by an average of 8.9% (keep in mind that HTA has not recorded a full year of performance as the company listed its shares in June 2012).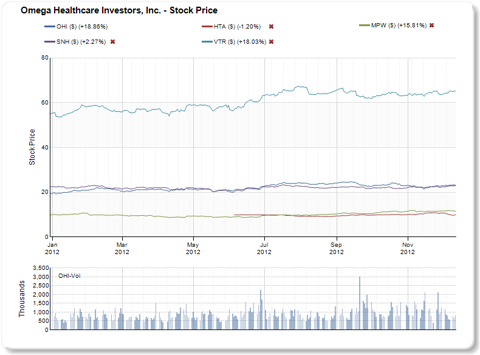 In terms of total return, Ventas returned 21.78% year-to-date while OHI returned 28.15%, SNH returned 9.62%, HTA returned .73%, and MPW returned 25.35%. Excluding HTA (as not been public a full year), the average return for the "circle of competence" portfolio is 21.04% - almost identical to the performance of Ventas: 21.78%.
As we have found in other sectors of REIT-dom, there is a trade-off between diversification and core of competence. Some REITs, like Washington REIT (NYSE:WRE), have successfully managed risk by focusing on a diverse portfolio in a core market area (Washington DC). Conversely, REITs like Weingarten Realty (NYSE:WRI) have opted to dispose of non-core assets (i.e. industrial) to focus on core shopping center assets.
In fact, healthcare is perhaps one of the few real estate sectors where diversification in scale can drive multiples highest. It will be interesting to see how these large consolidators like Ventas and HCP, Inc. are able to maintain the level of consistency in performance. In a 1996 Letter to Berkshire Hathaway shareholders, Warren Buffett wrote:
Should you choose, however, to construct your own portfolio, there are a few thoughts worth remembering. Intelligent investing is not complex, though that is far from saying that it is easy. What an investor needs is the ability to correctly evaluate selected businesses. Note that word "selected": You don't have to be an expert on every company, or even many. You only have to be able to evaluate companies within your circle of competence. The size of that circle is not very important; knowing its boundaries, however, is vital.
Although Ventas is not trading at a monster premium (P/FFO of 16.59), investors can still find attractive pricing with the smaller non-mega REITs. By combining multiple "pure play" REITs, an investor can gain diversified exposure to healthcare while also maintaining a risk-adjusted "circle of competence" portfolio. By doing so, investors find that dividend yields are much more attractive and simply a better value proposition for "sleeping well at night."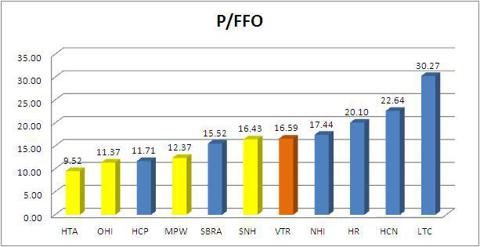 Source: SNL Financial and NAREIT
Other peer REITs: (NASDAQ:SBRA), (NYSE:NHI), (NYSE:HR), and (NYSE:LTC).
Disclosure: I have no positions in any stocks mentioned, and no plans to initiate any positions within the next 72 hours. I wrote this article myself, and it expresses my own opinions. I am not receiving compensation for it (other than from Seeking Alpha). I have no business relationship with any company whose stock is mentioned in this article.