Colgate-Palmolive (NYSE:CL) is a relative latecomer to the downturn; shares have tumbled almost 25% over the past month as investors fret its once-touted exposure to emerging markets. Barron's notes that shares - $63 - trade at the same level as 1999, despite earnings having more than doubled. "In punishing New York-based Colgate for its reliance on foreign sales, investors are ignoring the company's defensive characteristics, not to mention its projected double-digit earnings growth, this year and next."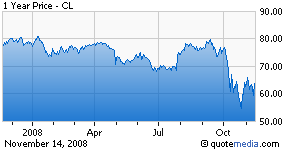 Even if we discount the somewhat aged argument that, "people have to have toothpaste," shares may be cheap. True, they trade at 15x 2009 estimated earnings, 19% higher than the S&P 500's average, but analysts estimate S&P earnings could fall 20% in 2009, while Colgate's profits are likely to be up by 10% over 2008's $3.38/share. And competitors sport higher multiples: Procter & Gamble (NYSE:PG) fetches 16.6x 2009 earnings, General Mills (NYSE:GIS) sells for 16.4x, and Clorox (NYSE:CLX) trades for 15.8x.
Addressing concerns over foreign sales, Colgate says any international slowdown will be offset by falling commodity prices. For example, each $2/barrel decline in crude adds about $0.01 to EPS. Other remedies Colgate can use to keep overseas sales strong include size and price adjustments, and exploiting its near-monopolistic 80% Latin America market share, from which it derived $1B in revenue in Q3 and saw operating profits jump by 25%.
Colgate is also adept at cashing-in on competitors' weakness, especially when M&A finds new companies lacking focus. It boosted its toothbrush market share after Procter & Gamble bought Gillette's Oral B division, and could soon do the same in mouthwash after Johnson & Johnson (NYSE:JNJ) took control of Pfizer's (NYSE:PFE) Listerine.
Its balance sheet? A manageable $3.5B of debt, $635M in cash and $2.5B in shareholder equity. And a 2.5% dividend yield.
"If past is prologue," Barron's says, "Colgate's savvy management team will use the current downturn to the company's advantage."
::::::::::::::::::::::::::::::::
Valuecruncher sees Colgate Palmolive as undervalued.
Dividends4Life thought Colgate's dividend seemed overrated. But at a current 2.5%, things have changed.